West Hollywood Gay Bar Micky's Badly Burned in Fire
LAist relies on your reader support.
Your tax-deductible gift today powers our reporters and keeps us independent. We rely on you, our reader, not paywalls to stay funded because we believe important news and information should be freely accessible to all.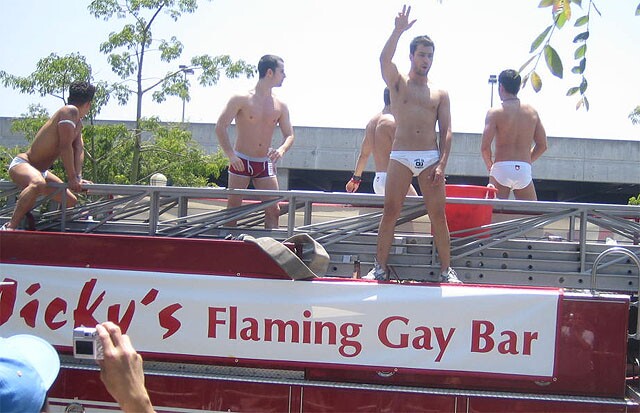 Because no one was seriously injured in this afternoon's fire in West Hollywood, it's probably ok to bust with some tasteless jokes.
But we wont lower ourselves to that level. In fact we won't even snicker that the fire started at 4:30pm, mere minutes after the infamous 420 which many in WeHo celebrate.
(Here in EaHo we celebrate it too)
Instead we will simply run this photo sent to us by Scott from Boi From Troy, and quote a source from the mainstream media, even though they usually blow.
A fire broke out at Micky's on Santa Monica Boulevard in West Hollywood on Tuesday afternoon. Santa Monica Boulevard was shut down in the area, so fire crews could get to the blaze.

The flames from the fire shot through the two story building's roof. Dozens of firefighters reported to the blaze, with some going on the roof of the building to battle the flames. KABC


"I would totally be blogging this [story about the fire] but BoiFromTroy is in the final stages of a total revamp, prompted by a Denial of Service/Malicious attack and other evil gremlins, and a change of server," Scott wrote in an email to LAist. "In all of this, I remembered the bar's theme for its fire-truck Pride Float this year... 'West Hollywood's FLAMING gay bar.'"
photo by Scott from Boi From Troy