Pothole Project: City Council Proposes $3B Street Repair Bond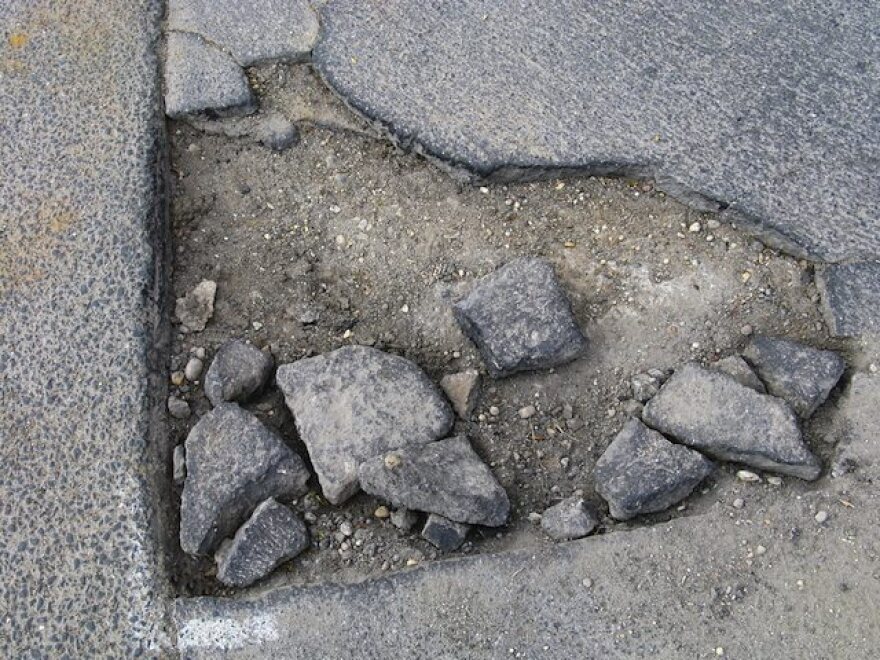 LAist relies on your reader support.
Your tax-deductible gift today powers our reporters and keeps us independent. We rely on you, our reader, not paywalls to stay funded because we believe important news and information should be freely accessible to all.
Let's face it, we have a lot of potholes and damaged streets in L.A. In fact, our messed-up streets are so problematic that City Councilman Mitchell Englander says they are "absolutely the biggest issue in infrastructure facing the city," according to City News Service. Now Englander has paired up with fellow councilman Joe Buscaino to propose a $3 billion, 20-year bond measure aimed at getting our streets fixed.
Englander and Buscaino proposed today the plan, called the "Los Angeles Emergency Local Street Safety And Traffic Improvement Measure," which they hope to have appear on the May 21 citywide ballot. The proposed bond would pay for an inventory of every city street and would include comprehensive online displays of what streets are being fixed and when.
Unfortunately, while the bond would see to it an estimated 8,700 lane-miles of streets would be repaired, it does not address the perpetually problematic city-wide issue of damaged sidewalks, which are an over $1 billion matter on their own to fix.
Buscaino says the bond, if approved, would mean 30,000 private-sector jobs, while Englander points out motorists would save, since right now it can cost drivers hundreds of dollars per year to fix their vehicles due to damaged sustained driving on city streets.
To get the bond measure on the ballot, the council must first give the okay for the city attorney to draft the resolution, which they must do by next Wednesday. Should that step take place, the council will have until the end of January to approve the resolution in order for it to appear on the May 21 ballot. Then it's up to voters.
Mayor Antonio Villaraigosa has not yet seen the motion, and has not commented on the proposed bond measure.
Previously
Eric Garcetti Wants to Fill Your Nasty Pothole, Now
Photographers Make L.A. Potholes into Temporary Art Pieces
Map of the Day: Pothole Activism at Your Fingertips
Saving the Budget by Not Filling Potholes Could Hurt the Budget