This is an archival story that predates current editorial management.
This archival content was written, edited, and published prior to LAist's acquisition by its current owner, Southern California Public Radio ("SCPR"). Content, such as language choice and subject matter, in archival articles therefore may not align with SCPR's current editorial standards. To learn more about those standards and why we make this distinction, please click here.
The NFL in LA?
Stories like these are only possible with your help!
You have the power to keep local news strong for the coming months. Your financial support today keeps our reporters ready to meet the needs of our city. Thank you for investing in your community.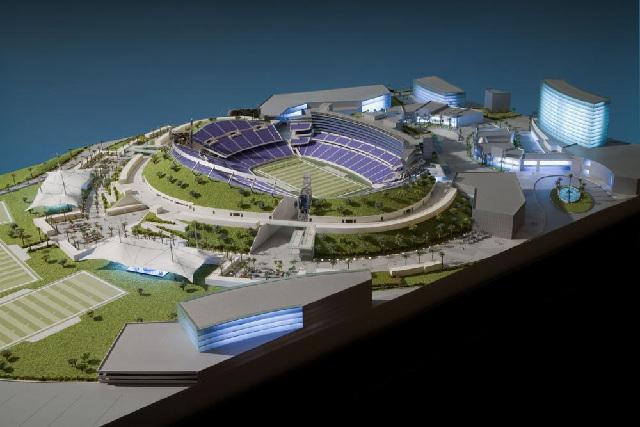 Rendering of Los Angeles Stadium. Courtesy LosAngelesFootballStadium.com
LAist contributer and LA Times Bruins and Trojan blogger Adam Rose blogged about an encore presentation Majestic Realty Chairman Ed Roski gave to a group of local business leaders this past Wednesday on the plans for building the Los Angeles Stadium.
The overall plan is to lure a team to Los Angeles within the next couple of years, 2009 being the optimal year. The team would play at the Rose Bowl for two seasons while construction of the Los Angeles Stadium takes place in the City of Industry. By 2011, wham, bam, the NFL team would play their first game in their brand spanking new stadium.
The land was given to Majestic Realty in 2005 by the city to be turned into a business park on a 65-year lease. In turn, the city would receive 50% of the profits. Last year, Roski returned to the city asking to change the approved use of the land to which the city agreed.
But how realistic is it to expect a team to come to LA?
San Diego Chargers
The Chargers hate Qualcomm Stadium. Formerly known as San Diego Stadium and Jack Murphy Stadium, it was opened in 1967 as an all-purpose stadium. The Chargers and the San Diego Padres shared the stadium until the Padres moved to their own Petco Park in 2004. The stadium is old and obsolete, and the Chargers have been working with the City of San Diego for years trying to get a new stadium. Running out of options the Chargers have found a spot in Chula Vista, but it is nowhere near ready to break ground. The Chargers can opt out of their lease this year. Probability: Highly Likely
Jacksonville Jaguars
It seems the Jaguars are always contenders for relocating every off season. Despite being a good team, they can't sell out their stadium. Not to mention they are in a very small market. Several weeks ago we had word the Jaguars are on the market which were just overinflated rumors probably intended to scare those folks in Florida. Owner Wayne Weaver has no intention on relocating, and even though he wants investors to help buffer the debt he will not sell shares to investors looking to move. Probability: Very Low
Minnesota Vikings
This is another franchise that has been on the move the last decade. Like the Chargers they play in a very outdated stadium: the Metrodome. Like the Jaguars they have to face low attendance. With the collapse of the I-35 bridge in Minneapolis last year, the locals are not very likely to approve funding for a football stadium. With the Vikings' lease ending in 2011 and a stadium deal nowhere imminent, they could be a good candidate for relocation. Probability: Somewhat Likely
New Orleans Saints
Saints owner Tom Benson had one foot out of the door until Hurricane Katrina hit. All talk of leaving New Orleans was put on hold. But fast forward to 2008, the problems remain: an old stadium, dwindling attendance, small market. The Saints will move within the next five years. But with Benson being a San Antonio native, they will not be moving to LA. Probability: Unlikely
St. Louis Rams
This is a more recent development. With the death of Satan's concubine Georgia Frontiere, the team was inherited by her spawn Chip Rosenbloom and Lucia Rodriguez. But as most heirs face with big estates, that estate tax bill is quite huge. They just hired Moag and Co. to find a group of buyers according to sources. The earliest any relocation scenario could occur would be in Z2014 when an escape clause in their 30-year lease would kick in. Probability: Maybe (too soon to tell)
Other Teams to Look Out For
Buffalo Bills - Owner Ralph Wilson has been claiming poverty for years now, but if they move they would most likely move to Toronto.
Oakland Raiders - For this to happen Al Davis would have to die, but that probably won't happen in the next 30 years. Ugh.
San Francisco 49ers - Another team with stadium problems, but it's highly unlikely San Franciscans will let their team go.