LAist relies on your reader support.
Your tax-deductible gift today powers our reporters and keeps us independent. We rely on you, our reader, not paywalls to stay funded because we believe important news and information should be freely accessible to all.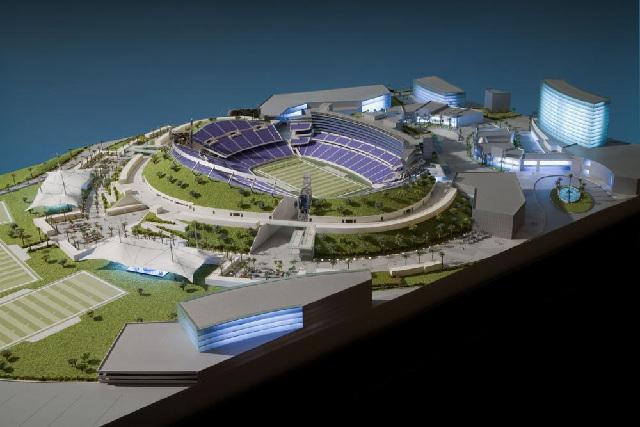 Rendering of Los Angeles Stadium. Courtesy LosAngelesFootballStadium.com
LAist contributer and LA Times Bruins and Trojan blogger Adam Rose blogged about an encore presentation Majestic Realty Chairman Ed Roski gave to a group of local business leaders this past Wednesday on the plans for building the Los Angeles Stadium.
The overall plan is to lure a team to Los Angeles within the next couple of years, 2009 being the optimal year. The team would play at the Rose Bowl for two seasons while construction of the Los Angeles Stadium takes place in the City of Industry. By 2011, wham, bam, the NFL team would play their first game in their brand spanking new stadium.
The land was given to Majestic Realty in 2005 by the city to be turned into a business park on a 65-year lease. In turn, the city would receive 50% of the profits. Last year, Roski returned to the city asking to change the approved use of the land to which the city agreed.
But how realistic is it to expect a team to come to LA?