This is an archival story that predates current editorial management.
This archival content was written, edited, and published prior to LAist's acquisition by its current owner, Southern California Public Radio ("SCPR"). Content, such as language choice and subject matter, in archival articles therefore may not align with SCPR's current editorial standards. To learn more about those standards and why we make this distinction, please click here.
The Big One May Cause Aftershocks Hundreds Of Miles Away, Says Study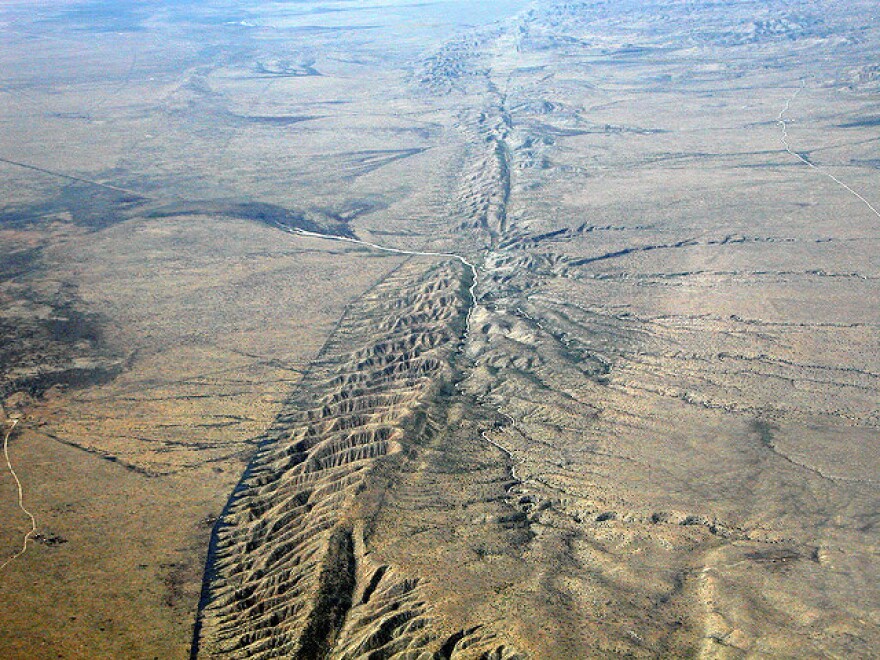 Our June member drive is live: protect this resource!
Right now, we need your help during our short June member drive to keep the local news you read here every day going. This has been a challenging year, but with your help, we can get one step closer to closing our budget gap. Today, put a dollar value on the trustworthy reporting you rely on all year long. We can't hold those in power accountable and uplift voices from the community without your partnership.
We often underestimate how devastating aftershocks can be—they're seen as earthquake-lite versions of the main impact. And because they happen after the initial quake, we believe that we have time to prepare for these subsequent seismic activities.
But, according to a report released on Science, researchers say that aftershocks may be much more pervasive, far-reaching, and faster-acting than we'd once thought.
In the report, researchers from Scripps Institution of Oceanography at the University of California San Diego took a look at 48 previously-unidentified aftershocks that stemmed from magnitude 7 to 8 quakes that happened from 2004 to 2015, reports Seeker. What they found was dispiriting: some of these aftershocks happened within just 200 seconds of the initial quake, and some of them occurred in areas that were more than 200 miles away from the original site. In one instance, a magnitude 7 quake in Indonesia led to two large aftershocks that happened more than 120 miles away (as noted by LA Weekly, this is the distance between L.A. and San Diego). It's also worth nothing that, according to Phys.org, the August 24 earthquake in Italy led to nearly 1,000 aftershocks within two days.
What's more, big quakes "often cause aftershock sequences that can last for months," according to a press release by U.C. San Diego.
It's been known that a quake on a fault line can trigger quakes in other lines. This new report gives us a better idea of how wide-spread the seismic activity can actually be; one of the study's conclusions is that seismic waves can jump from one fault line to another that's not immediately connected.
"The results are particularly important because of their seismic hazard implications for complex fault systems, like California," said graduate student Wenyuan Fan, the lead author of the study. "By studying this type of triggering, we might be able to forecast hosting faults for large earthquakes."
Also, a study just released today on Nature says the moon may also cause earthquakes. Japanese researchers found that strong earthquakes tend to happen when the tides are stronger, or when there is a full or new moon. So it looks like everything is conspiring against us!
As we've noted in the past, geologists believe that the San Andreas fault is ripe for The Big One. Studies have shown that, over the past 1,400 to 1,500 years, major quakes have hit the southern section of the San Andreas fault in 150-year intervals. The last time a big quake hit this regions was in 1857, when the magnitude 7.9 Fort Tejon quake erupted. That was 159 years ago, so...yeah.
Cruise off the highway and hit locally-known spots for some tasty bites.

Fentanyl and other drugs fuel record deaths among people experiencing homelessness in L.A. County. From 2019 to 2021, deaths jumped 70% to more than 2,200 in a single year.

This fungi isn't a "fun guy." Here's what to do if you spot or suspect mold in your home.

Donald Trump was a fading TV presence when the WGA strike put a dent in network schedules.

Edward Bronstein died in March 2020 while officers were forcibly taking a blood sample after his detention.

A hike can be a beautiful backdrop as you build your connection with someone.