This is an archival story that predates current editorial management.
This archival content was written, edited, and published prior to LAist's acquisition by its current owner, Southern California Public Radio ("SCPR"). Content, such as language choice and subject matter, in archival articles therefore may not align with SCPR's current editorial standards. To learn more about those standards and why we make this distinction, please click here.
Susan Atkins Denied Compassionate Release
Stories like these are only possible with your help!
You have the power to keep local news strong for the coming months. Your financial support today keeps our reporters ready to meet the needs of our city. Thank you for investing in your community.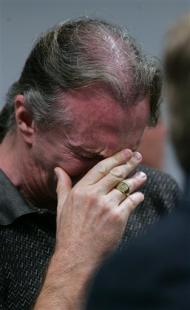 A 12-member State Board of Parole panel in Sacramento unanimously denied Susan Atkin's request for an early release today according to AP reports. This was the third in a four-step process. The next and last step would have been to face a judge in Los Angeles, but the board declined to refer the request to the court. Atkins, who has one leg that is paralyzed and one that has been amputated, has only months to live, according to her doctors.
Arguments were made for her release by teary family members. One surprising backing came from former prosecutor Vincent Bugliosi, who sent an e-mail to Atkins' attorney. Bugliosi wrote that it is wrong to say "just because Susan Atkins showed no mercy to her victims, we therefore are duty-bound to follow her inhumanity and show no mercy to her."
The panel may have been more swayed when Sharon Tate's cousin, Pam Turner, told the court she remembers her aunt "howling like a wounded animal" after hearing the news of the murders. According to the LA Times, Jay Sebring's nephew, Anthony DiMaria, believes it is not about dying with dignity. He believes Atkins can die with dignity while serving her sentence, as his uncle "died with dignity in the worst possible situation."
The parole board decision is final. Atkins' death sentence was changed to "life" in 1972 after the Supreme Court ruled the death penalty was unconstitutional. Prosecutor Patrick Sequeira is quoted in the SF Chronicle as suggesting that the system had already cut Atkins "quite a few breaks."
(AP Photo/Rich Pedroncelli) James Whitehouse, the husband of Charles Manson follower Susan Atkins, bows his head. Tuesday, July 15, 2008.