Showtime's Fountain of Smelly Blood
Stories like these are only possible with your help!
You have the power to keep local news strong for the coming months. Your financial support today keeps our reporters ready to meet the needs of our city. Thank you for investing in your community.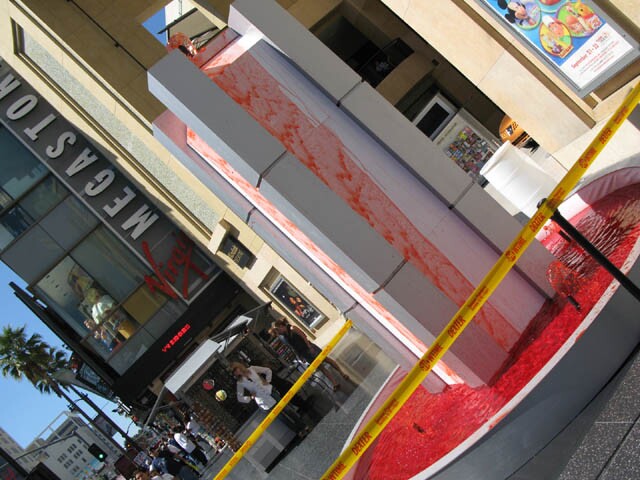 There's a big ugly smelly fountain of blood in front of the Kodak Theatre on the sidewalk of the Hollywood & Highland strip mall. No, Elmo didn't finally get his, Showtime has figured out a way to get LAist off the couch and onto the Red Line.
Even though our friends at Bostonist and Phillyist had pics, we saw that our pal Defamer didn't so we pushed aside the bong water pipe, dug around for change, and got outside to deliver the photo essay that awaits you after the jump OF BLOOD.
It was not as pretty as the one in Philly or Boston, and it was smaller. It sorta smelled gross and it splattered on you as you photographed it.
But it was ours, and it was at Hollywood and Highland so everyone loved it and took pictures of it. Right after they posed with out of work actors in sweaty costumes.
It could have been something that Elmo had just washed in, but no, it was a fountain of fake blood to help promote a cable tv show.
How do we know? Cuz these people were passing out information while wearing white lab coats.
And DVDs of something. Hopefully porn.
Everyone was so happy.
People coming off the subway got the dvd of hopefully porn.
If you were black and beautiful you got hopefully porn. If you were white and nerdy you got hopefully porn. Everyone who walked in front of the blood fountain got a nice whiff of the chemicals and a dvd.
Not everyone felt the same way about the blood fountain. Some were clearly freaked out. They wanted answers and when they got the answers they still had questions.
If you are driving home back to the Valley tonight and you dont have time to stop, park, and walk past the blood fountain, Showtime still figured out a way to tell you about their new tv series.
We talked to a whitecoat and she explained herself thusly:

photos and video by Sonny I. LaVista for LAist