This is an archival story that predates current editorial management.
This archival content was written, edited, and published prior to LAist's acquisition by its current owner, Southern California Public Radio ("SCPR"). Content, such as language choice and subject matter, in archival articles therefore may not align with SCPR's current editorial standards. To learn more about those standards and why we make this distinction, please click here.
Porn Actress With HIV: Filming Didn't Stop Despite Partner's Bloody Penis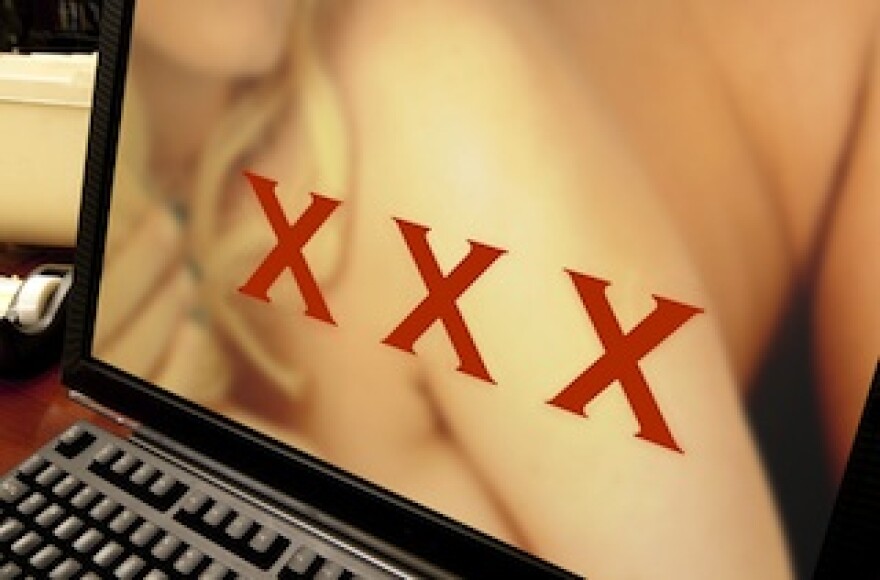 We need to hear from you.
Today during our spring member drive, put a dollar value on the trustworthy reporting you rely on all year long. The local news you read here every day is crafted for you, but right now, we need your help to keep it going. In these uncertain times, your support is even more important. We can't hold those in power accountable and uplift voices from the community without your partnership. Thank you.
At a press conference in Hollywood today, Cameron Bay, the actress whose positive HIV test result led to a week-long filming shutdown last month, talked about a particularly risky day on the job. Bay wiped away tears as she discussed a July 31 film shoot with San Francisco-based Kink.com, the LA Times reports. She said one actor, whom she did not name, got a cut on his penis. She said the actor continued performing without a condom even though he was bleeding.
Bay said she had only been in the adult film industry for three months before learning she had HIV on August 21. Since she had tested negative for HIV on July 27. The news conference was organized by the AIDS Healthcare Foundation, which has pushed for legislation to require condom use on all adult film sets. But she said she wasn't there to do anyone's bidding.
"I'm not here to push anything down anybody's throat, I'm not here to fight anybody's fight," she said. "I'm just here to share my story and to get knowledge out there to people and try to prevent anything like this happening to anyone else."
The adult film industry has shut down twice in the last month as a result of performers testing positive for HIV, including Bay's real-life boyfriend, Rod Daily, who is also a porn actor.
Industry representatives have said that Bay, Daily, and an unidentified third performer, did not contract the infection on set. The third porn actor called in to the conference anonymously, saying he had contracted HIV within the last six months but couldn't be sure it happened while filming. All on-screen partners of the HIV-positive performers have tested negative, the Times reports.
The current moratorium is scheduled to end Friday but the industry is now saying it plans to increase the frequency of mandatory testing from once a month to every two weeks. Meanwhile, California lawmakers just rejected a bill that would require all porn performers to wear condoms.
Another performer, Patrick Stone said today that Kink.com had him scheduled to shoot, despite receiving what ended up being a false positive HIV test. "They had me scheduled for a shoot tomorrow, and as far as they knew, I was HIV positive," he said at the press conference. An e-mail from Kink.com said the shoot would have involved no "fluid exchange or skin-to-skin contact," he said.
The AIDS Healthcare Foundation filed a complaint against Kink.com last month with Cal/OSHA, which oversees workplace safety, which led to a still-open investigation.
At the time, Kink owner Peter Acworth said the company was cooperating in the investigation and called the studio's safety protocols "some of the most stringent in the industry." They have not yet responded to these new allegations.
Daily has primarily worked in gay scenes where the use of condoms is standard. He said his experience shows that condoms work and that he's shot in the past with performers who were HIV positive and always tested negative before, according to the Times. "I do know for a fact that condoms will work, have worked, do work," he said.
He also faulted the industry for, most of the time, forcing actors to pay for their own STD tests. "Their main business is money, not the performers," he said of adult film studios.
Cameron Bay says her scene at @kinkdotcom had blood on set and she still had to work. Clear violation of Cal/OSHA regulations.

— Condoms in Porn (@FAIR4CA) September 18, 2013
Related:
4th Porn Actor Tests HIV Positive, Claims Pro-Condom Group
Porn Pause: Actor's Positive HIV Test Halts Production in L.A.
It's been many, many years since we saw this much snow in our mountains. Going up there right now isn't safe, but here are some places where you can enjoy the view and snap a pic.

April Valentine died at Centinela Hospital. Her daughter was born by emergency C-section. She'd gone into the pregnancy with a plan, knowing Black mothers like herself were at higher risk.

A look at years past when snows creeped into our citified neighborhoods, away from the mountains and foothills.

In the face of a drier future, that iconic piece of Americana is on its way out in Southern California.

Bob Gregory, 62, went missing the same day as Sands. His body was recovered near Mount Islip.