This is an archival story that predates current editorial management.
This archival content was written, edited, and published prior to LAist's acquisition by its current owner, Southern California Public Radio ("SCPR"). Content, such as language choice and subject matter, in archival articles therefore may not align with SCPR's current editorial standards. To learn more about those standards and why we make this distinction, please click here.
SaMo Police Spent $3K on Critical Mass Operations
Support your source for local news!
The local news you read here every day is crafted for you, but right now, we need your help to keep it going. In these uncertain times, your support is even more important. Today, put a dollar value on the trustworthy reporting you rely on all year long. We can't hold those in power accountable and uplift voices from the community without your partnership. Thank you.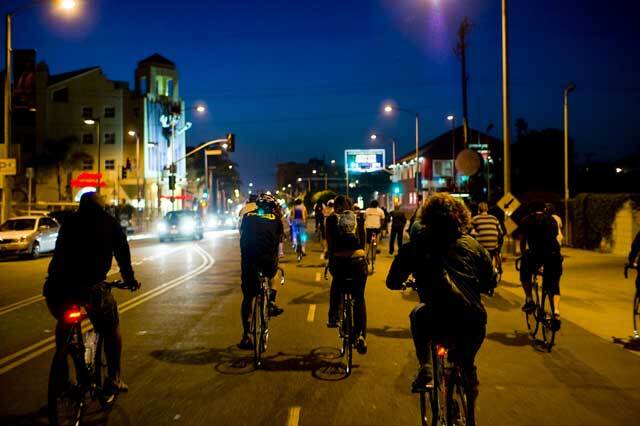 Photo by Alex Thompson via Flickr
For over a year, Critical Mass and the Santa Monica Police Department have been at odds and last month at their monthly ride, an unusual amount of officers monitored the ride of approximately 150 cyclists. A total of 16 officers were assigned to the ride costing the city $3,067.88, according to documents obtained by LAist in a public records request. Nine citations were written for various violations such as not having a headlight.
"This unauthorized event creates a public safety concern due to the fact the group fails to adhere to traffic laws, believing that it is their right to take over the roadways with little or no regard for vehicles or pedestrians," wrote Lt. Keane in an interdepartmental communication to Sgt. Horne, who was in charge of the operation.
"Citations will be issued whenever practical and arrests made if appropriate," Keane continued. "You should expect to be video taped and tape recorded by members of the group. All contacts should be brief with an explanation of charges."
Reports on blogs, including LAist, told of cyclists who said they were cited for violations like no having no headlight per the state vehicle code or passing a car as it made a left turn, which Damien Newton at Streetsblog LA argues is "completely legal."
"Our perspective is as long as they obey the rules of the road, then we're okay," explained Lt. Keane in a follow up phone call about her August written communication. "But when they are running the stop signs and lights, then we have to step in. We don't have a problem with Critical Mass and we don't have a problem in what they are doing in regards to promoting bicycle riding--we are not opposed to that. Our problem is when they are in such massive numbers, they tend to take over the roadway which makes it dangers for everyone on the road."
As for tonight, she said there will probably be some police presence out there, but was not sure to what extent. In her August letter, she wrote that "the important thing for each member of the Santa Monica Police Department to remember is to treat everyone with respect and as you would have your family treated by police."
Critical Mass meets tonight at 6:30p.m. near the cannon at the top of the Santa Monica Pier at the intersection of Colorado & Ocean.
Cruise off the highway and hit locally-known spots for some tasty bites.

Fentanyl and other drugs fuel record deaths among people experiencing homelessness in L.A. County. From 2019 to 2021, deaths jumped 70% to more than 2,200 in a single year.

This fungi isn't a "fun guy." Here's what to do if you spot or suspect mold in your home.

Donald Trump was a fading TV presence when the WGA strike put a dent in network schedules.

Edward Bronstein died in March 2020 while officers were forcibly taking a blood sample after his detention.

A hike can be a beautiful backdrop as you build your connection with someone.