This is an archival story that predates current editorial management.
This archival content was written, edited, and published prior to LAist's acquisition by its current owner, Southern California Public Radio ("SCPR"). Content, such as language choice and subject matter, in archival articles therefore may not align with SCPR's current editorial standards. To learn more about those standards and why we make this distinction, please click here.
Captain Jack Sparrow Ozzy Osbourne and Other Characters Get Into Hollywood Blvd. Brawl [UPDATED]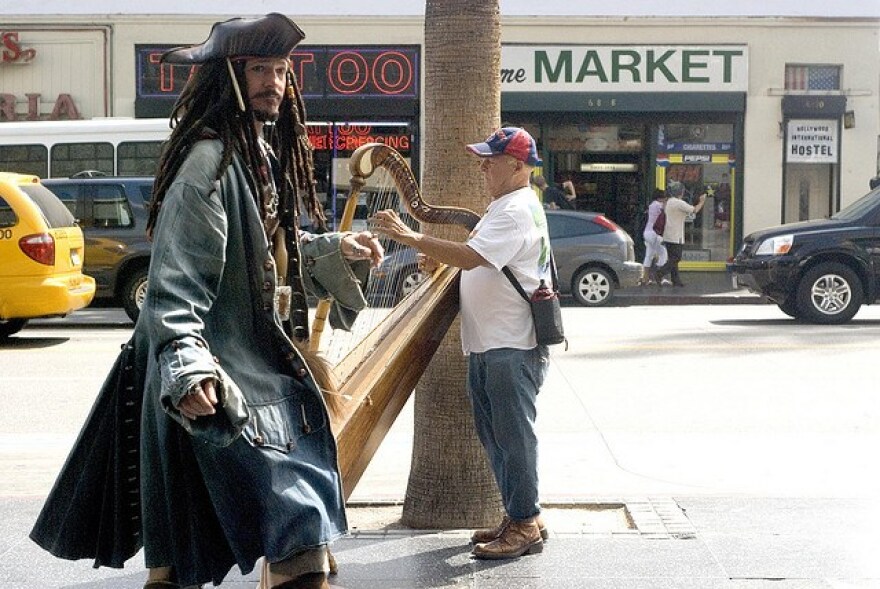 Stories like these are only possible with your help!
You have the power to keep local news strong for the coming months. Your financial support today keeps our reporters ready to meet the needs of our city. Thank you for investing in your community.
It was another rough and tumble night Thursday on the mean streets of Hollywood as performers dressed in costume outside the Kodak Theater became involved in a brawl. The fight involved a man dressed as Captain Jack Sparrow from the "Pirates of the Caribbean" franchise of films being pepper sprayed by another costumed character dressed as Catwoman.
People dressed as an alien and another pirate were reportedly also involved, notes Hollywood Patch.
The motive for the brawl is unclear. No arrests were made, confirms Los Angeles Police Department Officer Rosario Herrera, according to City News Service.
UPDATE 11:30 AM: Uh oh! Captain Jack's good name (snicker) may have been "sullied" by media reports about the tussle on the Boulevard. Turns out it was an Ozzy Osbourne impersonator who was the victim of Catwoman's ire, and that booze was also a likely factor. From NBCLA:
Catwoman, who requested to be referred to as such, said two characters had been causing problems all day and seemed to be intoxicated. After warning them several times to stop interfering with her taking pictures, she told the men that she had mace and wasn't afraid to use it. "He was antagonizing me to do so, so I did," she said. "I said, 'I'm giving you fair warning. If you do not get away from me I will spray you in the face.'"