This is an archival story that predates current editorial management.
This archival content was written, edited, and published prior to LAist's acquisition by its current owner, Southern California Public Radio ("SCPR"). Content, such as language choice and subject matter, in archival articles therefore may not align with SCPR's current editorial standards. To learn more about those standards and why we make this distinction, please click here.
Photo Essay: Escape to Joshua Tree
Support your source for local news!
The local news you read here every day is crafted for you, but right now, we need your help to keep it going. In these uncertain times, your support is even more important. Today, put a dollar value on the trustworthy reporting you rely on all year long. We can't hold those in power accountable and uplift voices from the community without your partnership. Thank you.
Los Angeles is an amazing city, we really don't know how good we have it. We have the beaches, the mountains, the forests, and the deserts, all within a few hours drive. When things get a little too complicated in the city, I love the idea that we have all these options, where we can escape the daily grind and get in touch with nature.
There is something about the desert that beckons our hearts, it's the same unfettered temptation that has been romanticized in many novels and movies. With it's wide open spaces, the desert offers a canvas for the mind to unclutter itself. When life gets a little too complicated, the desert manages to simplify things. So this past weekend, I had the opportunity to camp out with some friends at Joshua Tree National Park.
We were fortunate enough to witness some of the beautiful flowers on the Joshua trees, which is just starting it's bloom. Despite the cold gusts of wind that came on Sunday morning, the weather was pleasantly comfortable. We camped out Black Rock Canyon Campground on the outskirts of the park. Black Rock Canyon Campground is kinda like the shallow end of the pool, you're only five minutes from Yucca Valley just in case you run out of liquor or food. But to truly experience the beauty and wonder of this National Park you have to camp within it's interior. Visitors can choose to stay in designated campgrounds, or venture out and camp in the wilderness. Next time we're definitely going to jump head first into the deep end of the pool, and camp in the interior. With global warming, the outlook on Joshua Trees look bleak, so now maybe a good time to visit these beautiful plants.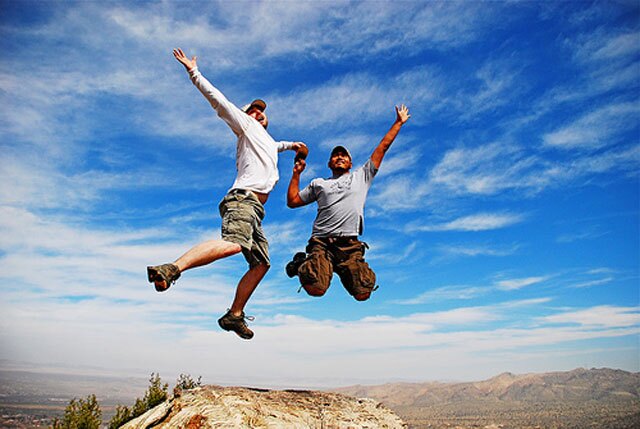 Cruise off the highway and hit locally-known spots for some tasty bites.

Fentanyl and other drugs fuel record deaths among people experiencing homelessness in L.A. County. From 2019 to 2021, deaths jumped 70% to more than 2,200 in a single year.

This fungi isn't a "fun guy." Here's what to do if you spot or suspect mold in your home.

Donald Trump was a fading TV presence when the WGA strike put a dent in network schedules.

Edward Bronstein died in March 2020 while officers were forcibly taking a blood sample after his detention.

A hike can be a beautiful backdrop as you build your connection with someone.