This is an archival story that predates current editorial management.
This archival content was written, edited, and published prior to LAist's acquisition by its current owner, Southern California Public Radio ("SCPR"). Content, such as language choice and subject matter, in archival articles therefore may not align with SCPR's current editorial standards. To learn more about those standards and why we make this distinction, please click here.
Neighborhood Project: Silver Lake
Stories like these are only possible with your help!
You have the power to keep local news strong for the coming months. Your financial support today keeps our reporters ready to meet the needs of our city. Thank you for investing in your community.
I may be biased in saying this, but Silver Lake is one of the best places to live in Southern California. The peeps are chill, the restaurants and bars are amazing, and the area is gorgeous. Hopefully this photo journey will make you a believer.
Boundaries: You ready? "Begin at Hoover St. and the Hollywood ("101") Freeway, Travel North on Hoover St. to Myra Ave., Northwest on Myra Ave. to Fountain Ave., East on Fountain Ave. to Hyperion Ave., North on Hyperion Ave. to the Los Angeles River, South on the Los Angeles River to Fletcher Dr., Southwest on Fletcher Dr. to Riverside Dr., Southeast on Riverside Dr. to Gleneden St., Southwest on Gleneden St. to Riverside Terrace, South on Riverside Terrace to the Glendale ("2") Freeway, Southwest on the Glendale Freeway to its terminus at Glendale Blvd., South on Glendale Blvd. to Clifford St., West on Clifford St. to its end, South on the steps to the intersection of Effie St. and Waterloo St., South on Waterloo St. to Berkeley Ave., West on Berkeley Ave. to Coronado Terrace, South on Coronado Terrace to Mayberry St., East on Mayberry St. to Waterloo St., South on Waterloo St. to the Hollywood ("101") Freeway (Note: East side of Waterloo only; addresses on the west side are in the Greater Echo Park Elysian Neighborhood Council.), West on the Hollywood ("101") Freeway to Hoover St."

Parks: Silver Lake Dog Park
City Councilperson: Eric Garcetti, Tom LaBonge
County Supervisor: Gloria Molina
State Senate: Mark Ridley-Thomas
State Assembly: Paul Krekorian
US Congress: Diane E. Watson
Freeway access: 101, 5, 2

Usually considered: where all the hippies, artists, and hipsters reside

You know you live in Silver Lake when: you spell it with two words
According to wikipedia, "[Silver Lake] was named after the man-made reservoir which lies at its center...[It] was named not in reference to its color but after Herman Silver, a member of Los Angeles' first Board of Water Commissioners."

Today the Silver Lake reservoir provides water for areas of South Los Angeles. Soon, it will be phased out and water resources will be taken over by a reservoir located beneath Griffith Park. Plans are being made to open up the Silver Lake reservoir grounds and create a park. In addition, the city will install new fencing and provide safety improvements for runners and walkers that work out on the perimeter of the reservoir.
Landmarks:
The reservoir itself is a huge landmark as it's located smack dab in the middle of Silver Lake. Directly south of the reservoir is the Silver Lake Recreation Center and Dog Park. Families and residents of the area often gather here for sporting events, exercise and to chill out with their dogs.
Reservoir

Recreation Park

Dog Park

Many past and present musical artists began their careers in Silver Lake. It's only fitting that the music venue, Spaceland, is also considered to be a huge marker for the community. Sometimes you can catch Fabrizio Moretti and the Hollywood starlet he's dating at the time hanging out in the back room, or Keifer Sutherland taking pictures with 24 fans.

Close to Spaceland is another Silver Lake landmark: the 7-11 located on Effie and Silver Lake Blvd. Many hipsters and residents frequent this mart to purchase milk and bread, or Sparks and a pack of cigs. On Friday and Saturday evenings, police officers can be seen hanging out at this spot to pick up some coffee and donuts while on their shift. One time I asked a police officer to drive me and my friend to a bar since I was too drunk to drive. Surprisingly, he did with no qualms. Thanks, LAPD. Way to protect and to serve. It's good to see my tax dollars are not going to waste.

Great Eats:
Aroma
There are a couple of amazing Italian restaurants in Silver Lake, however I chose to highlight Aroma not only because of their delicious food, but also exceptional service. Every time I've been there, the waiters are so enthusiastic about the daily special that I eventually order it, which I never do anywhere. Also, since the kitchen's open, the chef always makes it a point to turn around and say hello. Aroma is a definite Silver Lake Go-See.

Back Door Bakery
Back Door Bakery is perfect for a quick bite to eat on your morning stroll. Warning: they only accept cash, so be sure to have a couple of $1's and $5's before you enter. If you don't have cash, there's an ATM at the 7-11 located across the street.

Edendale Grill
I've only been to Edendale Grill for drinks in the evenings, which was AWESOME, but word on the street says that they also serve a delectable brunch. Hollywood types mostly frequent this locale, but it's not shi shi at all. It's easy to miss when driving by, but the valet in the evening makes it simple to spot.

El 7 Mares
There's an episode in Six Feet Under where Claire suggests going to get ceviche at El 7 Mares. I don't know if she was referencing to the one on Sunset (although maybe she was since she later asked Ruth to go to Netty's) but you know your restaurant is doing a good thing when Alan Ball mentions you in his show. El 7 Mares is great for some down home Mexican seafood. Menu item Camarones al Mojo de Ajo is my fav.

El Conquistador
Truthfully, El Conquistador deserves its own post. Once again, exceptional staff and the inside of the restaurant is always festively decorated. Hands down, best margarita on the Eastside, blended or on the rocks. One and a half margaritas will get you fuuuuuccckkedd up.

Pho Cafe
Until recently, I didn't know this restaurant existed and I live up the street! There's no sign indicating existence, but there are always a group of hipsters anxiously waiting to get inside. I'm not a connoisseur of pho, but I am of tasty food, and I totally dug it.

Tang's Donut
Tang's is THE SPOT for donuts and late night chess. FYI - there are a lot of homeless peeps hanging out in the front claiming to have known Elliott Smith.

Great Bars:
4100 Bar
If you live in Silver lake, you've been to 4100. It's the local spot. It's perfect for drinks after work, or the place to go on a Saturday evening. In addition, the jukebox has some great music picks.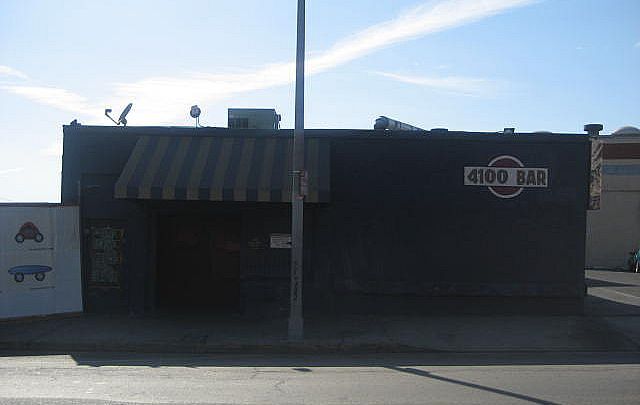 Cha Cha Lounge
I wouldn't advise walking into Cha Cha Lounge with a pastel polo and Sperry top-siders. This is the place with the hipsters meet and greet, so you better have a beard and some gnarly tattoos. They have $2.50 PBR, fooseball, and a photobooth so you can take pics with your friends. One time while I was there I met a real Mongol and he explained to me his distaste for Hell's Angels. Did I say distaste? I mean scorn.

Who doesn't love titties?

Johnny's
Once again, another Silver Lake hidden jewel! Located on Sunset Blvd., next to Aroma restaurant, this bar is ideal for a romantic date or a drink by yourself. Beautiful vintage photos line the perimeter of the bar and the specialty drinks are delish.

Red Lion Tavern
Located across the street from Cha Cha Lounge on Glendale Blvd., the Red Lion Tavern welcomes any and all types of crowds. The doormen are probably two of the funniest men you'll meet, and are always super nice if you're a lady (go figure).The Red Lion also offers a full German menu. I hear the garlic potatoes are nummy.

Silverlake Lounge
Although I've never been, friends have always said great things about the Silverlake Lounge. Peeps usually head to this spot to see a show, then hang out afterwards for some drinks.

Los Globos
Doesn't matter what day of the week, Los Globos GOES OFF every night. I'm pretty sure the nightclub mostly plays Merengue, Salsa and Cumbia music, buuuutt that still sounds like a good time. Anyone want to dance?

Famous Architecture:
2081 Redcliff - Built in 1935, the Rene Faron residence was built for, surprise surprise restaurateur Rene Faron, by archictect Paul R. Williams. It's located in the Silver Lake Hills, which has many beautiful, old homes. I would compare it to the Hollywood Hills of Silver Lake.

2371 Cove Ave. - If you've ever walked around the reservoir before, you've definitely seen the Ross house. Located on the corner of Silver Lake Blvd and Cove Ave., it was built by Eric Lloyd Wright, grandson of Frank Lloyd Wright. His building "design philosophy is rooted in the integration of ecology, social responsibility and beauty."

2384 Loma Vista Place - Designed by Charles F. Whittlesey, a famous Chicago architect, this Silver Lake home was inspired by Antoni Gaudi. It's definitely break taking.

Amount of Steep Hills in Silver Lake: countless

Silver Lake is a pretty hilly area. Streets will begin on one side of a hill, and end on the other. It's some pretty complicated stuff. While driving around I found these two steep hills that almost killed my car.

Duane Street

Edendale Street

Sunset Junction
To those that have never been, Sunset Junction is a community part of Silver Lake. It's mostly occupied by restaurants and stores, such as Eat Well, Pazzo Gelato, Tantra, Undefeated, etc. Every summer there is the Sunset Junction Street Fair which is a two day affair that provides music, food, rides and vendors.

Stores

Pazzo Gelato

Also there is the Silverlake Conservatory, established by Flea of the Red Hot Chili Peppers. It has 600 music students, 100 of which receive their education for free.

If you head west on Sunset Blvd., you'll eventually hit the Elliott Smith wall, located next to Malo restaurant. Elliott Smith was a singer/songwriter that was not only popular in his own musical right, but also among the Silver Lake/Echo park community. On October 21, 2003 Elliott Smith died from stab wounds to the chest due to an apparent suicide, although many would argue otherwise. After his death, a memorial was set up in front of Solutions Audio, where the cover of Elliott Smith's Figure 8 album was shot, in remembrance of his legacy.

Potpourri
Ahh, the sweet signs of gentrification! According to wikipedia, "since the early 2000's, [Silver Lake] has undergone extensive gentrification. The part of the neighborhood around the reservoir, and immediately southeast of Los Feliz, is becoming an expanding center of upper-middle-class homes." If I ever I want to BUY a house in Silver Lake, I probably won't be able to afford it till I hit the Lotto.

If you like the Silversun Pickups, you'll be happy to know that they got their name from Silversun Liquor. It's located on Silver Lake Blvd. and Sunset, across the street from the Silverlake Lounge. Many musical groups have originated from this highly creative and eclectic area. Some of these groups include Earlimart, Beck, the Moving Units, Autolux, Rooney, Dios Malos, Jane's Addiction, Rilo Kiley, Red Hot Chili Peppers and Elliott Smith.

Sometimes Silver Lake likes to get political. These pics are of TV's located on the corner of Fletcher and Riverside.

And last but not least, why is Silver Lake so great? Does your neighborhood deliver booze to your home? I don't think so.

Peace and love!