This is an archival story that predates current editorial management.
This archival content was written, edited, and published prior to LAist's acquisition by its current owner, Southern California Public Radio ("SCPR"). Content, such as language choice and subject matter, in archival articles therefore may not align with SCPR's current editorial standards. To learn more about those standards and why we make this distinction, please click here.
Neighborhood Project: Angelino Heights
We need to hear from you.
Today during our spring member drive, put a dollar value on the trustworthy reporting you rely on all year long. The local news you read here every day is crafted for you, but right now, we need your help to keep it going. In these uncertain times, your support is even more important. We can't hold those in power accountable and uplift voices from the community without your partnership. Thank you.
How does the idea of hilltop vistas, the quiet charm of tree-lined streets, and a quick and easy one mile trip on public transit to Downtown grab you? Well, it certainly proved an effective lure for the fresh-off-the-train Midwesterners settling in Los Angeles who flocked to our city's first suburb in the late 1880s. A real estate boom in 1887 saw the construction of numerous majestic Victorian homes in the new neighborhood, but a recession halted the development a few short years later, and once the pace resumed in the early 1900s, the more reserved Craftsman style was in vogue. All this development was in vain, however, as the rapid growth of the city encroached on the idyllic hillside community, and by mid-century its once regal homes were suffering from disdain and disrepair. Named LA's first Historic Preservation Overlay Zone in 1983, the present-day Angelino Heights continues to fight for its recognition and the restoration of its original architecture, while its residents work together to define what it means to be a neighborhood.
WELCOME TO ANGELINO HEIGHTS
Boundaries
Angelino Heights is adjacent to both the Echo Park and the Elysian Park neighborhoods. The boundaries are roughly Echo Park Avenue to the West, Sunset Boulevard to the North, Boylston Avenue to the East, and the 101 Hollywood Freeway to the South.
Almost exclusively residential, there are no major thoroughfares that cross through the neighborhood. Residents must go outside the Neighborhood boundaries to find most of their needed services and goods.
Zip Code
90026
Ways to get there from here
There are currently no Metro subway or light rail stops within Angelino Heights. Via Metro Bus: #2 and #4 travel on Sunset and makes stops at or near local cross-streets such as Marion, Innes, Douglas, Portia, and Echo Park Ave; #92 travels on Bellevue and stops at East Edgeware and Douglas; #10 travels on Temple and stops at Edgeware and Douglas; DASH Pico Union-Echo Park also travels on Bellevue, Temple, and Echo Park and stops at many neighborhood cross-streets. The 101 Hollywood Freeway is traditionally considered the Southern boundary of Angelino Heights, and the neighborhood can be accessed by exiting either on Echo Park Avenue and heading East, or on Temple Street and heading West.
Political Lowdown
31ST US CONGRESSIONAL DISTRICT
Xavier Becerra
22ND STATE SENATE
Gilbert Cedillo
45TH STATE ASSEMBLY
Kevin De Leon
1ST SUPERVISORIAL
Gloria Molina
4TH BOARD OF EQUALIZATION
Judy Chu
CITY OF LOS ANGELES 1ST COUNCIL
Ed P. Reyes
Public Schools
Betty Plasencia Elementary School: 1321 Cortez Street (all residents)
Thomas Starr King Middle School: 4201 Fountain Avenue (some residents)
Virgil Middle School: 152 North Vermont Avenue (some residents)
Belmont High School: 1575 West 2nd Street (all residents)
People who front say they live in
The only "fronting" residents of Angelino Heights are concerned with are the exteriors of their historic homes.
You say Angelino, I say Angeleno
It seems by all accounts that the area was first subdivided and named as Angeleno Heights in 1886. The Editor of the Los Angeles Garment & Citizen said in response to a January 2007 letter from a reader on this very topic that oftentimes names were Anglicized, and that people such as himself preferred to use the traditional "e" spelling as reference to the name Los Angeles and as a stylistic choice. The conflation is understandable; frequently in print many people today remain divided over the proper use of the term Angeleno or Angelino to denote a residential affiliation with the City of Los Angeles, so the confusion here seems par for the course. There is of course, the matter of the actual Neighborhood sign (pictured above). Would it have killed the City to have included the "ei" and "h" to fully spell out Heights? I mean, they managed to get all the letters on the more burdensome Brentwood Village signs. I'm just sayin'.
A BRIEF HISTORY OF ANGELINO HEIGHTS

Map from Historic Echo Park
In 1866, William W. Stilson and Everett E. Hall filed for ownership of a tract of land called "Angeleno Heights"—the hill's elevation was attractive to homebuilders who desired both a pleasant view and the peace and quiet of suburban living.
Construction began in 1887 and that same year saw the arrival of many splendid Victorian styled homes on the hilly streets, most of which were owned by prosperous business men who had come out West as part of the real estate boom of the late 19th century and the massive westward migration. However, the following year brought with it a banking recession, which put construction of more new homes at a standstill. By the time the economy was more flush towards the end of the 1890s, other Los Angeles-area neighborhoods had gained in popularity and those who could afford to build homes opted to build them in other subdivisions and in other architectural styles. This extraordinarily brief period of development left Angelino Heights home to a sort of island of elaborate homes, many of which still stand today.
Between approximately 1900 and 1915, a sort of second phase of development took place in Angelino Heights, but this time the aesthetic was distinctly more subdued, and was in the vein of the then-popular Craftsman style. Concurrently, Los Angeles was now home to the burgeoning moving picture industry, and nearby studios made full use of the Heights' sloping streets, like Kensington Road, in their silent productions. Look closely at some of the chase scenes in the Keystone Cops series of films and you might recognize Angelino Heights. In fact, many of that era's stars chose to call Angelino Heights home, such as Mary Pickford and Gloria Swanson. Filming in the area has remained extremely popular; many individual homes may spark recognition from having been featured in various films, videos, commercials, and television shows. In fact, much of Angelino Heights has the feel of a set. Stepping onto the historic sidewalks of Carroll Avenue is like stepping into a motion picture.
A plaque is embedded in a lawn on the 1300 block of Carroll Avenue
As the City of Los Angeles began its earliest movement towards an outward reach of urban sprawl, the Angelino Heights neighborhood began to dwindle. By the 1940s and 1950s many people considered the look and style of the Victorian showplace homes to be old-fashioned and outmoded, not to mention their owners were finding them extremely expensive to repair. While formulaic boxy homes were dotting the streets of the new post-war planned suburban communities, residents in Angelino Heights were cutting costs by removing much of their homes' ornamentation, and carving larger properties into rent-able rooming houses. The homes on Carroll Avenue did not begin to pique preservationists' interest until the 1960s, and it was not until the mid-seventies when residents united to form the Carroll Avenue Restoration Foundation and subsequently began the proceedings to have the entire block named to the National Register of Historic Places.
Angelino Heights was the city's first area to be designated as Historic Preservation Overlay Zone (HPOZ) which took place on Aug 10 1983. An HPOZ means that several buildings in one area are related in some manner and that, as a whole, the buildings in the area reflect an architectural integrity that calls for preservation and/or restoration. Much of the effort to have an area such as Angelino Heights designated at such takes place at the community level, although ultimately the designation is up to the City. According to the information provided by the Los Angeles Conservancy, "a five-member board, including an architect and at least one member with real estate or construction experience, oversee each HPOZ. Three of the five must be residents of the HPOZ." This board sets guidelines that all residents must adhere to, and these govern only the exteriors of the buildings. For example, if you reside in an HPOZ and would like to paint the outside of your home, your paint color must be approved by the board. In order to preserve authenticity of the colors of the Victorians in Angelino heights oftentimes a single molecule of original paint is isolated and analyzed and matched so that the contemporary paint job aligns with the original owner and/or builder's vision. PreserveLA has more information on HPOZs.
THE TROLLEY

Photo courtesy of the Electric Railway Historical Assoc. of So. Calif. via the Angeleno Heights Trolley Line
Once upon a time, in 1886, a cable-run railway ran from Downtown to Los Angeles' first suburb, Angelino Heights. The cars ran along Temple Street, but problems with the line frequently arose because the street was not yet paved and the cables would prove ineffective. In 1902, the railway's new owner, a man by the name of Henry Huntington, saw to it that the line was converted to an electric one. Eventually Huntington sold his interests to Southern Pacific (SP) who ran a series of lines as the Los Angeles Railway (LARy) and his fleet of trolleys and streetcars were called "Yellow Cars" due to their vibrantly colored painted exteriors. There were multiple routes that brought passengers through Angelino Heights, as outlined and explained by the Angelino Heights Trolley Line's "History" webpage:
The trolley routes fluctuated over time according to the volume of passengers and the financial situation of the company. The following will give you an idea of the changes made to Angeleno Heights service:
ANGELENO HEIGHTS AND CROWN HILL LINE (1910-1920)
The Angeleno Heights/Crown Hill Line was originally an extension off the main "L-Line" which included part of Temple street. The following route information is from "Transfer Rules, Names of Streets, Telephone Numbers" (Los Angeles Railway, 1917). The fare was 5 cents. This listing combines the shuttle "A" part of the line with the main "L" part: ANGELENO AND CROWN HILL LINE Route: From Douglas St. and Kensington Road via E. Edgeware, Bellevue, Beaudry, Alpine, Figueroa, Boston, Bunker Hill, California, Hill, Temple, North Broadway, First, Hill, Fifth, Olive, Sixth, Flower, Third, Boylston, Crown Hill (3rd), Columbia, Second, Loma Drive, Belmont, Temple, Echo Park Ave., Bellevue Ave. to Edgeware. 'C'-CROWN HILL AND ANGELENO HEIGHTS LINE (1920-1924)
'AH'-ANGELENO HEIGHTS LINE (1924-1926)
'G'- GRIFFITH AND ANGELENO HEIGHTS LINE (1926-1927)
'C'- CROWN HILL AND TEMPLE STREET LINE (1927-1932)
'A'-WEST ADAMS AND ANGELENO HEIGHTS LINE (1932-1938)
'32'-EDGEWARE ROAD SHUTTLE (1032-1939)(nights and weekends Temple & Edgeware to Douglas)
'10'-WEST VERNON AND EDGEWARE ROAD LINE (1939-1942)
'37'-EDGEWARE ROAD SHUTTLE (1942-1946)(nights and weekends Temple & Edgeware to Douglas)
June 30, 1946 abandonment of line



In the past several years, however, there has been a focused grassroots movement to restore the line into working order, and already one of the original Birney "safety" cars has been fully restored and is now stored in Angelino Heights.The proposed route would run as follows:
The trolley would take a path that starts in front of the historic firehouse, Engine Company No. 6, in Angeleno Heights, at Bellevue Ave. and East Edgeware Road, travel up East Edgeware Road to Douglas St. and North to Kensington Road. Reversing direction at that point the trolley would return down Douglas and East Edgeware to Bellevue. (This portion of the route is the core of the historic route through Angeleno Heights. The original trolley tracks are still underneath a couple of layers of pavement on these streets and possibly others.) The trolley would then continue East on Bellevue to Sunset, SouthEast on Sunset/Cesar Chavez Ave. past Chinatown to El Pueblo de Los Angeles and Olvera Street, the area of the original settlement of Los Angeles. The trolley would make a loop over to Union Station with its connections to the Metro Lines. Then it's back up Cesar Chavez/Sunset (NW) all the way to Echo Park Avenue. At that intersection the trolley would turn and travel past scenic Echo Park Lake to Bellevue Avenue. At Bellevue the trolley would travel a few blocks and would reach its original starting point in front of Engine Company No. 6 the Angeleno Heights Firestation.
For more information on the Trolley Line, please visit Angeleno Heights Trolley Line's webpage.
ARCHITECTURE AND THE HOMES OF ANGELINO HEIGHTS

Angelino Heights is primarily renowned for its many examples of Victorian architecture, as evidenced in the high concentration of homes designed and erected at the height of the movement here in the 1880s. Some of the homes were built on lots elsewhere, and have subsequently been moved into the neighborhood, which can account for those that pre-date the 1886 subdivision of the area. More than a dozen homes in the area are classified as Los Angeles cultural historical monuments, and all, of course, are protected by the guidelines of the HPOZ. Angelino Heights boasts the largest concentration of Queen Anne and Eastlake style Victorian homes in the city, most of which are on Kellam and Carroll Avenues. It is curious to note that most homes do not have garages, because, of course, in the 1880s people did not have cars, but some do have carriage houses on the property, and some had carriage houses brought on site from elsewhere; these structures are also covered by the HPOZ. Further, most of the chimneys on the homes have been capped off or "roofed" over--because they tended to be tall and slender by design they were also easy victims of earthquakes.
A Quick Primer on Victorian Architecture

Victorian architecture is actually the result of the industrial age and the advent of technology to the field of construction. Eager to put new mechanized lathes and cutting machines to work, wealthy homeowners could then build large-scale homes and see them erected with relative ease in comparison to the arduous task of handcrafting every piece as they had before. Along with the invention of the wire nail, building these balloon-framed homes became much more efficient, and so much went into their ornamentation from top to bottom. Victorian homes are asymetrical, have many stories, porches (usually wraparound), bay windows, multiple entrances, and are painted vibrant colors. It has been reported, though, that new homeowners in Angelino Heights first painted their homes white, as they had been in the Midwest, only to find the reflection from the endless California sun unbearable.
There are basically three eras of Victorian architecture, the first being Italianate, then Eastlake, then Queen Anne. Because Italianate Victorian style was popular pre-1887 (when construction began in Angelino Heights) there aren't any buildings original to the area that are predominantly of that styling. There is, however, one home that was moved onto Carroll Avenue, the Foy House at 1337, that was built in 1872. Eastlake style (also known as "Stick" style) is named for architech Charles Eastlake. Houses in this mode are more rectangular and have sharp angles. The next style is Queen Anne, of which there are many in Angelino Heights. This is probably the most bold kind of Victorian aesthetic design, and these homes are more rounded in their features and incorporate more variety in their ornamentation.
Eclecticism was the name of the game in this kind of architecture, so there are many features that homeowners and architects had to choose from when designing a home in this style. Because things like perfectly uniform machine-made shingles were readily available, many decided to cover their entire homes in them, sometimes in more than one shape or pattern.
Some elements of Victorian design (from the exterior) to look for are:
Tall, angular buildings
Spindles and columns, cut in various uniform shapes
Elaborate bracketing
Shingles on exterior
Garrets, turrets, pavilions, and towers
Bay windows, windows and doors with transoms
Iron roof cresting
Vibrant paint jobs
Shaped and patterned trim, such as dentalia (looks like teeth)
Below are some detailed shots of many of the above elements:
A Look at the 1300 Block of Carroll Avenue

The entire 1300 Block of Carroll Avenue is listed on the National Register of Historic Places
The intersection of East Edgeware Road and Carroll Avenue is considered the main entrance to the homes on Carroll Avenue. The Stilson-Botsford House, although on the corner, has its address on East Edgeware
801 East Edgeware Road: The Stilson-Botsford House

William Stilson was one of the two initial developers of the neighborhood, and he chose for himself this rather impressive piece of land on the corner, upon which he built a rather impressive home in 1887. This house combined Eastlake and Queen Anne features, and had thirty rooms, including a ballroom on the third floor. Stilson died in the early 1890s, however, while still a young man in his thirties, and the home's next occupant was California Bank president William Botsford. As was common practice in the mid-20th century, this building was stripped of much of its ornamentation, covered in stucco because of fire code regulations, and converted into a multi-unit rooming house. The house was purchased in 2000 and the current owner is working on removing all the years of alterations in the hopes of restoring its original grandeur. Above is a photograph of the home held up in comparison to the current structure.
1300 Carroll Avenue: The Phillips House

This beautiful home on the corner (featured in the lead photograph of this article and shown in partial view with the Downtown skyline above) was built in 1887 and was the resident of merchant Aaron P. Philips. Its current owner, Mr. Morales, had lived in the house when he was two years old, and now bought it for himself. Because of his advanced age, Mr. Morales may still be looking to sell the home, since it is a rather demanding task to keep it up. There was an article in the LA Times from January 2006 about Mr. Morales and this house, but it does not seem to be accessible online.
1316 Carroll Avenue: The Ford House

This house is done in the classic Eastlake style, built in 1887 for George O. Ford, a land agent.
1320 Carroll Avenue: The Heim House

Ferdinand Heim was a brewer and saloon owner here in Los Angeles, and built this home in 1887. His namesake son assumed occupancy and remained there until his death in 1943. It is a Queen Anne style Victorian, although there are hints of Italianate influence in the bracketing. The interior boasts typical Victorian features like sliding pocket doors, leaded glass, detailed wood trim, themed tiles on the fireplace, and hardwood floors. Its current owner, Murray Burns, is one of the neighborhood's most interesting and outspoken enthusiast. He purchased the home in 1970, and has been a leader in the restoration movement of Angelino Heights. He and his wife are kind enough to let participants of the LA Conservancy tour enter the first floor of his home to take a look around. Apparently, the house is a sight to behold at Halloween, too.
1324 Carroll Avenue: The Scheerer House

During this era, many people opted to buy their homes from a catalog, and it is believed that this home is one of such homes. It is a smaller Queen Anne styled cottage and was bought and built for businessman John Scheerer in 1887. Oftentimes current owners of these kinds of homes discover that they were purchased from a Sears or Montgomery Ward catalog and factory made because a telltale piece of wood they encounter may still be imprinted with its original numbering--think "paint by numbers" kind of instructions.
1325 Carroll Avenue: Transplanted and On the Market

Want to buy a house in Angelino Heights? This one is for sale, and needs some love and care. This house was transplanted onto Carroll Avenue.
1329 Carroll Avenue: The Innes House

This beautiful red home is done in the Eastlake style and was built in 1887 for City Councilman Daniel Innes (you may notice that there is an Innes Street not too far away, presumably named for him). The house has some hints of Japanese architecture in the decorative porch woodwork. Its second owner bought the house in 1920, and remained there until his death in 1971, having added features like a wine cellar in that time. This house is also owned by Murray Burns (see The Heim House) and might be one of the most familiar to contemporary viewers. It was used as the exterior (and some interiors) for Halliwell Manor, the house those witchy sisters lived in on the television show Charmed.
Fan of both the television show Charmed and playing The Sims? You too can have your very own dollhouse for your young Sims to play with that is modeled after the Innes House.
The fictional Halliwell house shares a house number (1329) but on the show the home is on Prescott Street in San Francisco.
In May 2006 an item ran on Defamer regarding this very house, its possible tenants, its owner, and an incident involving local cops investigating a report that a woman named Phoebe Halliwell had been kidnapped from the premises. Of course, the woman in question doesn't actually exist--she's a witch. Not a real witch, silly. She was a character on Charmed played by Alyssa Milano.
The Defamer web-posting and its ensuing comments raise the issue of owner Burns' use of the house (and gets a bit too far into analyzing his character, imho) for film shoots, and whether or not there is a tenant on the premises who rents the upstairs. Regardless, Burns also allows Conservancy tour-takers to enter this house and view the downstairs.
1330 Carroll Avenue: The Sessions House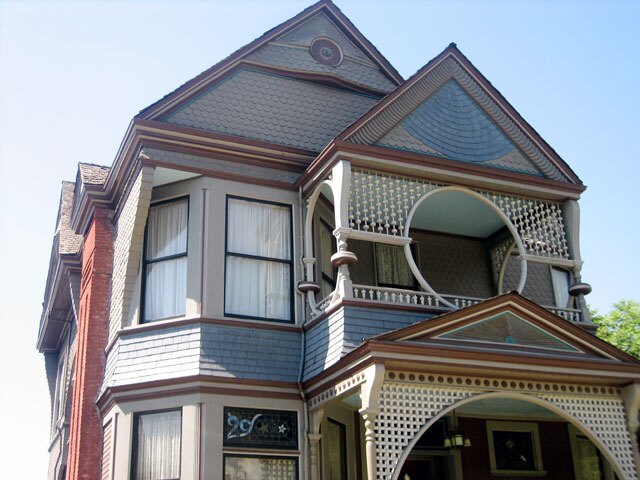 San Francisco-based architect Joseph Carter Newsom designed this 12-room house in 1889 for dairyman Charles Sessions. It merges Queen Anne style with Moorish and Oriental elements--look at the cutout on the second floor styled after the Chinese gateway to paradise, for example. Many of the hallmark Victorian features, such as woodworking and cutouts and overhangs were designed to cast interesting shadows which varied with the position of the sun. This home was converted to a multi-unit apartment house but has since been reconverted to a single family dwelling.
1337 Carroll Avenue: The Foy House

This house has seen three different Los Angeles addresses; first it was built in 1872 at 7th and Figueroa, then moved in 1920 to Witmer Street (across from the Good Samaritan Hospital), then to this Carroll Avenue lot in 1992. The house was designed for the prominent Foy family, of which the well-known Mary was a member. She was the city's first female Chief Librarian and was a key figure in the suffrage movement. This large home is Italianate in style, and may have been designed by Ezra Kysor, who also designed our city's St. Vibiana's Cathedral.
1344 Carroll Avenue: The Haskins House

This house is the neighborhood's ultimate "painted lady" (as many of the legendary San Franciscan Victorian homes are called). This was the last Victorian house built on Carroll Avenue, and was done so in 1894 for real estate developer Charles C. Haskins. The exterior offers and abundance of Victorian features, such as the shingles, spindles, railings, and Mansard roof, to name a few.
1345 Carroll Avenue

Although it may appear as though this house is beginning to go to ruin around the porch area, the truth is that this house has been under slow but steady renovation for at least the last six years. It was built in 1887, much like many of the houses in the area, and is next to a Moreton Fig tree, which, like the homes it shares the street with, is also protected as a landmark and cannot be destroyed.
This amazing tree is very rare
But, just for a more triva-oriented fun fact, this was also the house used in the video for Michael Jackson's "Thriller" (you'll see it at about 6:25 into this particular clip). You'll see Michael's terrified girlfriend run up the steps in an awful panic.
1355 Carroll Avenue: The Pinney House

The Pinney house merges Italiante influence with a dominant Eastlake style design, and was built in 1887. First owner Henry L. Pinney's son Charles was the occupant of the house until his death in 1980 at 106 years old, and was listed in 1894 as one of LA's most eligible bachelors in the old "Blue Book" social register (The MySpace of a bygone era?). Because he was still living when the Angelino Heights restoration movement began in the 1970s, Mr. Charles Pinney was able to provide residents at the time with valuable firsthand information about the homes in the area.
Exiting the 1300 block of Carroll Avenue onto East Edgeware allows you to drink in the amazingly close Downtown skyline
Although much of what is written, including this humble Neighborhood Project post, focuses on this first block of Carroll, there remains many distinguised homes further down the street and in other parts of this small neighborhood. One resource for Victorian enthusiasts is this page, which lists the Victorian homes on Carroll Avenue and in Angelino Heights by its builder/first tenant's name. Or, if you feel like squinting a bit, take a look at this amazing photo album which moves you through the area house by house, beyond what is included in the Conservancy tour, and is viewable online thanks to the people at Historic Echo Park. They also have a listing of Cultural Historical Monuments in Echo Park/Angelino Heights, which is an excellent reference and guide.
Other residences in Angelino Heights

Anecdotal information about this house on East Edgeware reports that the owners were not able to paint their home the shade of purple they wanted, nor add the lime green accents they wished to, and instead made it this "not too purple" color
Through the overgrowth lies this typical Californian courtyard style multi-unit building
Is it a requirement that when you live in a gray building you must wear gray sweatpants and you must dry them in the sun by hanging them off the side of the building? This very flat, very lifeless style of architecture makes a sharp contrast to the majesty of the area's Victorian houses
Sunglasses not included
A gentle shade of lavender for this bungalow
Not all the area's homes have been fully restored
Quick, here's a test: Is this a Victorian style home? If you answered NO, you may add five points to your imaginary score. This is indeed not a Victorian--it is symmetrical and lacks ornamentation, save for some small bracketing up top. If you answered YES, go back to the "Quick Primer" and play again!
Bright paint jobs add a touch of whimsy to the homes in Angelino Heights
THE PRESENT AND PRESERVING
At the present time, Angelino Heights remains a powerful draw for history and preservation buffs from near and far. Its residents are, almost by necessity, passionate about where they live and about keeping its original vision in mind.
Some of the residents have a reputation for being somewhat eclectic, and also must have the cash to not only buy a home here, but to pay for its restoration and costly upkeep. (The kind of people who buy Hummers, one might speculate, see photo at right.) Some, like Murray Burns, own multiple homes and make money by renting them to production companies for use in filming, whereas others, like Mr. Morales at 1300, have bought and maintained their home out of a powerful loyalty to the area.
This loyalty, no matter its price or source, seems to run deeply here in Angelino Heights. People are constantly driving or strolling its picturesque streets, pausing to take many photographs and to marvel at the architecture, or perhaps to feel a bond with characters from whatever has been filmed at any given location. Ultimately, Angelino Heights has a very welcoming appeal, and seems to be a thriving neighborhood--in its truest definition.
Although these hitching posts are not originally from Carroll Avenue, there are authentic 1880s-era pieces that were placed on the street in homage to the posts that surely once were planted there. Furthermore, the balloon-like distinct streetlights on Carroll Avenue are not originally from there, but were salvaged and installed because they, too, are of that same era. Apparently, a homeowner must pay for the installation of such a light in front of their property.
Not all homes are cared for as fastidiously as others, as the above suggests.
Eclectic homes of varying styles dot the sloping streets in the Northeast corner of the neighborhood
More street views from the Northeast segment of Angelino Heights
Bob's Market at 1222-1234 Bellevue Avenue is Cultural Historical Monumnet 215. According to Historic Echo Park, "[it] is an example of a 1910 grocery story with unusual Orientalized commercial architecture."
This large brick building sits at the Southeast end of Angelino Heights, overlooking the 101 freeway below
Current residents pay tribute to onetime resident Bill Suiter, who played a key role in the area's initial preservation movement. He always had water out for any thirsty critters, hence the bowl's inclusion in the monument
Discovering Angelino Heights: Touring or Living in a Real Neighborhood
Angelino Heights is included as an on-foot destination in the recently released book Walking LA by Erin Mahoney. This Channel 7 News clip promoting the book shows reporter Jane Monreal walking along Carroll Avenue, and includes a few words from local resident Murray Burns, who attests to the very neighborly spirit of Angelino Heights.

Burns owns the home at 1320 Carroll (The Heim House), and as part of the monthly LA Conservancy tour, you can step inside his Victorian for a first floor look. The June 16, 2006 New York Times article "A Home to Its Owners, a Museum to Its Fans" details an encounter with Burns while he offered to let some German tourists inside his residence when he spotted them snapping photos from the street. Author Janelle Brown (who forgot the second "l" on the end of Carroll in this piece) writes:
The Germans ooh-ed and aah-ed as they peered around Mr. Burns's museum-perfect house, which is just one of 12 restored Victorians that Mr. Burns and his wife own — mostly as income-producing rental properties — and constantly end up showing to strangers. "We may own these homes, but we think they belong to the people of Los Angeles," Mr. Burns explained, as the tourists snapped photos on his staircase. "There's an obligation to let people like these experience it too."
On July 5 of this year, a fire tore through the Victorian home located at the corner of East Edgeware and Calumet. The house had been shrouded in overgrown greenery, and the state of its upkeep both inside an out the target of much speculation on the part of the neighbors and those from the Conservancy who frequently visit the area. According to our tour guide, Barbara Pritzkat, whose tour ran as scheduled through the area two days later, the threat of the fire roused nearby homeowners into action, some of whom saw damage to their own roofs.

According to the short article "Ashes in Angeleno Heights" the fire (as seen above from the side and front) also saw the folks of the area band together to help the elderly residents of the historic home: "Neighbors of the two women who lived in the house provided them with immediate aid, according to LAFD, and eventually contacted the American Red Cross for temporary shelter."
Former LA Conservancy President and Angelino Heights resident Barbara Thornburg wrote in the LA Times' West magazine in February 2006 (subscription required to view) about the presence of a genuine neighborhood vibe, and spoke to the notion of a shift in for whom the area has appeal:
For [me and my husband], Angelino Heights' appeal is that it is an old-fashioned community. Neighbors pick up our mail when we are away. They tell us when our Great Dane, Cleo, is roaming the street. On summer nights we sit on our porch, dine alfresco or chat with friends. Lately, a new generation has discovered our neighborhood. A hip Eastside and proximity to a revitalized downtown are part of the draw, but there are less tangible qualities that make a neighborhood a magnet. As we were three decades ago, the newcomers are struck by Angelino Heights' many charms—a coup de foudre if I ever saw one.


Although not the vista originally viewable by the area's first residents in 1887, this amazing look at the skyscrapers of Downtown still make for an impressive sight
Looking over the rushing motion of the 101 freeway has the potential to give you pause to think about how once what crossed the land were dirt roads, then railway cars, and now our urban landscape of concrete
Despite being within arm's reach of the city's core, the streets of Angelino Heights many times are as quiet as one might imagine they were in their formative years
One of Angelino Heights' most well-known and cherished one-time residents was writer and illustrator Leo Politi (1908-1996). He wrote and illustrated the children's book Angeleno Heights (pictured at left). In 2008, there are several events taking place throughout Los Angeles in honor of Politi's centennial, including a tour of Angelino Heights, described as follows:
Visit the beautiful Victorian homes from Leo Politi's book "Angeleno Heights." Displayed inside each house will be the original Leo Politi painting from his book. This will be a once in a lifetime tour of Los Angeles' most filmed and beautiful sections. Included in the tour is a stop at Leo Politi's former residence with his original mosaic artwork in the yard. Here, guests can meet the Politi family where they will share more paintings of the neighborhood that their father loved so much.
The event is scheduled for May 17th and 18th, 2008.

Tours of Angelino Heights, particularly of some of the Victorian homes on Carroll Avenue, are offered on the first Saturday of the month by the Los Angeles Conservancy. Tickets are $10 for the general public and $5 for members, and must be booked in advance. Visit their website for more information.
Many thanks to the Los Angeles Conservancy, their docent Barbara Pritzkat who led my tour of Angelino Heights, and to Cindy Olnick for the text in the tour's brochure (much of which was mirrored on the tour verbally by our guide while I hurried to take notes, not realizing we would be given this brochure at the tour's conclusion). This text and what I learned on the tour informs much of my above section on the homes of Carroll Avenue, and I have cited all immediate outside references throughout the article.
All photos by Lindsay William-Ross for LAist unless otherwise noted
It's been many, many years since we saw this much snow in our mountains. Going up there right now isn't safe, but here are some places where you can enjoy the view and snap a pic.

April Valentine died at Centinela Hospital. Her daughter was born by emergency C-section. She'd gone into the pregnancy with a plan, knowing Black mothers like herself were at higher risk.

A look at years past when snows creeped into our citified neighborhoods, away from the mountains and foothills.

In the face of a drier future, that iconic piece of Americana is on its way out in Southern California.

Bob Gregory, 62, went missing the same day as Sands. His body was recovered near Mount Islip.