This is an archival story that predates current editorial management.
This archival content was written, edited, and published prior to LAist's acquisition by its current owner, Southern California Public Radio ("SCPR"). Content, such as language choice and subject matter, in archival articles therefore may not align with SCPR's current editorial standards. To learn more about those standards and why we make this distinction, please click here.
Neighborhood Project: Leimert Park
Stories like these are only possible with your help!
You have the power to keep local news strong for the coming months. Your financial support today keeps our reporters ready to meet the needs of our city. Thank you for investing in your community.
Old men smile at each other's stories over games of dominoes played on card tables set up on the street corner. Ladies in their Sunday best daintily nibble cake at outdoor cafes, and children run laughing around the fountain in the park. People stop to chat as they meander along the boulevard. This is not a scene from another era; it's a typical Sunday afternoon in Leimert Park.
Leimert Park is part of South LA, the neighborhood formerly known as South Central. The boundaries are Rodeo Road on the north, 4th Avenue and Roxton Avenue on the east, Vernon Avenue on the south, and Crenshaw Boulevard on the west. Crenshaw District lies to the south, View Park and Baldwin Hills to the west, Vermont Square to the east, and Jefferson Park to the north. Leimert Park's ZIP code is 90008. It is pronounced "L'mert" (like "alert") not "Lee mert" (like "lemur").
Many people use "Leimert Park" to refer only to its heart, "Leimert Village" which encompasses Leimert Plaza Park, 2 blocks of 43rd street, and 1 block of Degnan to the north. The neighborhood of Leimert Park continues north all the way north to Rodeo.
City Council DISTRICT 8 BERNARD C. PARKS
County Supervisor DISTRICT 2 YVONNE BRATHWAITE BURKE
State Senate DISTRICT 26 KEVIN MURRAY
State Assembly DISTRICT 47 KAREN BASS
US Congress DISTRICT 33 DIANE E. WATSON
Neighborhood Council EMPOWERMENT CONGRESS WEST AREA
HISTORY
The area that has become Leimert Park was once soybean fields (Gantt). The area was developed by Walter H. Leimert beginning in 1928 (The LA Times cites 1927) and designed by the Olmsted Brothers to be a model community. Prior to Leimert's purchase, the land was known as "Rancho Cienega O Pao de la Tijera" and was owned by the daughter of land baron "Lucky" Baldwin. "Leimert set aside one acre as Leimert Plaza. In 1928, he donated that area to the city of Los Angeles, which made it into Leimert Plaza Park, today known as Leimert Park (Oliver, LA Times)."
Leimert Park was one of the first comprehensively planned communities in Southern California designed for low- and middle-income families, and was considered a model of urban planning for its time: automobile traffic near schools and churches was minimized, utility wires were buried or hidden from view in alleys, and densely planted trees lined its streets. - Wikipedia
The matured trees -- magnolia, palm, eucalyptus, maple and pine, amongst others, make for idyllic streets that come to life in Spring.
Photo courtesy of Paula Lauren Gibson. Used with permission

Walter H. Leimert
Walter Leimert's father, Louis Leimert, was born in Baden, Germany, where he was trained as a confectioner. After working as a confectioner for a time in San Francisco, he began a career as a building developer in Oakland.
His son, Walter, born in 1877, was instrumental in the development of the East Bay region of San Francisco in the early part of the 20th century. Areas such as Piedmont, Berkeley and Lakeshore Highlands remain outstanding residential neighborhoods and demonstrate the careful handling of land division for quality living. Walter Leimert migrated to Southern California in the 1920s and continued to develop planned communities. His early efforts were concentrated on parts of Glendale and East Los Angeles. Later, Leimert Park and Baldwin Hills became monuments to his talent. After World War II he was joined by his son, Walter "Tim" Leimert, Jr.


Beverlywood, Cheviot Hills, areas of the Hollywood Hills and Orange County also "bore the stamp of the Leimert name." Walter H. Leimert the III is still working in the family business, which is current developing Cambria in Central California. (Walter H Leimert Co)
Transportation
The yellow trolley travels down the landscaped private right of way in the median of Leimert Blvd. in Leimert Park / Photo courtesy of Tom Wetzel

The Los Angeles Railway (LARY — pronounced "Larry") was the streetcar system around which central L.A. was developed. LARY used a yellow paint scheme — hence LARY was known as the "Yellow Car" system. Total transit boardings in 1950:
* Los Angeles Transit Lines: 320 million
* Pacific Electric Railway: 109 million

The 5 line was the longest line on LARY, running from Townsend and Colorado in Eagle Rock to Broadway and Hawthorne Blvd in Hawthorne.

When Walter Leimert opened his business center for Leimert Park in 1928, he touted it as the next Miracle Mile. Although Leimert certainly had his eye on the widespread auto ownership of the white professional/business classes, who he targeted for his development, he was also aware that many people still used public transit. Unlike A.W. Ross's Miracle Mile, Leimert also sited his center at a major stop on the Los Angeles Railway, at Vernon Ave. At that time the 5 line was called the "E" line. - Tom Wetzel


Artist's rendering of Leimert Park Village. H.L. Pough 1936
Influx of New residents from the South
In the 1940s, jobs opened up in defense industry plants around the country just as a backlash against the nascent civil rights movement in the South was worsening. This confluence of events set in motion an African-American diaspora that lasted through the 1970s. Between 1940-70 the African-American population in Los Angeles grew from 63,744 to 763,000 (Sides).
Predominantly a white neighborhood, its demographics began to shift after 1942, when President Franklin D. Roosevelt desegregated manufacturing plants. Local government began to neglect the neighborhood, contributing to its decline. - Susan Carpenter
Leimert Park gradually become a mixed community. According to Gil Robertson's 1997 article in Black Enterprise, the area was "Restricted to white residents until the 1960s."
For many years there was a ban against black people owning businesses. Finally, a tailor opened up the first black-owned business. The shops at that time centered around Santa Barbara Boulevard, which later was renamed to honor Martin Luther King Jr. At the time, the 110 freeway stopped at Vernon. (Gant) In the 1970s, in the wake of the Watts riots, African American entrepreneurs started opening independent arts shops on the main streets (Washington Post). Robertson dates the beginning of the local art scene a few years earlier.
The area began its present black renaissance with the arrival of art impresario Alonzo Davis shortly after the Watts riots. Founded in 1967, Davis' Brockman Gallery (no longer in operation) nurtured the early careers of respected artists..."I've watched the area change from white to Oriental to predominantly black," says Brian Breye, owner of Museum in Black. "This part of the city is one of the only areas in the U.S. with such a high concentration of educated blacks and black businesses. It's on the move and rising, and there's a lot of pride in the community," he says.


Rosanna Wright, left, manages Bootstrings dress shop, Operation Bootstrap project which features African fashions among Mod at 1038 W. Santa Barbara Ave. Gloria Buie works in shop. Santa Barbara was renamed Martin Luther King Jr. Boulevard. / Photo courtesy of Leimert Park Beat, from UCLA archives
Samuel Bassey serving barbecued chicken to Joan Murray at booth in Leimert Park in Los Angeles, Calif., 1984 / Photo courtesy of Leimert Park Beat, from UCLA archives
Brian Breye displaying black memorabilia at the Museum in Black in Leimert Park, Los Angeles, Calif., 1984 / Photo courtesy of Leimert Park Beat, from UCLA archives
In Jeannette Lindsay's documentary, Leimert Park, 5th Street Dick's coffeehouse is touted as being instrumental in developing the community atmosphere.
Fulton, a Vietnam vet who spent six years living downtown on Skid Row, opened 5th Street Dick's Coffee Company just two days before the 1992 Rodney King riots — some of his first customers were National Guard troops called in to quell the violence. Yet Fulton, who had no prior experience running a business, placed long communal tables on the street in front of his establishment — a bold move that helped bring back the tradition of street-arts culture, all-night chess slams and verbal badinage that had all but vanished during the 1980s, when gang warfare drove people indoors behind locked metal gates. Fulton's coffeehouse literally took back the streets and was the seed by which the now internationally known Leimert Park arts scene took form and transformed gangbangers into poets, rappers and writers. (Duerston)
Leimert Park and the surrounding area is patrolled by the Southwest Police Station. The area has an extremely low crime rate, and according to the police, there is no pervasive gang problem.
The Leimert "Village" area has been owned by various groups, depending upon the source. According to Ron Gantt, the building containing Zebbs was owned by a black family until around 2003. When the husband passed away, the wife raised the rents, but was still unable to keep up and sold the building, which was quickly re-sold. At that time, local rents began to skyrocket, now threatening to price out local merchants. (Gantt)
In spite of rising rents, the neighborhood prides itself on thriving businesses working within an active arts and music community.
ARCHITECTURE
Leimert Park is a residential neighborhood rich with Spanish Colonial style homes and post-war bungalows. "The housing development, with gracefully curving streets, includes several homes designed by such architects as Roland Coate, Richard J. Neutra and Sumner Spaulding (Oliver, LA Times)".
1920s art deco apartment buildings can be found around the neighborhood.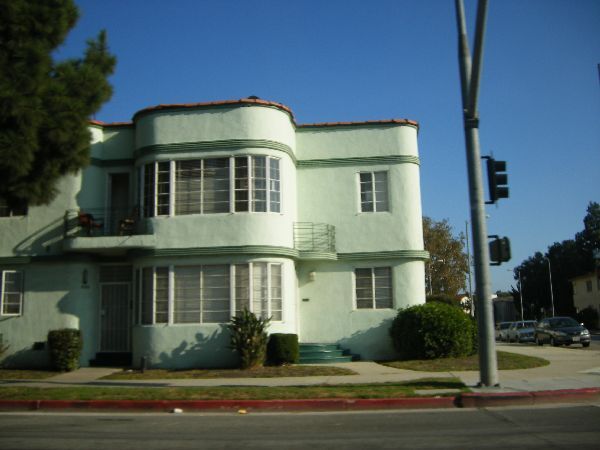 Many of the apartments are built in the style of the 1930s that is prevalent around the Hollywood and Sunset Junction areas, as well as many other parts of LA.
Here and there you can find a little Googie signage, like this shop on Vernon
The Vision Theater
The Vision Theater Building, including the corner with Zeb's Cleaners, was built in 1931. A Library of Congress" entry on a vintage photograph of the theater describes the architecture in detail, "The Zigzag Moderne image of the theater is mixed with a sense of the Spanish Baroque and the then-popular Beaux Arts."
The Leimert Theater was a neighborhood movie palace for many years. In the 1980s, it was turned into a Jehovah's Witness church and the theater was renamed the Watchtower.
It was renamed The Vision Theater by actress Marla Gibbs who purchased the theater in 1990. in 1997, the bank foreclosed on the property and the city took ownership. The theater is currently undergoing an $11 million renovation and fundraising campaign. (Cinema Treasures)
A number of epic shows took place at the theater. Phil Ranelin remembers:
On April 5th 1998 I co-produced along with my manager Dalili Pierson an event at the Vision Theater that honored trumpet legend Freddie Hubbard who's actual birthday is April 7 and who I grew up with in Indianapolis Indiana in the 1940's. Horace Tapscott was also on the show and his birthday is April 6 so it ended up being a double celebration but mainly this concert was put together to build Freddie's spirit back up since at the time he was trying to deal with a lip problem that had all but interupted his career . On the bill was Horace Tapscott Quintet and the Great Voice of UGMA and my group The Phil Ranelin Jazz Ensemble and a Jam Session that followed It also featured some off the hook food furnished by Nina and Fred Hudson. The idea came about in a March 1998 conversation that I had with Freddie about his upcoming(at the time) 60th birthday! I said " Ay Freddie, I wanta throw a party for you Hub, have a bunch of people playing all night and all you have to do is just show up you don't even have to play" So in a little over 3 weeks time the whole thing just developed into a very beautiful tribute with The Los Angeles City Council Presenting awards & plaques, gifts from the artist community and a packed house, all there showing their love and support for Freddie! He still talks about that night Wow that was special - Phil Ranelin July 9, 2008.


The Axminster Office
Photo courtesy of Mike Monroe. Used with permission
The Axminster central office was built in the 1910s by the Home Telephone Co. It later became an office of Southern California Telephone, then Pacific Telephone and now AT&T (The Central Office).
CHURCHES
Transfiguration Catholic Church
Church of Christ Crenshaw
FAMOUS RESIDENTS
John Singleton keeps a nondescript office here in Leimert Village.
This house, which was probably built in the 1940s, was the first house Ray Charles lived in when he moved to Los Angeles. Across the street is a house reputed to have once been home to Ella Fitzgerald.
Tom Bradley lived in this humble bungalow for the first few years he was mayor of the city. Talk about keeping it real. Only a sign on the sidewalk and this small sign in the yard mark the location. Nearby, the former 39th Street School was renamed Tom Bradley Elementary.
This is the Chambers Brothers family house
COOL STUFF IN LEIMERT PARK
This courtyard is owned by the city and rented out for special occasions and events.
PUBLIC ART
Murals
Gates and Fences
SANKOFA PASSAGE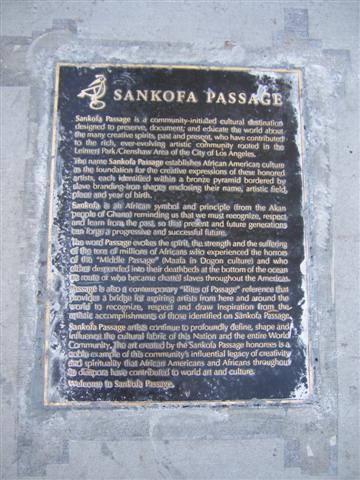 In November of 2007, 32 people were honored with pyramid-shaped plaques embedded in the concrete of Degnan. Honorees include Richard Fulton, Billy Higgins, Horace Tapscott, Alma Hightower, Dexter Gordon, Marla Gibbs, Cecil Ferguson, and others who have significantly contributed to their community.
Each recipient [was] presented with a pyramid bearing their name, artistic discipline and birthplace, embedded on a bronze plaque along the passage. The commemorative plaques, designed by John Outterbridge, will also depict the mythical Sankofa bird with its head turned back, referencing the past. Branding symbols used during slavery have been placed along the perimeter to denote the atrocities of the horrific Middle Passage when Africans were forcibly removed from their homeland and disbursed throughout the Diaspora. Sankofa is an Afrikan principle from the Akan people of Ghana. It reminds us that we must respect and pay homage to the indomitable spirit of our ancestors who endured anguish and adversity but flourished against insurmountable odds. We must draw strength and inspiration from their legacy and bestow it upon future generations. - Clint Rosemond, Sankofa Passage press release


LEIMERT PLAZA PARK
When most people think of Leimert Park they think of the park itself, the location for local community events, including celebrations, like the Kwanzaa Heritage Festival, and the Lousiana to Los Angeles (LA to LA) Festival. Around the holidays, the park boasts a huge Christmas tree, and this year at the toy drive, they imported snow for the kids.
4395 Leimert Boulevard, Los Angeles. Built in 1928, the plaza is an example of work by the Olmsted Brothers landscape firm. Its axial plan, described as Spanish Islamic, is symmetrical and includes a central fountain. flickr city project
The LA to LA Festival 1992
The park is also a center of community activism.
And a place for holiday celebrations
Plus the annual King Day parade passes right by.
Photo by Michael Bowen used with permission
Photo by Michael Bowen used with permission
Photo by Michael Bowen used with permission
The Drum Circle
Leimert Park Drummer / Photo by Kim Martin used with permission
Every Sunday there is a drum circle in the park. There is an elder who chooses the main beat, and decides when to begin or end a rhythm. Occasionally a sort of "conductor" will move amongst the drummers, keeping them on beat or encouraging them to slightly vary their part. Women and children twirl and dance within the circle. Generally the drummers are men and the dancers are women, but there are some exceptions. Children are encouraged to join in with percussion instruments.
Vendors
There are also vendors selling everything from bean pies to history books, and they often have a table providing free food to anyone who is hungry. People selling dub tapes blast them from car stereos to lure over prospective buyers.
Capoeira
In the front of the Vision theater, a group practices Capoeira, "a Brazilian fight-dance, game, and martial art created by enslaved Africans during the 19th Century." The instruments are berimbaus, which look like an archer's bow using a steel string and a gourd for resonance. It is played by striking the string with a stick, and the pitch is regulated by a stone." Wikipedia
Social Issues
Just like most of Los Angeles, there is a small homeless population in the park. There is a dominant group who hangs out around the eastern half of the park who have formed a small community that look out for each other. In spite of the issues that accompany homelessness, they are generally cool.
THE VISION THEATER LOT
The parking lot behind the Vision Theater is another community gathering place. The local Farmers' Market sets up here Saturdays, 9:00 a.m. to 2 p.m. The market offers both fresh produce and booths serving prepared food. Events including cooking demonstrations, tastings, contests, and live entertainment. Make sure to check out Dray's BBQ while you are there for a killer tri tip sandwich.
The lot is also the site of Leimert Park's annual jazz festival.
Trumpet player Rick Perkins
The Rick Perkins Quintet
THE LOS ANGELES SENTINEL
Leimert Park is also home to one of the oldest and largest African-American owned newspapers in the United States, The Sentinel. The paper is published daily and also boasts a large online readership.
According to Wikipedia, "The Sentinel was founded and first published in 1933 by Col. Leon H. Washington for black readers....On March 17, 2004 the Sentinel was purchased and came under the direction of real estate developer and community activist Danny Bakewell."
WHERE TO EAT
Ackee Bamboo serves up delicious Jamaican food in a cozy diner atmosphere.
Cafe Soul fries some of the best catfish in town.
Mama's House for catfish, smothered meats, greens, and chicken wings the size of bats.
M&Ms Soul Food a breakfast classic, with some of the best yams in the city.
Shabazz Good Foods is the place to get your bean pie. The fish sandwiches are pretty good as long as you're there, but it's all about the bean pie.
This is a review of the Crenshaw and Adams location of Phillip's BBQ.
Phillips is a legend, a monument in LA BBQ. And this one is the original. Some people claim that the sauce at the Leimert Park location is far superior to the sauce at the other two locations. Tender ribs slathered in those complex, multilayered sauces - who cares if you have to eat standing up?
And yes, Phillips still has signs everywhere.
Papa West is a new brunch spot in the location that was formerly Augustines.
The "rogue" M&Ms is closed now
Newly opening in its place is Creole restaurant New Orleans Vieux Carre.
Next-door to the M&Ms at Crenshaw and MLK stands a distinctly South LA phenomenon -- the Louisiana Chicken/Chinese restaurant.
LOCATIONS OF INTEREST
World Stage
The World Stage was founded by the late jazz drummer, Billy Higgins, and poet/community arts activist Kamau Daáood in 1989. It hosts informal jazz sessions, writers workshops and other events. Most live performances start around 7:30pm, but music often wafts out onto the sidewalk in the afternoon, and you are free to wander in. Brick Wahl reminisces about one memorable night:
World Stage brings back a lot of memories for me — shows with Horace Tapscott, Billy Higgins, Jackie Kelso. Henry Grimes' first public show in 30 years was there. And you remember Black/Note, that younger band that came up in the '90s? Their first album was called 43rd & Degnan. Inside, it's just a tiny storefront with folding chairs, really, and it was stifling. Nedra Wheeler was squeezing her double bass behind an unused drum kit. Derf Reklaw, up front by his three congas, was tearing the folks up with an outrageous story about some African gig where he was yelled at by the bandleader for not dressing African enough. "What you mean, man? These clothes are from Senegal! I bought 'em there!" Owens walked in — matching powder-green shirt and slacks and a big white Stetson. Absolutely incongruous; someone cracked wise about the hat. A guitar player, whom I did not know, took one edge of the stage as Owens busied himself taking away that house kit a piece at a time, giving the band some breathing room...Owens took his solo outside — literally, out onto the sidewalk, playing for all the folks out there — came back in, dropped out, and Wheeler took over, laying down a swimmy groove.

The encore on Joe Henderson's "Jinrikisha" was the best, Grant blowing like Freddie Hubbard, Owens filling the air with flurries and screams, Wheeler and Reklaw locked in a monster groove, the guitar player darting around all of them. After most of the folks had wandered out, it still wasn't over. Don Littleton came up, started messing around on the congas, Reklaw picked up his bongos, and suddenly there was a new jam, with Owens playing "Cherokee" at bop tempo over the manic hand drumming, crazier and crazier till, just like that, it ended. Reklaw, shaking his stinging hands, sat down. Littleton started up again, and Owens jumped in even madder, freer than before. When it stopped, the dozen people remaining burst into applause. They'd seen the most dangerous jazz created anywhere in L.A. that night. - LA Weekly


John B. Williams, bass; Tigran Hamasyan, piano. Photo courtesy of Lucas Brause used with permission
Phil Ranelin blows at The World Stage. Photo courtesy of Lucas Brause used with permission
5th street Dicks
The atmosphere at 5th Street Dick's Coffee and Jazz Emporium is easy and comfortable. The original location closed in 2000 when Richard Fulton passed away, but was re-opened around the corner on Degnan in 2005. There is always a welcoming vibe, whether everyone is gathering around to watch Dave Chapelle together, or hosting an impromptu dance lesson. The air-conditioned room provides cool respite on a hot day, and they make a mean banana-berry smoothie.
Sunny's Spot
5th Street Dick's original location is now Sunny's Spot, a coffehouse where the tradition of live bands continues. Especially popular are the live jams on Fridays and the reggae on Sunday nights that attracts such a big crowd there is an informal overflow room out on the sidewalk.

The Kaos Network
The Kaos Network is a private arts center that offers classes and music programs for the community. Their Project Blowed started in 1994 by Aceyalone and friends, is the longest running Hip Hop open mic in the world. It is still going on every Thursday. (Video from projectblowed.com)
On the first Thursday of the month they present the Beat Cypher Collective, a beat showcase. Their adult workshops are for people aged 19-99, with some flexibility. On Saturday mornings they hold a "rainbow class" teaching piano, violin, and theater to children. The last Saturday of the month they hold cinefreestyles mostly independent movies next-door at 3335 43rd. 310-419-8002
Babe and Ricky's
Babe and Ricky's Inn was founded in 1964 on Central Avenue, and moved to its current location in Leimert Park in 1997. Laura Mae Gross, who locals and musicians call "Mama" is a darling who will even give up the secrets to her fried chicken if you're nice, but don't step out of line. The bartender is super-friendly, and the bands are like family. The club is only open Monday, Thursday, Friday and Saturday nights. Around 10:30pm a big soul-food buffet appears, with black-eyed peas and hot links in a spicy jezebel sauce. The buffet is rounded out with greens, juicy fried chicken and festival bread that is a nice surprise.
The Regency West
At one time the Regency West was a supper club and hosted live performances. The Comedy Act Theater once featured the likes of Eddie Murphy, the Wayans Brothers, Martin Lawrence, Jamie Foxx, Bernie Mac and Dave Chapelle and is believed to have set the standard for ''Def Comedy Jam''. (NY Times). Founder Michael Williams opened the doors for a reunion last May (Leimert Park Beat).
The police car in this picture was for a movie shoot. You rarely see cops cruising Leimert Village unless they're hitting up Phillips BBQ.
The Lucy Florence Gallery
The Lucy Florence Gallery is part coffee house, art gallery, art space, and shops. The Gallery, which is owned by twin brothers, also hosts community events. "The proprietors, Ron and Richard Harris, took over 10 years ago. Ron said they're just a couple of old hippies trying to do a community thing." (Burke)
One of the gallery paintings
The Museum in Black
"Brian Breye opened the museum more than 20 years ago, exhibiting such fascinating yet disturbing pieces as slave documents and property appraisals from as early as the 1700s...But the collection doesn't stop there. In fact, the 3,000-square-foot building is crammed wall-to-wall with artifacts, from African masks, statues and body adornments to personal memorabilia (Laurie K. Schenden, The LA Times Guide)." "While some objects remind visitors of the derogatory stereotypes common in the early 20th century, such as ads for minstrel shows where white actors sported black faces, many items in the collection demonstrate black accomplishments (Citysearch)."
As of January, The Museum in Black had moved on to the the historical Dunbar Hotel on Central Ave from its previous location on Degnan. According to a post in Citysearch, "Brian is currently looking for a permanent building for his collection and younger people to help maintain the collection."
WHERE TO SHOP
Eso Won
Eso Won Books is co-owned by James Fugate and Tom Hamilton Eso Won moved to Leimert Park in 2006. It is currently in danger of going out of business. This heartfelt call for action is from the blog of political commentator and author, Earl Ofari Hutchinson:
The dollars and the discounts for books at Borders and on Amazon don't create one job in our community, provide one service, boost cultural and intellectual enrichment, and stimulate activism on the burning social problems that sledgehammer our community. But the dollars that go to keep an Eso Won and the dwindling number of Eso Wons of America alive and well do. It's an investment in ourselves, our future and our children's future. The fight to save Eso Won is indeed a fight that's worth putting our money where our mouth is.
-Earl Ofari Hutchinson


Oil painting on canvas. Made from a sketch at Esowon bookstore of Scot Brown's book reading for "Fighting for Us". Artist
Zeal Harris
2004. This work was used as the cover for the Los Angeles African-American Heritage Month Calendar for 2008. Used with permission from the artist.
Kumasi
Owner Harold Ingram sells a variety of imported goods, mostly from his native Ghana. He will happily tell you the story behind each piece and educate you about the history of Ghana.

The Zambezi Bazaar
The Zambezi Bazaar, run by the Kimbrough family, offers gifts, collectibles, and jewelry, along with a selection of rare books.

Gallery Plus
Gallery Plus primarily a print and framing store, also sells a variety of crafts, and holiday cards and decorations. It is also a good place to get the 411 on local events from Jackie, who in addition to being the proprietress, is a local community activist.
Crenshaw Square
There are a number of shopping centers in Leimert Park's outlying area Further up on Crenshaw lies the Crenshaw Square Shopping Center, an early strip mall. It is home to an early-morning breakfast joint, a Chinese restaurant, The Cobbler Lady and popular soul food restaurant, Mama's House.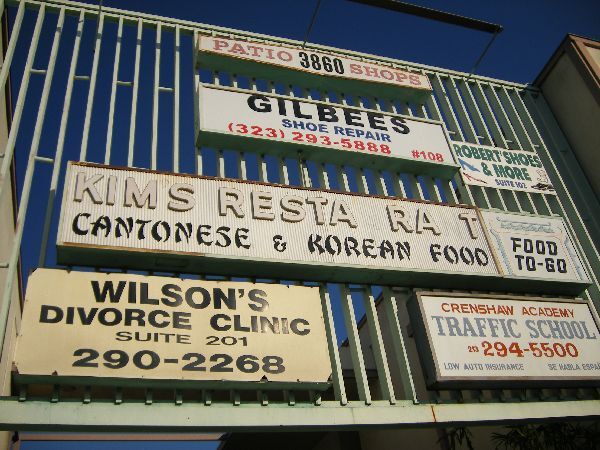 THE INFAMOUS
It was in Leimert Park that the bisected and mutilated body of Elizabeth Short was found in January of 1947. The victim of the Black Dahlia murder was found in what was once a vacant lot in a now-residential neighborhood.
On this street
Right about here:
COMMUNITY DEVELOPMENT, GRANTS AND PROGRAMS
Save Leimert
Residents have watched with mixed feelings as Starbucks, Denny's, and Big 5 Sporting Goods have moved into the area. Residents like Trevor Ware tells the LA Times, he "longs for a Trader Joe's and a Carl's Jr." Others fear that the encroachment of franchises will destroy the uniqueness of Leimert Village, and "sell the soul" as journalist Greg Burke puts it.
There are some members in the community who are concerned over a Community Redevelopment Agency (CRA) study on "Design, Development and Marketability" for Leimert Park. Some local merchants are concerned that the end product will be as extreme as a Rick Caruso Grove/Americana type project. There have also been nervous rumors of secret deals to condemn homes in the area. Others fear that the gentrification of Leimert Park will "ultimately lead to the majority African-American population of the community to be pushed and priced out of the community (Parks)".
In response, they have formed a group called Save Leimert Neighborhood Coalition with the goal of obtaining a Historic Overlay Zone (HPOZ) designation. In a Washington Post interview, resident and criminal defense lawyer John Caldwell explains, "Other African American neighborhoods across the country have surrendered to gentrification," he said. "Even Harlem is going yuppie. But the revolution is still going on here. Anybody who believes in it can join us."
"These rumors are false," Councilman Bernard Parks' website states. "In actuality, Councilmember Parks and the CRA are working to enhance and protect Leimert Park Village's Afrocentric character."
Other community members and business owners want change, and take a different stance than Save Leimert. "I'm not sure what we're saving it from," James Fugate, co-owner of Eso Won Bookstores, told KPCC in an interview. He believes there is a need for change, but not in the ethos of the village. Rather, he believes it is possible to make the village a destination like Olvera Street or other cultural neighborhoods in Los Angeles.
Outcomes of the CRA study are expected to come by the end of 2008.
("Save Leimert" written with Zach Behrens)
LANI and NBG
Leimert Park is also one of the neighborhoods chosen for the LANI program.
A non-profit organization established in 1994, Los Angeles Neighborhood Initiative strives to restore a sense of community ownership and identity to neighborhood main streets located along transportation corridors. This ground-breaking program, now replicated across the City and nation, is based on unprecedented community decision-making and public-private partnerships. -LANI
The LANI program improvements for Leimert park include bus shelters with matching benches, trash receptacles, potted trees & flower pots, trees, and a transit Information Center. The neighborhood also has been the recipient of a Neighborhood Block Grant (NBG) that assisted with facade and landscaping improvements, as well as these gateway markers.
Courtesy of Leimert Park Beat
THE NEIGHBORHOOD
Leimert Park is an idyllic neighborhood. On any day of the week, there is music in the air. Even when there is not an official event, there is always something happening.
"Everything we need is here," said 34-year resident Marilyn Ezell. "I would think this is how Harlem was in the old days. We have jazz clubs, art galleries and museums. (LA Times)
What makes Leimert Park special is intangible. It is the comfortable pace at which people walk down the street. It is the smile on people's faces. It is the freedom with which children run through the park. Leimert Park is a haven. I met some truly wonderful people on this journey, who were willing to open their hearts to me and to give freely of their knowledge. While I was focusing on the history and architecture of Leimert Park, the residents reminded me that you don't find the soul of a neighborhood inside of a book. You find it in the people.
All photos and video by Elise Thompson unless otherwise attributed. Thanks to all of my friends at Flickr!
References:
Interview, Brenda Terry
Interview, Donald Dean
Interview, Ron Gantt
Interview, Phil Ranelin
Interview, Steve Reed
Interview, Sky
Interview, Brick Wahl
Leimert Park: The Story of a Village in South-Central LA
Library of Congress
Los Angeles Neighborhood Initiative
Special thanks to Tom Wetzelfor the yellow car history and photo. And extra-special thanks to Leimert Park Beat for turning me on to his site, and much of the other research here.
Burk, Greg and Brick Wahl. "Don't Sell the Soul" LA Weekly, October 2006.
Carpenter, Susan "A Haven of Black History" LA Times, November 7, 2002.
Duerston, Mathew. "Leimert Park: The Story of a Village" LA Weekly, June 7, 2006
Lee, Gary. "Los Angeles' Black Pride: Taking in the Retro Vibe of Leimert Park." Washington Post, March 19, 2006.
Lynette. "Visiting Leimert Park Village" Suite 101.com, July 15, 2001.
Oliver, Myrna "Walter Leimert Jr., 82, Southland Land Developer" [Obituary] LA Times, January 30, 2004
Robertson, Gil "Inside Leimert Park" Black Enterprise, June 1997
Terry, Gayle Pollard. "Activism, Music, Intersect in Leimert Park." Los Angeles Times, December 25, 2005.
Isoardi, Steven L. The Dark Tree: Jazz and the Community Arts in Los Angeles. University of California Press: Berkeley, 2006.
Flamming, Douglas. Bound for Freedom: Black Los Angeles in Jim Crow America. University of Caluifornia Press: Berkeley, 2005.
Sides, Josh. L.A. City Limits: African-American Los Angeles from the Great Depression to the Present. University of California Press: Berkeley and Los Angeles, 2003.
"Music has the tendency to make a community have rhythm. Once you get
rhythm you can get harmony and that's the heartbeat of the community.
So you take jazz music and you play it long enough and loud enough in an
environment – what happens is that people come together because the
music is the thing that makes everything gel – it's alive…"
- Richard Fulton