This is an archival story that predates current editorial management.
This archival content was written, edited, and published prior to LAist's acquisition by its current owner, Southern California Public Radio ("SCPR"). Content, such as language choice and subject matter, in archival articles therefore may not align with SCPR's current editorial standards. To learn more about those standards and why we make this distinction, please click here.
Here's What You Need To Know If You Are Undocumented In L.A.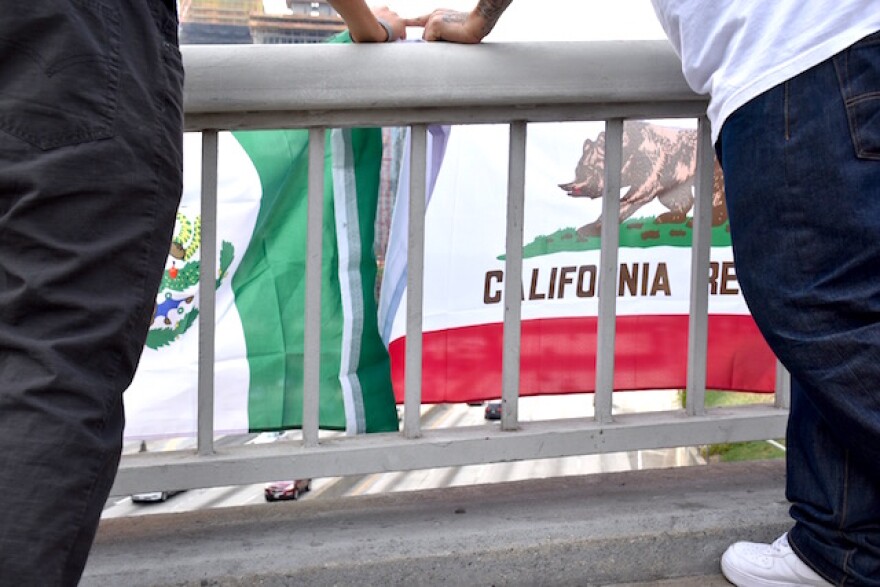 Before you read more...
Dear reader, we're asking you to help us keep local news available for all. Your tax-deductible financial support keeps our stories free to read, instead of hidden behind paywalls. We believe when reliable local reporting is widely available, the entire community benefits. Thank you for investing in your neighborhood.

Este articulo también esta disponible en Español al final de la página.There are an estimated 800,000 undocumented people in Los Angeles, the majority of whom have been here for ten years or longer, according to Jody Agius Vallejo, Associate Director at USC's Center for the Study of Immigrant Integration.
That's almost a million people, most of whom have deep roots in our communities. These are our friends and neighbors, our co-workers, and—for many of us—our family members. In the week since Donald Trump's election, Angelenos have taken to the streets day in and day out to show that they reject the president-elect's bigotry and hatred, and Mayor Eric Garcetti, LAUSD board President Steve Zimmer, and LAPD Chief Charlie Beck have all spoken out in support of our immigrant community, and said they will not cooperate with immigration services beyond L.A.'s current policies.
Still, it remains a terrifying time to be an immigrant in America, even here in Los Angeles. Jose-Mario Cabrera, communications director at the Coalition for Humane Immigrant Rights of Los Angeles, told LAist that CHIRLA has been receiving hundreds of calls to their hot line from individuals with questions.
Are you among those estimated 800,000 Angelenos? We spoke with immigrant rights and legal services groups across the city about what you need to know, and what concrete steps you can take to protect yourself.
Cabrera said that his organization is urging the community to prepare themselves, but "not to panic or any make any rash decisions. We don't yet know what Mr. Trump will do."
"We need to let the community know that, right now, no immigration law has been changed, and no specific plans have been made," Cabrera said.
Make A Plan
Advocates from CHIRLA and other immigrant rights groups say that the first thing undocumented individuals should do is make sure they have a plan for themselves and their families. Designate a friend or family member that you know and trust who can take responsibility for your kids in the event that you are detained. Have contact information for an immigration lawyer or immigration rights group handy (see below for some names of organizations and numbers). Don't open the door for anyone you don't know unless they have a signed order from a judge with your name on it. Make sure your kids also know not to open the door. None of this is new information, but it's sadly going to be more relevant than ever in the coming months.
DACA
If you have not already filed an initial application for Deferred Action for Childhood Arrivals (DACA) protections, hold off on doing so. If the program is discontinued, you will lose your fees. If you've previously been approved for advance parole for travel, it's okay to travel but you should complete your travel as soon as possible and absolutely make sure that you are back in the country by January 20, 2017. Hold off on new applications for advance parole. Tiffany Panlilio, a legal advocate with the Immigration Project at Asian Americans Advancing Justice, also said that her organization was urging DACA college students who are studying abroad to cut their trips short and make sure they are back in the U.S. by Inauguration Day. "If for whatever reason Trump decides to get rid of the DACA program, we don't know what coming home will look like for people," she said.
Citizenship
If you're eligible, begin the citizenship application process if you haven't done so already (you can check your eligibility here). As Marisa Montes at the Loyola Immigrant Justice Clinic reminded us, "Naturalization is the ultimate protection against deportation." The Loyola Clinic holds free immigration workshops every Wednesday and Friday. The Wednesday clinic is held at Dolores Mission Church in Boyle Heights from 2:30 p.m. to 5 p.m. (organizers urge attendees to get there early in order to sign up). The Friday clinic is held at Homeboy Industries every week from 2 p.m. to 5 p.m. More information on other other naturalization resources can be found below.
Be wary of fraudulent offers. Immigration activists report that whenever there is an upsurge in raids, there is unfortunately also an upsurge in unscrupulous immigration attorneys and notarios making false promises and offering services that do not exist. Only consult with legal professionals who are trusted in your community.
If You Are Detained
In the event that you are detained, do not sign anything and demand to see a judge. Unless you have been issued a prior removal order, you have the right to go before an immigration judge. You also have the right to remain silent, and not to sign anything you don't understand.
Remember that your city stands with you. Officials at the local and state level have pledged to do everything they can to protect our undocumented population. We—and they—are fighting with you and for you at every turn.
"It's going to get rough, but we've always fought. It's heartbreaking and bad and scary, but we have to go on," Montes said.
Here some organizations that offer free and low-cost immigration legal services:
The Coalition for Humane Immigrant Rights of Los Angeles (CHIRLA):
The Central American Resource Center (CARECEN): (213) 385-7800
The Loyola Immigrant Justice Clinic(LIJC): (213) 736-8136
Catholic Charities of Los Angeles: (213) 251-3411
Asian Americans Advancing Justice - Los Angeles: (888) 349-9695
However, as Cabrera told us, "I think I can count on one or two hands the number of organizations that are prepared [to assist with immigrant legal services], and it's still not enough." These groups will desperately need resources in the coming months. You can donate to help fund legal services at CHIRLA here and at the Loyola Immigrant Justice Clinic here (choose the Immigrant Justice Clinic on the dropdown menu under "designation."
***
En Español:
Hay aproximadamente 800,000 inmigrantes indocumentados viviendo en Los Angeles, la mayoría de los cuales han vivido aquí por más de diez años, según Jody Agius Vallejo, Directora Asociada de el Centro de Estudios De Integración de Inmigrantes en la USC. Eso es casi un millón de personas, muchos quienes tienen raíces profundas en nuestras comunidades. Estos son nuestros amigos y vecinos, nuestros compañeros de trabajo y—para muchos de nosotros—nuestros familiares. ¿Es usted uno de los aproximadamente 800,000 Angelenos? Organizaciones de derechos de inmigrantes y servicios legales en la ciudad nos contaron lo que usted debe saber, y los pasos que usted puede tomar para protegerse.
Jose-Mario Cabrera, director de las comunicaciones en la Coalición para Derechos Humanos de los Inmigrantes de Los Angeles (CHIRLA), le dijo a LAist que su organización esta instando a la comunidad a estar preparados pero "no entrar en pánico o hacer decisiones apresuradas. Todavía no sabemos lo que hará el señor Trump."
"Necesitamos informarle a la comunidad que en este momento, no han cambiado las leyes de inmigración, y ningún plan especifico se ha hecho," Cabrera dijo.
Haga Un Plan
Defensores de la CHIRLA y otros grupos de derechos de inmigrantes dicen que la primera cosa que las personas indocumentadas deben hacer es asegurase de que tengan un plan para ellos mismos y para sus familias. Usted debe designar un amigo o familiar confiado quien puede tomar responsabilidad por sus hijos en caso tal que usted sea detenido. Tenga la información de contacto para un abogado de inmigración o grupo de derechos de inmigrantes a mano. No le abra la puerta a los desconocidos a menos que tengan una orden firmada por un juez con su nombre. Asegúrese de que sus hijos también sepan que no le deben abrir la puerta a los desconocidos. Esta información no es nueva, pero tristemente va a ser mas necesaria que nunca en los meses que vienen.
DACA
Si usted no ha llenado una aplicación inicial para proteccion bajo DACA, no lo haga ahora. Si el programa es descontinuado, puede perder su dinero. Si usted fue aprobado previamente para libertad condicional avanzada para viajar, usted todavía puede viajar pero debe terminar sus viajes lo mas pronto posible y absolutamente asegurarse que este en los EEUU antes del 20 de enero, 2017. No llene aplicaciones nuevas para alojamiento de viaje.
Ciudadania
Si usted es elegible, comience el proceso de aplicar para ciudadania lo mas pronto posible. Marisa Montes en la clínica Loyola dice, "la naturalización es la ultima protección contra la deportación." La Clínica de Justicia Para Inmigrantes de Loyola tiene talleres de inmigración gratis cada Miércoles y Viernes. El taller del Miércoles es en el Dolores Mission Church en Boyle Heights desde las 2:30 p.m. hasta las 5 p.m. (los organizadores insisten que uno llegue temprano para registrarse). La clínica del Viernes es en Homeboy Industries desde las 2 p.m. hasta las 5 p.m. Más información acerca de otros recursos de naturalización se pueden encontrar abajo.
Ten cuidado de ofertas fraudulentas. Los activistas de inmigración dicen que cuando hay un aumento en las redadas, también desafortunadamente hay un aumento en abogados sin escrúpulos y notarios quienes hacen falsas promesas y ofrecen servicios que no existen. Solo hable con profesionales legales que son reconocidos en su comunidad.
Si Lo Detienen
En el evento que lo detengan, no debe firmar nada y debe exigir a ver un juez. A menos que le hayan emitido un aviso previo de deportación, usted tiene el derecho a presentarse a un juez de inmigración. También tiene el derecho a permanecer en silencio y a no firmar nada que no entiende.
Acuérdese que su ciudad esta con usted. Oficiales en los niveles locales y estatales se han comprometido a hacer todo en su poder para proteger nuestra comunidad indocumentada. Nosotros—y ellos—estamos luchando con usted y para usted a cada paso.

Estas organizaciones proveen servicios legales de inmigración gratuitos o de bajo costo:
The Coalition for Humane Immigrant Rights of Los Angeles (CHIRLA):
The Central American Resource Center (CARECEN): (213) 385-7800
The Loyola Immigrant Justice Clinic(LIJC): (213) 736-8136
Catholic Charities of Los Angeles: (213) 251-3411
Asian Americans Advancing Justice - Los Angeles: (888) 349-9695