Mute Math is one of the best bands out there today
Stories like these are only possible with your help!
You have the power to keep local news strong for the coming months. Your financial support today keeps our reporters ready to meet the needs of our city. Thank you for investing in your community.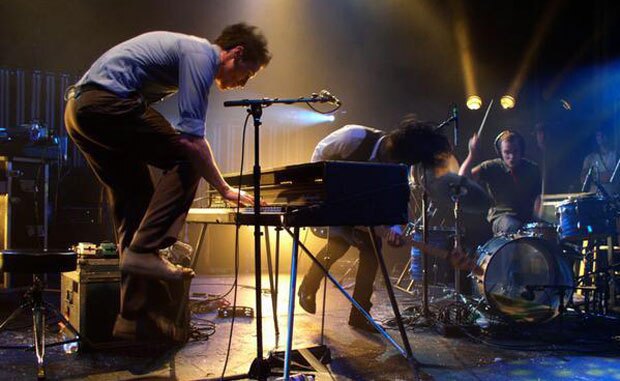 I know you stay true when my world is false / everything around's breaking down to chaos
Even after a year and a half of following Mute Math, it still feels like I know a huge secret. People still ask, "what math?" You haven't heard of the electronic, ambient, prog rock, jazz and classically influenced rock quartet making headway through the music industry with a sound that resembles a mix of Sting, Radiohead, Mars Volta, Einstürzende Neubauten and Chick Corea?
When you step out of a contract with Warner Bros. and they want you back, you know you're better than good, your going to be huge. By next summer, Mute Math could easily be a group contending for a Hollywood Bowl size gig. With their second single "Noticed" due out later this year, the debut single "Typical" (see video on the right or live version on Jimmy Kimmel from 9/19/07) is still energetically fresh and popular. If you got introduced to them via the Transformers theme song from this summer and didn't like it, give them a second try. While the musical composition was the usual Mute Math, it was a bit lame -- lyrics about Transformers will be only popular if it is making fun of the Michael Bay blockbuster.
On September 27, Mute Math played at The Avalon. As usual, amazing show (if you were there and were curious about all the silly string messing up your coiffure, you haven't seen the video for "Typical" yet). The in sync lighting timed to perfection with Darren King's drums were amazing, some of the best small venue rock lighting I've ever seen. And after following Flight of the Conchords on HBO this summer where the keytar became very uncool, I've come to the realization that front man Paul Meany can make playing the instrument hot. Meany, who also plays the Rhodes piano, bass, keyboards, samples and guitar still bounces around the stage, jumping and flipping over his keyboard. This is not a gimmick -- he's really that insane and in the moment with the music. If there ever was an award for "Henry Cowell cluster chord acrobatics," it's his.
The night ended with the audience chanting, more like begging for an encore with "Reset," a harmonic minor scale aural scape reminiscent of Radiohead's "Pyramid Song," only sped up on electronic ambient crack. At one point, guitarist Greg Hill was whacking his guitar with a timpani stick creating utterly beautiful sounds (not to mention seeing King do his audience-scream-inducing STOMP routine and bassist Roy Mitchell-Cárdenas rocking it out gran cassa style on a kick drum).
Mute Math won't be back in Los Angeles for awhile. In the meantime, check them out on Late Night with Conan O'Brien on October 17. And at the very least, humor the title of this post by at least doing the thirty-second previews on iTunes on their 2006 eponymous album.
Setlist
(as provided on a Mute Math forum by JBassFox, we're not promising total accuracy here)
Collapse
Typical
Chaos
Clockwork (new song and hopefully this is not the direction of their new work, it was just okay)
Plan B
Control
Stare at the Sun
Obsolete
Noticed
Break The Same
Stall Out
Encore
You Are Mine
Peculiar People
Reset
Photo from Mute Math