This is an archival story that predates current editorial management.
This archival content was written, edited, and published prior to LAist's acquisition by its current owner, Southern California Public Radio ("SCPR"). Content, such as language choice and subject matter, in archival articles therefore may not align with SCPR's current editorial standards. To learn more about those standards and why we make this distinction, please click here.
Meet The Actress Who Was Meant To Replace Marilyn Monroe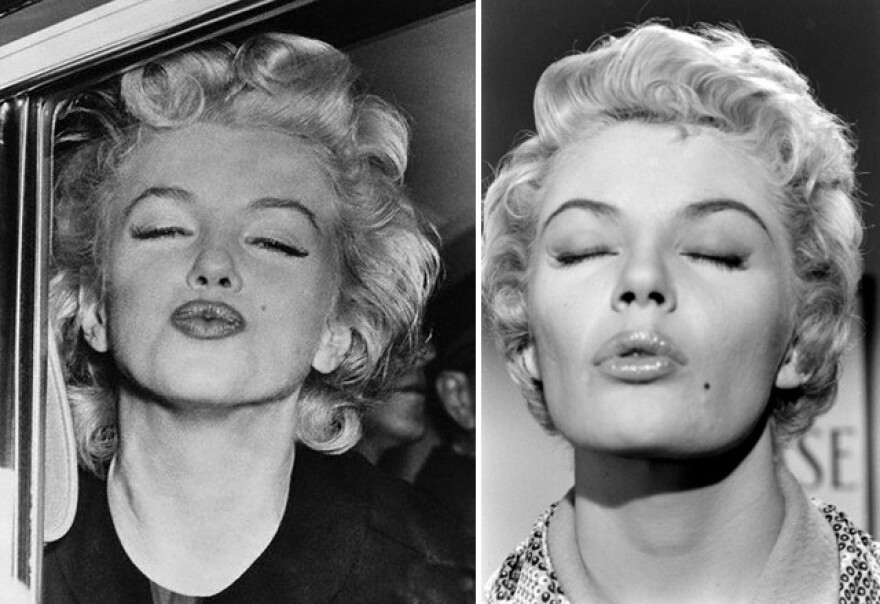 Stories like these are only possible with your help!
You have the power to keep local news strong for the coming months. Your financial support today keeps our reporters ready to meet the needs of our city. Thank you for investing in your community.
Marilyn (L) and Sheree (R)
During the height of her career in the mid-1950s, just as Seven Year Itch hit the screen, Marilyn Monroe was acting "erratic" according to some studio heads. Turning down scripts and "irritating her bosses at 20th Century Fox" led to the higher-ups looking for a replacement bombshell. Enter Los Angeles native Sheree North, who never stole the spotlight from Marilyn, but did land on the cover of LIFE Magazine with some bold print declaring: "Sheree North Takes Over From Marilyn Monroe."

Photo courtesy of LIFE.com
And so North was being "kept on ice merely as a decoy to scare Marilyn," who at the time was romantically transitioning from Joe DiMaggio to Arthur Miller—likely a cause for some of this behavior not favored by studio execs. However, a few years later—in 1961, about a year before her fatal overdose—Monroe would spend some time at NYC's Payne Whitney Hospital for some "rest and relaxation."

Marilyn (L) and Sheree (R)
North was a pretty passable champagne-haired doppelgänger for Monroe, and LIFE.com recalls she was "by all accounts being groomed" to fill Monroe's pumps. But even she didn't believe it could happen, saying, "Let's not kid... Marilyn's an institution like Coca-Cola and who's gonna replace that?" It would seem: no one.
While North had plenty of work throughout her life (she even played Kramer's mom on Seinfeld!), she never became a big name. In her 2005 obituary, the LA Times touched on the Marilyn takeover:
"Hollywood insiders originally whispered that 20th Century Fox hired North only as a threat to the troublesome Monroe—whom she did replace in the 1955 How to Be Very, Very Popular, in which she outdanced and outshone the leggy Betty Grable. North not only shared Monroe's blond coiffure but almost exactly matched her height and measurements." (Her daily diet at the time consisted of six raw eggs, two tomatoes, and half a grapefruit, usually eaten at once.")
Here she is in that film:
And in 1956's The Best Things In Life Are Free: