This is an archival story that predates current editorial management.
This archival content was written, edited, and published prior to LAist's acquisition by its current owner, Southern California Public Radio ("SCPR"). Content, such as language choice and subject matter, in archival articles therefore may not align with SCPR's current editorial standards. To learn more about those standards and why we make this distinction, please click here.
Photo Essay: Hollywood Medical Marijuana DEA Raid
Before you read more...
Dear reader, we're asking you to help us keep local news available for all. Your tax-deductible financial support keeps our stories free to read, instead of hidden behind paywalls. We believe when reliable local reporting is widely available, the entire community benefits. Thank you for investing in your neighborhood.
Don Duncan of the California Patients Group in Hollywood talks to reporters through the door broken by the Drug Enforcement Administration (DEA)
As the Los Angeles City Council placed a moratorium on new facilities so rules could be drafted to better regulate them, federal agents raided 10 local medical marijuana facilities on Wednesday [LA Times]. What follows are pictures from the raid at the California Patients Group in Hollywood.
"I am greatly disturbed that the Drug Enforcement Administration would initiate an enforcement action against medical marijuana facilities in the City of Los Angeles during a news conference regarding City Council support of an Interim Control Ordinance to regulate all facilities within the City. This action by the DEA is
contrary to the vote of Californians who overwhelmingly voted to support medicinal marijuana use by those facing serious and life threatening illnesses. The DEA needs to focus their attention and enforcement action on the illegal drug dealers who are terrorizing communities in Los Angeles." ~ Dennis Zine, 3rd District City Councilman, former police officer for the LAPD and Republican
An Interim Control Ordinance by Councilman Dennis P. Zine that would temporarily prohibit the opening of any new medical marijuana dispensaries until a permanent ordinance is created to establish regulations was voted on for approval in City Council on Wednesday.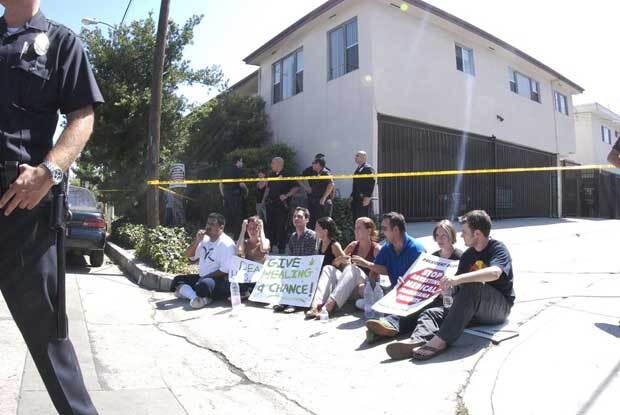 The Interim Control Ordinance is designed to prevent new Medical Marijuana Dispensaries from opening while an inter-departmental task force (led by the Planning Department) crafts an ordinance to regulate medical marijuana dispensaries and establish appropriate regulations. These regulations will focus on hours of operation, proximity of dispensaries to schools, recreation, residential, and other sensitive use sites, as well as rules for on-site consumption, security, and liability considerations. Additionally, no new dispensaries will open until a regulation strategy is developed and implemented.
The purpose of this interim control ordinance is twofold: First, it would place a moratorium on all medical marijuana dispensaries until a permanent ordinance is established. Second, all existing dispensaries would have 60 days to comply with regulations set forth in the Interim Control Ordinance.
"Our goal is to bring the sale of medicinal marijuana under control and regulated by a City entity so that distribution is safe and accessible to people that truly need medicinal cannabis to improve their quality of life," said Councilman Zine, Member of the Committee on Public Safety. "The purpose of this interim ordinance is to protect not only the right of patients to access the medications that they need, but also to rid the current distribution facilities of abuses that harm the areas surrounding the dispensary sites."
The first reading of the Interim Control Ordinance was approved 11-0, and final approval is anticipated within a week.
"Although voters in California approved the use of medical marijuana in 1996 and said users should not be subject to criminal prosecution, it remains illegal under federal law to possess, sell or cultivate marijuana and neither the federal nor state courts have resolved the matter." - LA Times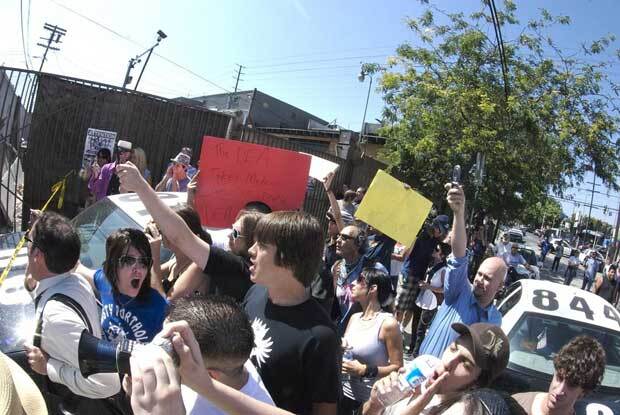 "Raising the stakes in the federal government's war against medical marijuana, the U.S. Drug Enforcement Administration has warned more than 150 Los Angeles landlords that they risk arrest and the loss of their properties if they continue renting to cannabis dispensaries." - LA Times
"City officials aim to weed out dope peddlers who are ignoring the intention of 1996's Proposition 215, which allows Californians to obtain marijuana for treatment of chronic pain, anorexia, cancer and other serious illness.
"Since Los Angeles doesn't currently regulate or license shops - estimated at several hundred - the City Council voted to temporarily halt new stores while it develops a policy to separate ones selling the drugs for medical use from ones masking recreational sales under the banner of compassionate care." - Daily News
Chris Fusco holds the warrant allowing the DEA to raid.
All photos by Shay Sowden, special to LAist