Lil Wayne Dunks Oreo's World Record Facebook Attempt
LAist relies on your reader support, not paywalls.
Freely accessible local news is vital. Please power our reporters and help keep us independent with a donation today.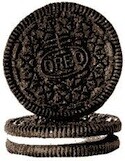 Oreo attempted to set a Guinness World Record today for the most "Likes" to a Facebook page in 24 hours. Not to be overshadowed by a cookie no matter how delicious it may be, Lil Wayne rallied his 20 million Facebook fans to challenge Oreo, and within an hour scored nearly 200,000 "Likes" compared to Oreo's 56,615 who had a four hour head start.
It's unclear, reports Mashable, if Lil Wayne needed to register with Guinness people before attempting the record. Reps from Guinness reportedly could not be reached and a Kraft rep declined to comment on the crumbling (wocka wocka) situation.
Digital manager for Lil Wayne, Mazy Kazerooni, said the intention of the challenge was show that the star had significant pull in social media, adding "I want people to think Bieber, Gaga and Lil Wayne. The traffic we do is ridiculous and no one really knows."