L.A. Screwed Out of Federal Transit Funding, Again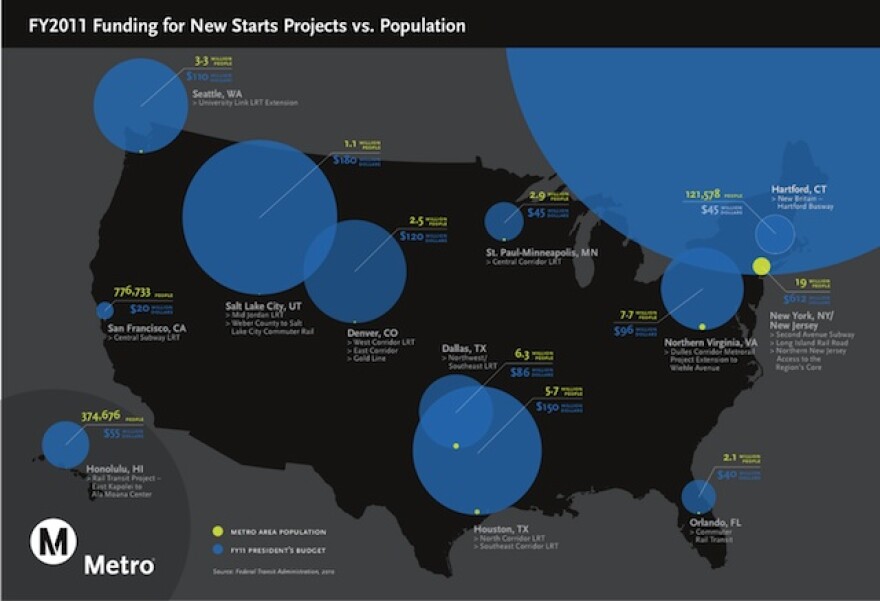 LAist relies on your reader support, not paywalls.
Freely accessible local news is vital. Please power our reporters and help keep us independent with a donation today.
When the Obama Administration yesterday released the list of transit projects set for federal funding, Los Angeles was missing. Hartford Connecticut and Oakland received funds for bus rapid transit. San Francisco got some dough for a subway. Other rail funding went to Hawaii, Minnesota and Colorado. Even San Bernardino and Riverside were funded for projects (see the full list here).
"The Federal Transit Administration recently denied Metro's request for $77 million in New Starts funds in the federal budget to help pay for preliminary engineering work on the Westside Subway Extension and Downtown Regional Connector projects," explained Steve Hymon at Metro. "The reason: the projects haven't yet been designated as official New Starts projects, although FTA officials are working with Metro on the complex application process."
And without being designated as an official New Starts project, Los Angeles was left out. However, Hymon notes in fairness "that Metro may have received subway and connector funds this year if the planning process for both had started earlier than 2007 and the projects were farther along." Translation: It's sort of our fault.
Also, the Gold Line Eastside Extension was given $500 million in New Starts funding last year.