This is an archival story that predates current editorial management.
This archival content was written, edited, and published prior to LAist's acquisition by its current owner, Southern California Public Radio ("SCPR"). Content, such as language choice and subject matter, in archival articles therefore may not align with SCPR's current editorial standards. To learn more about those standards and why we make this distinction, please click here.
LA Booker Interview: Patrick Llewellyn of Safari Sam's
Our June member drive is live: protect this resource!
Right now, we need your help during our short June member drive to keep the local news you read here every day going. This has been a challenging year, but with your help, we can get one step closer to closing our budget gap. Today, put a dollar value on the trustworthy reporting you rely on all year long. We can't hold those in power accountable and uplift voices from the community without your partnership.
LA is home to dozens of classic, independent, rock clubs. Many of these clubs helped launch most of your favorite bands. But those bands would have never made it on stage if it wasn't for the booker, the person who actually schedules the bands to play the show on the particular date.
We start this series in Little Armenia at Safari Sam's, a club that was originally created 20 years ago in Huntington Beach and hosted the likes of Black Flag and Social D. Now in the location of a former strip club on Sunset Blvd., Safari Sam's has injected a much needed shot of indie love into East Hollywood.
Booker: Patrick Llewellyn
Club: Safari Sam's
Capacity: 465
Who is the owner of your club: Sam Lanni — He also books with me and is the coolest guy ever
Address: 5214 Sunset Blvd, Hollywood CA
What sort of bands normally play there: All kinds— We're a very diverse club, and Sam and I book the club based on what we like. We've found we're really making waves in Americana/Country and of course, rock.
What are the most famous bands that have played at Safari Sam's?: Brian Jonestown Massacre, The Donnas, The Kooks, The Horrors, Mudhoney, The Knitters (X's side band), and country music legend Porter Wagoner are some of the most memorable
How can bands/managers reach you?
booking@safari-sams.com is the best.
How did you get your job booking shows?
I fell into it. I was trying to get started in my own band singing, when I met a really awesome band that I ended up managing until they broke up. I found my ability to get people to their shows was my best skill, and a friend who booked us asked me to one day fill in booking one of his dates at the Bigfoot Lodge (they used to have bands). I booked the night, and ended up drawing more than he usually did and packed the place. It felt good. He ended up moving, and I was asked to take over. Through shows, I met Sam when he was putting together his team to run Safari Sam's, and he and I got along very well, and the rest is history.
What types of previous skill sets or experiences made you qualified for this job?
I have a customer service background (thank you, PeopleSupport!) and a degree in English from UCLA. I think the CS background is very helpful because it teaches you to think in terms of other people's needs, which is how people like to think— in regards to their own needs. The English background is helpful because I'm obsessed with stories, and booking multiple bands on a night is a story— a journey from one sound to another. Do it well, and people will stay from 9- close. I also worked for an Entertainment Lawyer, making changes to contracts— now that I work with agents, that has become VERY helpful.
What makes your club special or unique?
We're all ages, independent, with great sound and a friendly staff. We book what we like, and figure out how to make it pay later. Also, no other club has Sam, who is by far the superstar of the Club owner world. No other club owner is so well loved and is as involved with their clientele as Sam. He's awe inspiring.
As you figure out what bands to book, where are you trying to steer the club?
We're not trying to steer the club anywhere, but we do want the nights to be profitable. We can't keep a club this size open on just good music, but I believe if people know they will always hear something good here we'll build a basic audience that'll be in here day in day out. We treat the musicians well here, too, so word of mouth among touring bands is steering some great talent our way.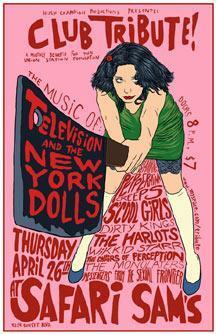 What's the biggest mistake bands make when they approach you trying to get booked?
Stop asking for opening slots on big shows. Big shows almost always have the local openers chosen by the headliner. It makes you look lazy, too, that you don't want to promote yourself and work to get people out to the club.
What's the best thing bands can do to get booked at their favorite clubs?
Talk to other bands, and then present yourself as a package of bands that'll bring in X amount of people. It's easier to find a fully open date than to squeeze a band into an existing show.
Who has been your mentor as far as showing you the ropes about booking?
Sam has shown me a lot, but also Todd Kasten from the Malibu Performing Arts Center (formerly the booker for Knitting Factory-LA, and a legend in Chicago) has filled in a lot of holes in my talent buying knowledge. For the most part, I've figured it out on my own, though, but those two have been invaluable.
If you weren't working where you are, what other rock club would you love to book for?
I'd love to turn the Whiskey A Go Go back into a viable club. That room has so much history! Get it away from pay to play.
What is the best show that you ever put together - or your favorite?
My Rolling Stones Tribute when I was an independent. 10 bands performing three songs each by the Stones. A lot of work but it went off well. At Sam's, it was The Bronx/400 Blows/Qui. I think the perfect amount of people showed up, energy was great, crowd was great.

What is your favorite LA rock moment outside of the club you book for.
The Arthur Lee (Love) secret show at Spaceland in 2002. It was moving and made me cry.
What's your second favorite place to see live music in LA, next to your own club?
Hmmm.. Tough. I'd say the Hollywood Bowl. The sound is great there.
What band would you die to have play at your club?
Alice Cooper. I'm not worthy!
Cruise off the highway and hit locally-known spots for some tasty bites.

Fentanyl and other drugs fuel record deaths among people experiencing homelessness in L.A. County. From 2019 to 2021, deaths jumped 70% to more than 2,200 in a single year.

This fungi isn't a "fun guy." Here's what to do if you spot or suspect mold in your home.

Donald Trump was a fading TV presence when the WGA strike put a dent in network schedules.

Edward Bronstein died in March 2020 while officers were forcibly taking a blood sample after his detention.

A hike can be a beautiful backdrop as you build your connection with someone.