Huge Fire Damaged Four Koreatown Homes & Displaced 19 People
Stories like these are only possible with your help!
Your donation today keeps LAist independent, ready to meet the needs of our city, and paywall free. Thank you for your partnership, we can't do this without you.

A fire that that spread to four homes in Koreatown Thursday has one silver lining, at least: a little dog named Brownie was saved. Firefighters responded today to a fire in the 100 block of S. Ardmore Ave. in Koreatown at about 11:49 a.m. LADF spokesperson David Ortiz told LAist on-site that when rescuers arrived at the scene of the fire, they found the two-story Craftsman house at 173 S. Ardmore engulfed in flames and the home next door burning. About 100 firefighters from 17 companies responded and took about 40 minutes to put out the fire. It was a complicated process as the home had sustained structural damage, meaning firefighters couldn't risk entering the home and had to go into a "defensive position."
Two of the homes were gutted, while the other two sustained moderate and minor damage. No civilians or firefighters were hurt. And, firefighters also rescued a small dog named Brownie.
According to Nancy Marin, whose sister Lesly lived on the second floor of one of the damaged homes, Brownie must have gone to hide in his bed on the back patio area of the house. LAFD engineer Don Maisel told LAist they spotted the dog in the backyard and were able to "pen" him in so that he didn't run back towards the flames. Maisel was spotted carrying Brownie to safety.
The Craftsman homes were over 100 years old. The cause of the fire is still under investigation, though there have been reports of an explosion, and some of the brick on the home where the fire began appeared to have been blown out. Some bystanders speculated a gas leak, though that has not been confirmed.
A total of 19 people have been displaced due to the fire, KTLA reports. The Red Cross will be helping 12 of them, but the other seven do not need the nonprofit's help at this time.

(Photo by Juliet Bennett Rylah/LAist)


(Photo by Juliet Bennett Rylah/LAist)


(Photo by Juliet Bennett Rylah/LAist)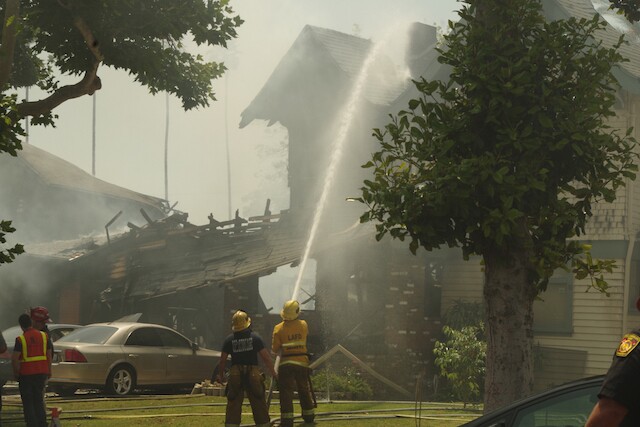 (Photo by Juliet Bennett Rylah/LAist)