This is an archival story that predates current editorial management.
This archival content was written, edited, and published prior to LAist's acquisition by its current owner, Southern California Public Radio ("SCPR"). Content, such as language choice and subject matter, in archival articles therefore may not align with SCPR's current editorial standards. To learn more about those standards and why we make this distinction, please click here.
It's a Phenomenon Known as Déjà Vu
Before you read more...
Dear reader, we're asking you to help us keep local news available for all. Your financial support keeps our stories free to read, instead of hidden behind paywalls. We believe when reliable local reporting is widely available, the entire community benefits. Thank you for investing in your neighborhood.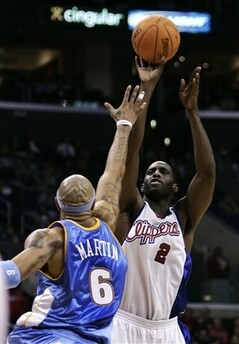 The trailer for Denzel's new movie, opening on Thanksgiving weekend, explains that "you arrive at a place you've never been, but it feels … familiar."
Tell me about it.
Our last memories of the Clippers were walking off the court in Phoenix, dejected after the MVP Steve Nash-led Suns offense ran circles around them in Game 7. There were also more pleasant memories of the Clippers emerging victoriously on their home court after a playoff series win over the Nuggets, with Carmelo Anthony a total non-factor.
Our latest memories look pretty similar.
The Clips split their first two games of the season, dropping a tough game to the Suns in Phoenix on Wednesday night, 112-104, but rebounding to edge the Nuggets in their home opener at Staples last night, 96-95.
Wednesday's loss saw the Clippers unable to slow down the frenetic pace of the Suns, with Nash repeatedly getting into the lane for open jumpers or setting up Shawn Marion and Boris Diaw for easy layups. Elton Brand continued where he left off, dominating the smaller Suns inside for 28 and 13, but the Clips did not fully exploit their size advantage as the Lakers had the night before. Shawn Livingston struggled as he got the start ahead of Sam Cassell, and the Clipper shooters were cold from outside. Corey Maggette was virtually invisible after getting a mild case of food poisoning from a surf and turf dinner the night before. (Note to Corey: Phoenix is not exactly known for its lobster)
While the Clippers seemed just as offensively challenged last night against Denver, the defense made the necessary stops to win the game. Anthony was tossed from the game, picking up two Ts in the third quarter under the league's new no tolerance complaint policy, thus depriving the Nuggets of their best player for the critical moments down the stretch. The Clips came back from ten points down in the fourth, thanks primarily to the clutch shooting their two major offseason signings. Sam Cassell lit up Denver's guards for 35 points, including the go-ahead free throws with 12 seconds left. Tim Thomas scored 21 off the bench, hitting three 3s in the last two-and-a-half minutes to ignite the comeback. Their scoring offset a pitiful 34 percent shooting effort from the rest of the team.
If there's anything to take away from the first two games - and there's usually not - it's that the Clippers act like a team that knows it's supposed to be good. In years past, the Clippers would fold the tents if falling behind by double-digits in the fourth. But this team showed some guts in coming back. Even in losing to Phoenix, there was a sense of disappointment in their effort that they should have won the game, as opposed to acceptance that they lost a game they weren't expected to win. Times are changing in Clipper Nation.
Here's hoping that the Clippers continue to write a new chapter in their not-so-storied history this season, instead of falling into déjà vu over all their past failures.
AP photo by Kevork Djansezian