This is an archival story that predates current editorial management.
This archival content was written, edited, and published prior to LAist's acquisition by its current owner, Southern California Public Radio ("SCPR"). Content, such as language choice and subject matter, in archival articles therefore may not align with SCPR's current editorial standards. To learn more about those standards and why we make this distinction, please click here.
How You Can Help 17 Acres In Laurel Canyon Stay Undeveloped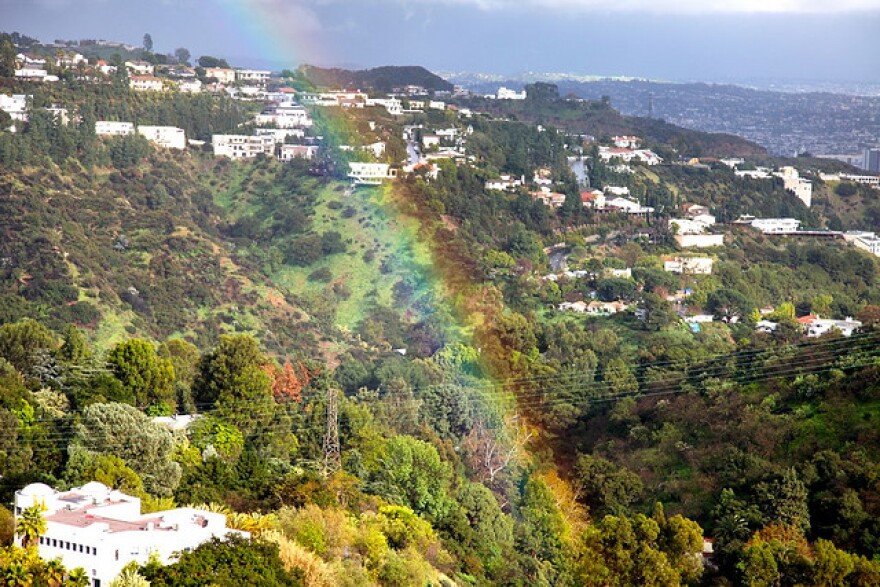 Before you read more...
Dear reader, we're asking you to help us keep local news available for all. Your financial support keeps our stories free to read, instead of hidden behind paywalls. We believe when reliable local reporting is widely available, the entire community benefits. Thank you for investing in your neighborhood.

Ever look up at the Hollywood Hills and wonder how you could get in on purchasing some of that land? Now's your opportunity.Seventeen acres of land in Laurel Canyon, a ridge between Lookout Mountain Avenue and Stanley Hills Drive, is available for purchase for $1.6 million, and a coalition of four conservation groups are seeking donations from the public to preserve from development. "We're watching these incredible green spaces disappear very quickly," Alison Simard, founder and chair of Citizens for Los Angeles Wildlife (CLAW), told the L.A. Times. "We need to grab this land where we can and preserve it."
Simard's group, along with the Laurel Canyon Association, secured the deal to purchase the land at the $1.6 million figure along with a payment plan that would let them spread the cost over the next 18 months. However, they need to raise the first $50,000 by November 2, and as of Wednesday only had $20,000. Once CLAW and the Laurel Canyon Association complete their acquisition, they would turn the land over to the Mountains Recreation & Conservation Authority to manage it and preserve in conjunction with the newly formed Laurel Canyon Land Trust. The land was originally rumored to be developed into a solar farm, but that deal supposedly died
"We live in a semi-rural, semi-wilderness area," says the website for the campaign, named Let's Buy A Mountain. "If we want to preserve this style of life for ourselves and future generations, we must act." Yes, the purchase would ensure that the wealthy residents already in the area wouldn't have to deal with more development, but it also ensures the preservation of a natural, green space in an urban environment. Let's Buy A Mountain describes it as an "ancient wildlife corridor" home to life such as oaks, bobcats, coyotes and deer. Los Angeles Magazine says it has one of the highest points in the Hills, "a 1,400 foot crest that offers views from Catalina all the way to the Sierras."
"This is an opportunity that comes once in a lifetime," said Councilman David Ryu, whose district includes the 17-acre parcel. "Please donate today so this important piece of L.A.'s green belt will be forever removed from the threat of development." Ryu has pledged to match up to $15,000 of what's remaining to reach the first payment goal.
CLAW's video for the Let's Buy A Mountain project