Rumor Mill: Gucci Scouting For Downtown Location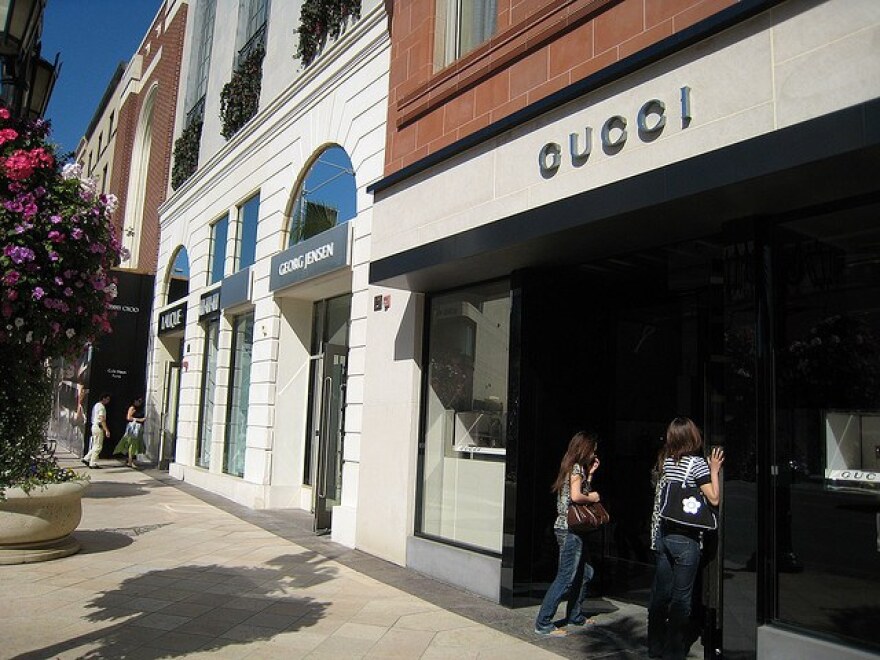 LAist relies on your reader support.
Your tax-deductible gift today powers our reporters and keeps us independent. We rely on you, our reader, not paywalls to stay funded because we believe important news and information should be freely accessible to all.
Gucci stores might be something we'd expect to see in places like Beverly Hills or at the Beverly Center, but now the high-end retailer could be making a surprising move—heading over to downtown. Rumor has it that Gucci is eying some spots near the evolving and chic shopping area at 9th and Broadway.
Different sources have been telling Brigham Yen of DTLA Rising that something's a-brewing with Gucci, including one person who said Gucci made an offer to buy out a store, but was turned down by its owner. If Gucci launched a store there, it would be the fanciest retailer close by to other high-end shops like Acne Studios, Aesop and OAK NYC. Further down on Broadway are places like Umami Burger and ACE Hotel. Gucci would be in good company.
Yen has a gut feeling that Gucci could be setting their sights on the Broadway Trade Center, which is located on Hill St. and 8th St. The old building which used to house the May Co. got bought out last year by a New York real estate investment firm that has plans to redevelop the huge 1.1-million square foot space. The L.A. Times reported that the space could be used for "offices, a hotel, stores and apartments or condominiums." According to Downtown Examiner, it's rumored Apple, Inc. is looking to open a campus inside the Broadway Trade Center.
The historic Broadway corridor, with its high-rise, Art Deco buildings was once a bustling spot for theaters and department stores in its heyday. It looks like it's very much on its way to getting revitalized to its former state.