This is an archival story that predates current editorial management.
This archival content was written, edited, and published prior to LAist's acquisition by its current owner, Southern California Public Radio ("SCPR"). Content, such as language choice and subject matter, in archival articles therefore may not align with SCPR's current editorial standards. To learn more about those standards and why we make this distinction, please click here.
Gold Line Foothill Extension En Route to June Groundbreaking
We need to hear from you.
Today during our spring member drive, put a dollar value on the trustworthy reporting you rely on all year long. The local news you read here every day is crafted for you, but right now, we need your help to keep it going. In these uncertain times, your support is even more important. We can't hold those in power accountable and uplift voices from the community without your partnership. Thank you.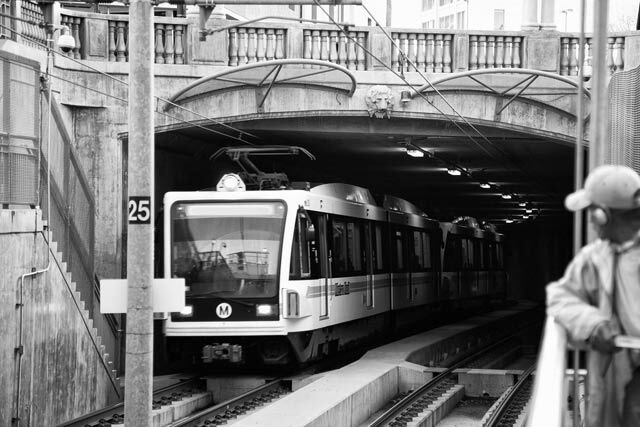 Photo by Alberto Cueto via the LAist Featured Photos pool on Flickr
It looks like June is when we'll see the groundbreaking for the MTA Gold Line's Foothill Extension, which will take the tracks from its current terminus in Pasadena to the Azusa/Glendora border, reports the Pasadena Star-News.
Up until meeting held recently there was contention between the various involved parties, including the MTA and San Gabriel Valley officials, who have been working for several years on a plan to expand the transit service in the region. The push to extend the Gold Line eastward from Pasadena was emphasized last October, when the MTA included "a commitment to try to open the Gold Line Foothill Extension from Pasadena to Azusa before 2017," as part of their long-range 30-year plan for improving transit in greater Los Angeles.
One of the main issues has remained funding: "The construction authority will likely receive its full Measure R allotment of $851 million for the project over 11 years, according to [CEO Habib] Balian. The plan is to find a construction company with enough cash reserves to fund much of the project's costs, with the authority paying back the money as its Measure R funds trickle in."
Some see new leadership at the MTA reason for the project's new green lighting, while others, like "Azusa Councilman Keith Hanks, a member of the construction authority's board, said an independent study that found the Gold Line extension could create 7,000 jobs probably helped motivate the MTA to get moving on the project."
It's been many, many years since we saw this much snow in our mountains. Going up there right now isn't safe, but here are some places where you can enjoy the view and snap a pic.

April Valentine died at Centinela Hospital. Her daughter was born by emergency C-section. She'd gone into the pregnancy with a plan, knowing Black mothers like herself were at higher risk.

A look at years past when snows creeped into our citified neighborhoods, away from the mountains and foothills.

In the face of a drier future, that iconic piece of Americana is on its way out in Southern California.

Bob Gregory, 62, went missing the same day as Sands. His body was recovered near Mount Islip.