Here's Where You Can Get Free Comics On Saturday
LAist relies on your reader support.
Your tax-deductible gift today powers our reporters and keeps us independent. We rely on you, our reader, not paywalls to stay funded because we believe important news and information should be freely accessible to all.
Free Comic Book Day is always the first Saturday in May, which would make this Saturday Free Comic Book Day! Show up to any participating comic book shop during their open hours, and you'll be able to choose from a select list of comics. Several stores also have specials guests, food and entertainment. Here's a list of the comics you can store for free, and we've also compiled a list of events happening at local shops.
Blastoff Comicsfest
Blastoff Comics and Knitting Factory Entertainment are hosting a dayside festival at NoHo's Federal Bar. Guests can expect food, DJs, photo ops with costumed heroes and a beer garden while picking up free comics. There will also be signings from Alan Brennart (Batman, Time and Chance); Joe Casey (Miami Vice: Remix, Sex, The Bounce); Frank Gibson (Adventure Time), Dana Gould (Star Trek, Planet of the Apes); Gregg Hurwitz (Batman: The Dark Knight); Mike Johnson (Supergirl) and more. Check the event page for a complete list of guests and when they'll be signing.
The Federal Bar. 5303 Lankershim Blvd., NoHo.
Meltdown
Meltdown has free comics, 50 percent off back issues and a bunch of discounts. There will also be signings between noon and 4 p.m. from Nance Partlow, Eric M. Esquivel, Rachel Dukes, Sam Spina, Arron Whitaker, Melinda Tracy Boyce, Juston McKee and Javier Hernandez. Other events include a superhero photobooth, a pet cosplay contest at 2 p.m. and a human cosplay contest at 2:30 p.m. You can also get your face painted like a superhero before 10 a.m. and 1 p.m. Plus, there will be an art workshop from LACMA between 2 and 4 p.m. featuring artist and writer Gustavo Albert Garcia Vaca.
Meltdown. 7522 Sunset Blvd., Hollywood. Opens at 10 a.m. 323-851-7223.
The Golden Apple
Golden Apple has lots of specials, including a sidewalk sale with $5 books and toys and 2-for-1 $1 comics, and 20 percent off everything in the store. Guests can also snag a free sketch from David Flores (Dead Future King and a free print from Siike Donnelly (Solestar, Monomyth). Frank Beddor, creator of Hatter M will also be there, signing copies of his comic.
The Golden Apple. 7018 Melrose Ave., Los Angeles. Opens at 10 a.m. 323-685-6047.

Galaxy of Comics (Photo via Facebook)
Galaxy of ComicsThis one's for the early risers. Starting at 6 a.m., Galaxy of Comics will have free snacks, coffee and comics, plus huge discounts all over the store. Expect cosplayers and food trucks, plus a raffle. There will also be signing from Christopher Khayman Lee (The Red Space Ranger), who will be signing LA Crazy Town.
Galaxy of Comics. 17306 Saticoy, Van Nuys. 818-578-8559.
Things from Another World
According to Free Comic Book Day, guests who pick up their free comics from this shop will be able to take a selfie with Iron Man.
Things from Another World. 1000 Universal Studios Blvd., Suite 101, Universal City. Opens at 10 a.m. 818-622-8464.
The Comic Bug
The Comic Bug is hosting events at both of their locations, but also a Free Comic-Con Day at the Culver City Teen Center. They have a slew of artists, plus a podcast tent, vendors, photo booths and snacks. Check out the entire lineup here.
The Comic Bug. 1807 Manhattan Beach Blvd., Manhattan Beach. 310-372-6704. 4267 Overland Ave., Culver City. 310-204-3240. Culver City Teen Center. 4153 Overland Ave., Culver City.
Pulp Fiction
Pup Fiction in Culver City is doing good with their free comics. Every guest can have one comic book just for showing up, but guests will receive more if they bring canned goods for donation to the Los Angeles Food Bank. (They specify it has to be human food, not dog food, as some jerk tried that once.) Pulp Fiction is also a great spot to bring kids, as they are hosting a few creators all-ages comics like Tales of the Brothers Three and Teen Titans GO!.
Pulp Fiction. 4328 Sepulveda Blvd., Culver City. 310-572-6170. Opens at 11 a.m. 310-572-6170.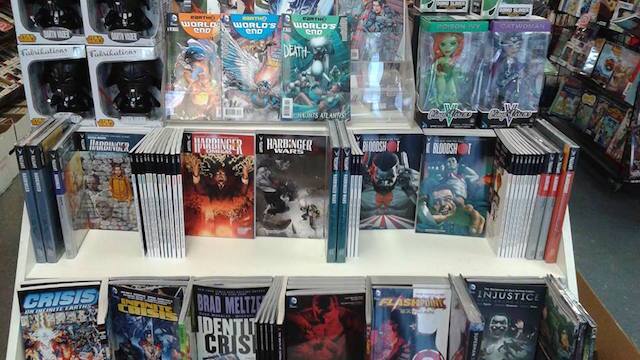 Collector's Paradise (Photo via Facebook)
Collector's ParadiseCollector's Paradise has events going on at both their Pasadena and Valley locations, with special guests at each who will be offering free sketches for kids. Additionally, these shops will be giving away free comics every Saturday in May. The bonus freebies only work if you show up this Saturday and get a special stamp card. Each week, you'll be able to get another stamp and another freebie, but if you skip a week, you're out.
Collector's Paradise. 7131 Winnetka Ave, Winnetka. 818-999-9455. 319 S. Arroyo Parkway
Unit 4, Pasadena. 626-577-6694. Opens at 11 a.m.
You can also get a free comic book at Legend Comics and Cards in Glendale; Alternate Universe in Echo Park; Metropolis Comics in Bellflower; Beach Ball Comics in Anaheim; Cool Cats Comics in Rancho Park; The Secret Headquarters in Silver Lake; and House of Secrets in Burbank.