This is an archival story that predates current editorial management.
This archival content was written, edited, and published prior to LAist's acquisition by its current owner, Southern California Public Radio ("SCPR"). Content, such as language choice and subject matter, in archival articles therefore may not align with SCPR's current editorial standards. To learn more about those standards and why we make this distinction, please click here.
Wake Up LA: Cozy Cafe!
Support your source for local news!
The local news you read here every day is crafted for you, but right now, we need your help to keep it going. In these uncertain times, your support is even more important. Today, put a dollar value on the trustworthy reporting you rely on all year long. We can't hold those in power accountable and uplift voices from the community without your partnership. Thank you.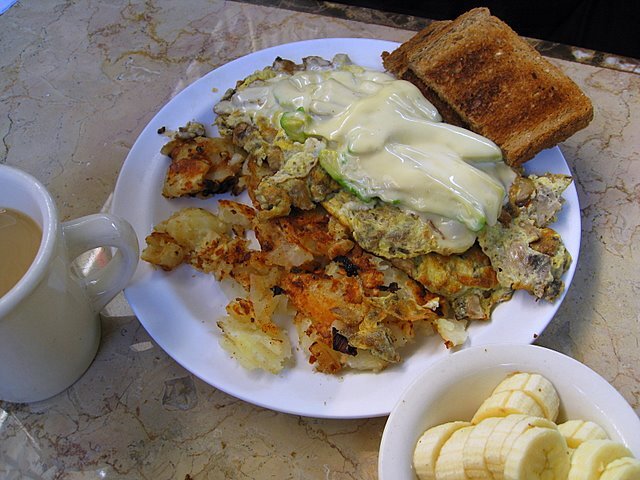 Ever feel like rolling out of bed and rolling into your neighbor's kitchen to a tasty plate of banana hotcakes or an omelet smothered in avocado and jack? Breakfast at The Cozy Cafe in Redondo Beach is a lot like that. It's the kind of place where frills are not allowed, but where you can feel free to stroll in with a jacket tossed over your PJ's and the paper under your arm any given morning.
The building is a bright yellow cinder block that looks like it's attached to the beachy cottage behind it. Driving by, you might mistake it for someone's single car garage (with chintz curtains). There's a parking spot or two for your sub-compact but street parking or walking over is your best bet. The restaurant, which is open 6ish am to 2ish pm for breakfast and lunch, really does resemble your uncle Stavros' kitchen, complete with weird knick knacks, photos of family, friends, old movie stars and a couple of 8 x 10's of celebs that may or may not have stopped in: Michael Dudikoff, Dwight Yoakum and John Stamos. Did I mention the owners were Greek? About eight or so can squeeze in comfortably at the counter, but there is a utilitarian back patio with picnic style benches that sop up any overflow. If you show on the weekends, expect to eat there. Not that that's a bad thing if you bring your dog, your kids or your cigarettes. Although, I would be remiss in saying that when my friend and I sat out there, she swore she could smell the restaurant's dumpster. To be fair, I (who has a superior sniffer) did not.
But enough about the ambience or lack there of, let's talk EATS! You may not get extra fancy, but George, the affable owner, serves up generous portions of greasy spoon fare and keeps your coffee cup full. You can get most of your diner favorites. I'm partial to the hotcakes, eggs and bacon regime, but feta, gyro meat, olives and Greek sauce spice up some dishes. As in most beach eateries there's also a bit of Mexican flare: four different flavors of Tapatio attest to this.

For the most part expect a variety of omelets and scrambles with ingredients ranging from fresh veggies to hot pastrami, all for about 8 bucks. If your budget is tight, there's plenty on the menu for less. Personally, I wish they had more variety in the hotcakes, waffles and French toast department. Not that slabs of banana-stuffed toast with a side of sausage is anything to sneer at, but there are other fruits in the universe. Rumor has it that George used to make blueberry pancakes, but them days are long gone. I blame the banana cartel.
The Cozy is your typical no-nonsense hole in the wall, designed for those who live and work in a 50-yard radius and to accommodate all those 'on the way to the construction site' orders. The prices are decent; the service is friendly and quick, especially if you eat at the counter. I'd hazard that it's pretty kid friendly too. The grub is good with a few surprises--not out of this world amazing, but the family feeling and warm atmosphere make up for that. I was assured by a fellow patron that this was a perfect "grease cures my hangover" place and that in itself is worth a recommendation.
Cozy Cafe is at 307 S. Pacific Coast Hwy. (at Torrance Blvd.) Redondo Beach, CA 90277
(310) 316-1414 Dine in or Take out, Breakfast and lunch, 7 days.
Photos by Lori Nyx for LAist
Cruise off the highway and hit locally-known spots for some tasty bites.

Los Angeles-based restaurant owners rejoice as a new ordinance makes its way to the city council.

The new season of LAist Studios' WILD podcast is a fictional rom-com set in Southeast L.A. Diners play a big role in fostering conversation between the shows' two hosts this season. Here are host Erick Galindo's must-visit L.A. diners — whether you like breakfast or not.

The new season of LAist Studios' WILD podcast is a fictional rom-com set in Southeast L.A. Donuts play a big role in episode two of the show. Here are some of our favorite, wildly creative, and iconic donut shops in Los Angeles.

Cheap Fast Eats visits one of L.A.'s most distinctive neighborhoods for some nighttime bites.

How to get the best eggs in town without leaving your yard.