This is an archival story that predates current editorial management.
This archival content was written, edited, and published prior to LAist's acquisition by its current owner, Southern California Public Radio ("SCPR"). Content, such as language choice and subject matter, in archival articles therefore may not align with SCPR's current editorial standards. To learn more about those standards and why we make this distinction, please click here.
The Quest For The Perfect Waffle Begins
Before you read more...
Dear reader, we're asking you to help us keep local news available for all. Your financial support keeps our stories free to read, instead of hidden behind paywalls. We believe when reliable local reporting is widely available, the entire community benefits. Thank you for investing in your neighborhood.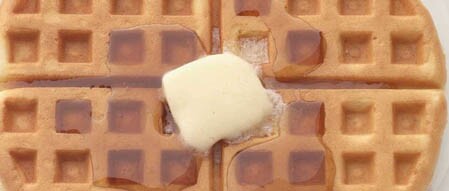 New! Updated Roscoe's Edition
Have you ever had a perfect waffle experience (PFE)? Not to be confused with the GFE (girlfriend experience) offered by the rotund Dennis Hof and his girls on call at the Cat House. Nor is this what graces your backside after a long time sitting in a pool chair. And we don't mean having John Kerry change his mind on you. (Whoops, LAist sets us back many months by working in a John Kerry reference. We apologize.)
No, we're referring to the culinary delight that is The Perfect Waffle. Waffles are the perfect breakfast pastry food, besting pancakes and french toast by miles. Why is that, you ask? The secret is in the waffle shape. Waffles contain tiny little cups that are perfect for holding butter and syrup. This stuff just rolls off of pancakes and french toast right into your eggs, your hash browns, the crayola artwork on your table, and come on, who wants that really? A perfectly cooked circle of golden batter that keeps itself stockpiled with toppings is just what the breakfast doctor ordered.
We were inspired to set off on this quest by Los Angeles Magazine's recent "Best of LA" edition. They claim that Canter's Deli has the best waffles in town. Well, this could quite possibly be true, but when LAist visited Canter's on a Monday morning at 8:30 am, we were told that the waffles "hadn't been delivered yet". Waffles? Delivered? This is confusing. Don't most restaurants make their own waffles? It's not like it's a secret recipe that has to be whipped up in a vault deep underground, and then delivered, load by load, to restaurants across town, is it? We left Canter's without a look back, and trekked across town to Eat Well in Glendale. They served us a dark brown waffle that had been left in the iron a bit too long. In their defense, they did offer to make us another one. In our defense, we were starving. This one rated a 4 on the 1 to 10 Waffle Scale developed at CalTech. Where 10 is a glorious golden waffle halo, and 1 being a bowl of lukewarm batter.
Our previous Waffletastic outing had taken us to Kokomo's at the Farmer's Market, which was pushing a high 7 on the scale. The waffle was crisp with a hint of vanilla, came with pre-melted butter (this is a key) in a small cup, and was the perfect golden color. Served hot, this waffle won us over.
The next Waffle-stop was at Fred 62, where we were sent off-course by the Bossa Nova Waffle Sundae. While still a waffle, it isn't as close to it's breakfast table brethren here. Instead it's more of a heart-attack inducing delicious dessert. Still pretty damn good, though. 8 points for effort, boostered by bonus points for taste.
No Wafflequest would be complete without mentioning Roscoe's Chicken & Waffles, as has been pointed out to us by several comments. LAist has visited the "Sco's"place many times, especially after drinking. While it is an LA landmark, and has quite possibly the world's most unique food combination (Chicken and Waffles. Who would have ever dreamed this up? Perfect for drunkards and hangovers, and of course immortalized in the movie "Tapeheads" with John Cusack and Tim Robbins), we've always found their waffles to be a bit too brown and crunchy. We need a little more fluff and gold in our waffle. A solid 7 on the WaffleRichter.
The pinnacle, so far, of this Wafflequest has been Pann's. This waffle is hard to beat. Served perfectly golden with piping hot butter in a steel cup, and a side of hot syrup, you can't really find a problem here. Our only quibble was that it was on the same plate as our bacon and eggs. A quality waffle should stand alone and be given a plate of it's very own. 9.5 Waffle score.
There is still so much uncovered ground. We have to discover if Mel's has waffles, check out Jinky's, and of course, try out the bizarreness of Wacky Waffles on Sunset. Perhaps, with any luck, we can convince the Waffle House chain to move out West.
And if your dog has figured out how to log on to the internet, leave a link for them to this article so they can try Woofles.
Tell us about your own Perfect (or not so perfect) Waffle!