This is an archival story that predates current editorial management.
This archival content was written, edited, and published prior to LAist's acquisition by its current owner, Southern California Public Radio ("SCPR"). Content, such as language choice and subject matter, in archival articles therefore may not align with SCPR's current editorial standards. To learn more about those standards and why we make this distinction, please click here.
The Best Burritos In Los Angeles
Before you read more...
Dear reader, we're asking you to help us keep local news available for all. Your financial support keeps our stories free to read, instead of hidden behind paywalls. We believe when reliable local reporting is widely available, the entire community benefits. Thank you for investing in your neighborhood.
Where the first burrito was born is still a debate, but one thing's for sure: these pillows of meat, beans and sometimes veggies are a Southern California staple. With the countless taco shops, trucks, and stands in Los Angeles, it's a difficult task to pick favorites. A few of our editors narrowed down some of their top choices with some help from our readers. Let us know your favorites in the comments.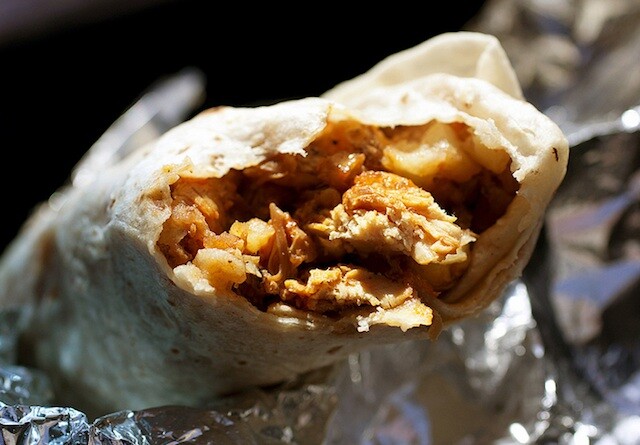 Photo by Bionicgrrrl on Flickr
YUCA'S
This little stand in Los Feliz is known primarily for their tacos, but don't be fooled; a delicious burrito awaits you there as well. Small but bursting with flavor, you don't even have to get fancy—throw some meat in that burrito or just go straight bean and cheese. Either way, you're bound to be satisfied. -Jessica Ogilvie
Yuca's is located at 2056 Hillhurst Avenue, Los Angeles,(323) 662-1214
SEÑOR FISH
No burrito list would be complete without a shout-out to the best fish burritos around. You can wolf down some scallops wrapped in a tortilla—or some shrimp done the same way, or both—for under $10. One of the cheapest ways to (safely) do fish in this town. -Jessica Ogilvie
Señor Fish is located at 422 E 1st Street, Downtown, (213) 625-0566

Photo courtesy of Tito's Tacos on Facebook
TACOS VILLA CORONA
Everything tastes better with an egg on it, even burritos. Though there may be more high-quality breakfast burritos up in Central Cali, Tacos Villa Corona gets the crown here in L.A. Their papas burritos are made with lard-free flour tortillas stuffed with scrambled eggs, low-fat mozzarella, grilled potatoes, onion, cilantro, and house-made salsa. The best part? They're only 3 bucks. You can add on other items like spinach and chorizo, but why gild the lily?
Tacos Villa Corona is located at 3185 Glendale Blvd Los Angeles, (323) 661-3458
TITO'S TACOS
You can hate on Tito's all you want, but whenever I get in from a long international flight, this is the first stop on my drive home. Perhaps I was brainwashed as a young little Angeleno, but their bean and cheese burritos are like comfort food on crack. I'd take them over the tacos any day.
Tito's Tacos is located at 11222 Washington Place, Culver City, (310) 391-5780
EL TEPEYAC
El Tepeyac has been serving up traditional Mexican food since 1955, but their big clain to fame is the Hollenbeck Burrito, made with five pounds of roast pork, rice, beans, guacamole, cheese and chile verde stuffed into a plate-sized tortilla. It's a legend in L.A., definitely meant for sharing.
El Tepayac is located at 812 N Evergreen Avenue, Los Angeles, (323) 268-1960
SUPER MEX
Sure, Super Mex is a chain of Mexican restaurants in Long Beach and Orange County. But go to the Downtown Long Beach location, you get that family feel from when Manuel and Socorro Orozco first opened Super Mex in 1974. The wet carnitas Super Mex burrito is just that, a huge wet burrito that make it all but impossible to leave hungry. -Jimmy Bramlett
Super Mex is located at 4711 E 2nd Street, Long Beach, (562) 439-4489
LA AZTECA TORTILLERIA
At most burrito places, the attention is on the fillings, but La Azteca actually is a tortilleria first. That means your burrito comes in a fresh, fluffy flour tortilla that could remind you of what your grandma used to make (depending on who your grandma). The only catch is that they stop serving at 3:30 p.m. most days. As for fillings, the fan favorite is undoubtedly the chile relleno burrito that features expert layers of roasted poblano, cheese, refried beans and fresh pico de gallo salsa. -Emma Gallegos
La Azteca Tortilleria is located at 4538 E Cesar E Chavez Ave., Los Angeles