This is an archival story that predates current editorial management.
This archival content was written, edited, and published prior to LAist's acquisition by its current owner, Southern California Public Radio ("SCPR"). Content, such as language choice and subject matter, in archival articles therefore may not align with SCPR's current editorial standards. To learn more about those standards and why we make this distinction, please click here.
Recipe: Butterscotch Banana Bread Pudding From The Churchill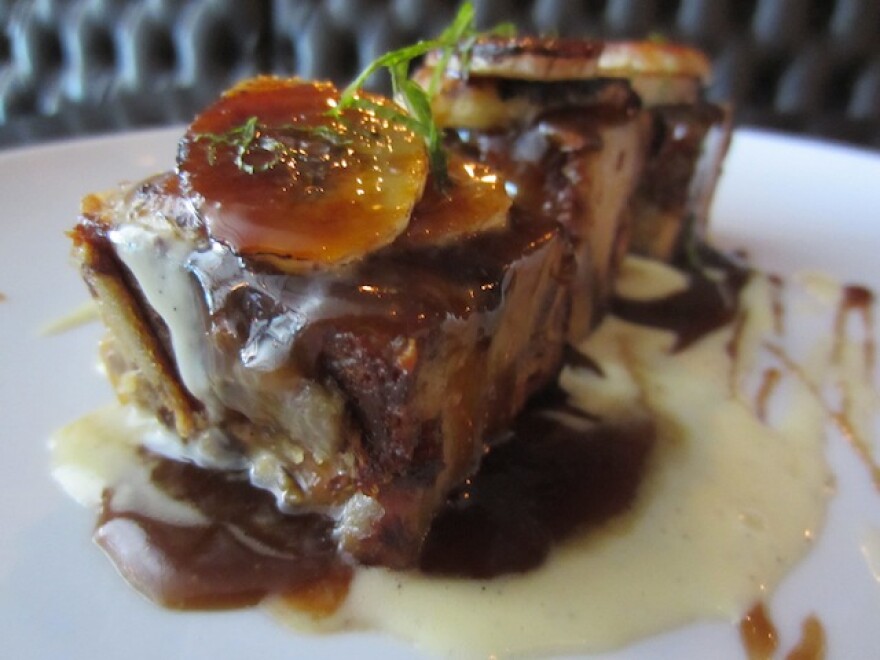 Before you read this story...
Dear reader, we're asking for your help to keep local reporting available for all. Your financial support keeps stories like this one free to read, instead of hidden behind paywalls. We believe when reliable local reporting is widely available, the entire community benefits. Thank you for investing in your neighborhood.
Bananas are pretty much the greatest fruit on the planet. Even over-ripe ones are useful. You can freeze them and turn them into chocolate-dipped popsicles, chuck them to smoothies for a creamy potassium pick-me-up, or turn them into a nutty banana bread. So it's no wonder that on average, Americans eat 27 pounds of these tropical fruits per year. (You can read a brief history of how they became domesticated over at Smithsonian if you're curious about how the domesticated varieties came to be. Or better yet, check out the "Bananas!"documentary.)
The aforementioned methods of chowing down on bananas are all a-okay, but if you really want to do these yellow fruits justice, we recommend whipping up some ooey gooey bread pudding. Chef Michael Bryant, who recently took over the stoves at The Churchill giving the menu a few French-Southern tweaks, makes an excellent version at the Mid-City restaurant. He cuts it up into bite-sized pieces and garnishes each with a brûléed banana, making it an elegant dessert. You can do it at home, too.
Here's how it's done:
Butterscotch Banana Bread Pudding
Serves 4-6
Ingredients:
2 cups granulated sugar
5 large beaten eggs
2 cups milk
2 teaspoons pure vanilla extract
3 cups cubed Italian bread, allow to stale overnight in a bowl exposed to air
1/2 cup packed light brown sugar
1/4 cup (1/2 stick) butter, softened
1 large banana, chopped
1 cup chopped walnuts
For the sauce:
1 cup brown sugar
1/2 cup (1 stick) butter, melted
1 egg, beaten
2 teaspoons pure vanilla extract
1/4 cup brandy
Method:
Preheat the oven to 350 degrees F. Grease a 13 by 9 by 2-inch pan.
Mix together granulated sugar, eggs, and milk in a bowl; add vanilla. Pour over cubed bread and banana and let sit for 10 minutes.
In another bowl, mix and crumble together brown sugar, butter, and walnuts.
Pour bread mixture into prepared pan. Sprinkle brown sugar mixture over the top and bake for 35 to 45 minutes, or until set. Remove from oven.
For the sauce:
Mix together the brown sugar, butter, egg, and vanilla in a saucepan over medium heat. Stir together until the sugar is melted. Add the brandy, stirring well. Pour over bread pudding. Serve warm or cold.
Optional: If you'd like to get fancy pants and happen to have a kitchen blowtorch, you can garnish each piece with a slice of banana sprinkled with sugar. Then torch the tops til they're caramelized and crackley.