Coley's Caribbean-American Cuisine
LAist relies on your reader support, not paywalls.
Freely accessible local news is vital. Please power our reporters and help keep us independent with a donation today.
I've been living in the NoHo Arts District for about three months now, but it still seems like I run across a new restaurant every day. Magnolia Blvd. is a hotbed for funky, cheap, and authentic places like Coley's Caribbean-American Cuisine, the new North Hollywood outpost of an Inglewood favorite. Every time I drive by the sunny yellow-and-green exterior, I say to myself -- "that's next on the list." I've finally gotten around to making good on that promise, and boy am I glad I did.
Caribbean food is notable for its fusion of a vast variety of flavors: Africa, Spain, France, India and indigenous cultures have all made their mark on this cuisine, which is not unlike Creole food. The food is liberally spiced, and many dishes are based around seafood. They also use lots of goat meat and exotic shellfish like conch; Caribbean cuisine also integrates a wide variety of strange and wondrous fruit, like coconut, mango, papaya, breadfruit, soursop, chayote, and ackee, a bizarre-looking relative of the lychee that is most often cooked with salt cod.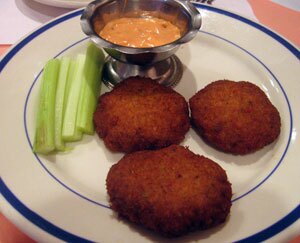 Coley's is run by a proud Jamaican-American couple, and the Jamaican flag hangs on the wall alongside portraits of Bob Marley and members of the Coley family. The proprietors have been featured many times in local press both for their community involvement and their unique food; the South LA location has hopped around from Crenshaw to Slauson to Florence, where it now maintains its popular presence.
I couldn't resist an order of crab cakes, which came out quickly with our ginger beer and Red Stripe. The cakes were dense and nicely seasoned, with a crunchy fried coating, although I suspect there was only a quick re-heat involved in their preparation. Served alongside a tasty remoulade and some celery sticks, one order is a great appetizer for two. Other starter fare at Coley's includes codfish fritters, Jamaican patties (a meat-filled turnover), and gumbo.