This is an archival story that predates current editorial management.
This archival content was written, edited, and published prior to LAist's acquisition by its current owner, Southern California Public Radio ("SCPR"). Content, such as language choice and subject matter, in archival articles therefore may not align with SCPR's current editorial standards. To learn more about those standards and why we make this distinction, please click here.
Coley's Caribbean-American Cuisine
Before you read more...
Dear reader, we're asking you to help us keep local news available for all. Your financial support keeps our stories free to read, instead of hidden behind paywalls. We believe when reliable local reporting is widely available, the entire community benefits. Thank you for investing in your neighborhood.
I've been living in the NoHo Arts District for about three months now, but it still seems like I run across a new restaurant every day. Magnolia Blvd. is a hotbed for funky, cheap, and authentic places like Coley's Caribbean-American Cuisine, the new North Hollywood outpost of an Inglewood favorite. Every time I drive by the sunny yellow-and-green exterior, I say to myself -- "that's next on the list." I've finally gotten around to making good on that promise, and boy am I glad I did.
Caribbean food is notable for its fusion of a vast variety of flavors: Africa, Spain, France, India and indigenous cultures have all made their mark on this cuisine, which is not unlike Creole food. The food is liberally spiced, and many dishes are based around seafood. They also use lots of goat meat and exotic shellfish like conch; Caribbean cuisine also integrates a wide variety of strange and wondrous fruit, like coconut, mango, papaya, breadfruit, soursop, chayote, and ackee, a bizarre-looking relative of the lychee that is most often cooked with salt cod.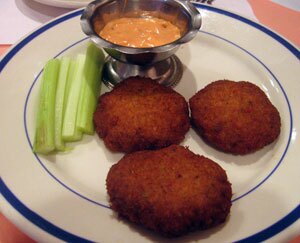 Coley's is run by a proud Jamaican-American couple, and the Jamaican flag hangs on the wall alongside portraits of Bob Marley and members of the Coley family. The proprietors have been featured many times in local press both for their community involvement and their unique food; the South LA location has hopped around from Crenshaw to Slauson to Florence, where it now maintains its popular presence.
I couldn't resist an order of crab cakes, which came out quickly with our ginger beer and Red Stripe. The cakes were dense and nicely seasoned, with a crunchy fried coating, although I suspect there was only a quick re-heat involved in their preparation. Served alongside a tasty remoulade and some celery sticks, one order is a great appetizer for two. Other starter fare at Coley's includes codfish fritters, Jamaican patties (a meat-filled turnover), and gumbo.
Lunches come complete with rice and beans, braised vegetables, fried plantains, and "festival bread," a corn bread very similar to hush puppies. Dinner entrées add soup or salad on top of all of that, and it's a fairly nice-sized plate of food. The jerk chicken and the oxtail stew are pretty irresistible choices for your first time: the chicken is moist and flavorful, a step above traditional barbecue. The oxtail stew is also a winner. Oxtail is actually the bony, beefy tail bits of a cow, which taste best when braised over low, slow heat. At Coley's, the meat melts off the bones and practically dissolves into a highly spiced gravy that also includes lima beans.
Vegetarians, beware, however: there isn't a meat-free item on the menu, although you can always go with rice, beans, and plantains in a pinch, and the festival bread is a yummy, dense treat. You can't go wrong with fried bread, and the rice and beans are actually good enough to stand on their own as a meal.
There are lots of fun beverage options, though, including traditional Jamaican drinks like pineapple ginger juice, ginger beer (surprisingly refreshing when paired with the spice-heavy oxtail), and the unusual "irish moss," which is, no kidding, made by boiling a type of sea moss for hours and then flavoring it with milk and vanilla (and sometimes rum).
The restaurant has an open banquet-hall kind of feeling, and there's a bar up front where you can grab a Red Stripe and watch the football game. The place was almost completely empty at mid-day on Sunday, but they seem to do a fair business with pick-up orders. There's also a reggae night advertised -- I wonder if NoHo is groovy enough yet to sustain that kind of party (although the Arts district is booming, that stretch of Lankershim and Magnolia can still be surprisingly vacant on a weekend night).
I'd go back to Coley's again in a second, especially to try out their many, many fish dishes:
escoveitched fish, which is fried tropical king fish marinated in vinegar, as well as red snapper baked with Cajun spices, curried shrimp, and stuffed lobster. I would also love to try the curried goat, which I'm hoping will be as good as the oxtail. The service was quick but indifferent, although that could be because of the time of day -- the place was very quiet. For two entrees, one appetizer, and two drinks, the bill came to $40 -- very reasonable for the quality. Overall, it's fantastic to discover a place like this so close to home, and it's a hopeful sign for those of us who love supporting Valley restaurants.
Coley's Caribbean American Cuisine
10842 Magnolia Blvd
North Hollywood 91601
(818) 761-4944
Mon-Thu 11am-9pm
Fri-Sat 11am-10:30pm
Sun 11am-8pm
Photos by cmeathrell via Flickr.