This is an archival story that predates current editorial management.
This archival content was written, edited, and published prior to LAist's acquisition by its current owner, Southern California Public Radio ("SCPR"). Content, such as language choice and subject matter, in archival articles therefore may not align with SCPR's current editorial standards. To learn more about those standards and why we make this distinction, please click here.
Delicious Japanese Bar Eats: 8 Izakayas Around Los Angeles
Before you read more...
Dear reader, we're asking you to help us keep local news available for all. Your tax-deductible financial support keeps our stories free to read, instead of hidden behind paywalls. We believe when reliable local reporting is widely available, the entire community benefits. Thank you for investing in your neighborhood.
There's a lot more to Japanese cuisine than sushi or ramen. Izakaya, which literally translates to "stay-in sake shop," was traditionally a bar-like place where you could sit, drink, and bring your own snacks to munch on. Fast forward to today, izakayas are essentially Japanese pubs that serve unique small (tapas) dishes that are meant to be shared family-style. At more traditional izakayas, patrons have a choice of sitting on the floor on tatami mats or at the bar. Food options are plentiful and include the likes of grilled meat and vegetable skewers, fried chicken, sashimi, tofu, rice dishes, noodle dishes, and even dishes with a fusion twist.
Since the portions are small, izakayas are the perfect opportunity to try things you'd never normally try. If you're an offal lover, skewers full of gizzards, cartilage, tongue, livers and hearts await. As far as alcohol goes, they do not serve hard liquor but do serve sake, Japanese beers, sangria, sake, and cocktails made with shochu (a spirit similar to vodka). Many even offer to keep your unfinished alcohol bottles aside until your next visit. The most important aspect of a true izakaya is the environment and ambiance. An izakaya is a place where customers can linger for hours, socialize, be loud, and unwind from a long day's work. Here are izakayas in Los Angeles that are worth checking out for a taste of the quintessential Japanese experience.

Grilled whole squid with Yakitori sauce from Torihei. (Photo by Torihei)
TORIHEI
Torihei is a small traditional izakaya located in a South Bay strip mall with only about 30 seats. Torihei specializes in the yakitori (chicken skewers) and in Kyoto-style oden, a classic Japanese winter dish comprising of various ingredients like daikon (white radish), boiled eggs and fish cakes stewed in a dashi broth.
One of the most popular oden dishes is the daikon (white radish) served with Japanese mustard and topped with dried bonito flakes in a homemade oden broth. Another oden favorite is the hanjuku tamago, where a soft-boiled egg is cut in half with the yolk still runny and filled with salmon roe. The chicken meatball is marinated with shiso leaf, mixed with fresh ground Jidori chicken and then grilled over the open flame. The most Instagram-worthy order is Torihei's apple shochu, which is served in a carved apple and functions a makeshift apple shot-glass you can eat after you finish drinking out of it.
Standout dishes: chicken liver pate on toasted bread and drizzled with honey, whole roasted squid, and the grilled chicken liver, skin, tail and gizzard skewers.
Torihei is located at 1757 West Carson Street in Torrance, (310) 781-9407.

Izakaya Hachi's Cod Milt aka Shiraku is the sperm sacs of male cod, which is a delicacy in Japan. (Photo by Danny Chen)
IZAKAYA HACHI
Izakaya Hachi is a tiny restaurant in the South Bay that has three types of seating: at the long bar, tables and semi private booths available only by reservation. Unlike other izakayas, Hachi offers indecisive patrons a preset course—$110 for four people, which includes small tapas, sashimi, grilled meats, hot pot and desserts.
The Berkshire pork shabu shabu is two meals in one. A tonkotsu pork bone broth is used for the hot pot portion of the meal accompanied by thinly sliced Berkshire pork and fresh vegetables. After the shabu shabu is finished, the staff will bring out ramen noodles for you to cook with the remaining soup to make a pork ramen noodle. The gobo chips with spicy mentaiko (cod roe) mayo is made of burdock root that shaved into thin slices and fried into crispy chips and topped with kosher salt.
Standout dishes: raw beef tongue, deep fried spicy mayo shrimp with asparagus, grilled pork cheek with yuzu pepper, crab croquette, chicken cartilage, grilled beef intestine.
Izakaya Hachi is located at 1880 West Carson Street in Torrance. (310) 618-8357.

Imported straight from Japan, Kinjiro's A5 Wagyu steak sirloin melts in your mouth. (Photo by Kristie Hang/LAist)
KINJIRO
Kinjiro is a higher-end izakaya located in the Honda Plaza in Little Tokyo that focuses on premium and sustainable ingredients. Kinjiro's dishes are not fusion, but rather a reflection of contemporary Tokyo-style izakaya where a plethora of international ingredients are cooked in a Japanese way.
The bone marrow is cooked dengaku style, or miso-glazed and broiled, giving the bone marrow a caramel top and a buttery inside that melts in your mouth with each bite. The free range chicken maki-age is chicken wrapped in its skin and then deep fried. The chicken comes out piping hot from the deep fryer with a juicy and succulent interior. The grilled prime beef tongue is a special fatty cut of beef served medium rare and topped with sea salt.
Standout dishes: Japanese wagyu carpaccio, A5 wagyu steak sirloin, agedashi tofu, wild monkfish, black sesame mousse dessert.
Kinjiro is located at 424 East 2nd Street in Little Tokyo. (213) 229-8200.

Hinotori frequently has limited amounts of rare skewers such as chicken spleen aka 'megimo' on their menu. (Photo by Hinotori)
HINOTORI
Blink, and you'll miss Hinotori. It's located in a nondescript strip mall in Arcadia. Hinotori, which translates to "phoenix" in Japanese, specializes in traditional varieties of yakitori along with a handful of unique tapas. They even have an entire menu solely dedicated to sake.
One of the unique items on Hintori's menu is their brie cheese yakitori, which features brie on a grilled baguette and served with honey on a stick. They also make a yakitori mochi, which is mochi on a stick that is savory instead of sweet. Indecisive patrons can also take advantage of Hinotori's set-menu option, which includes ten items for you to enjoy.
Standout dishes: grilled rice ball, pork belly, wagyu beef, Kobe short rib.
Hinotori is located at 713 West Duarte Road in Arcadia. 
(626) 348-8425.

Musha's famous risotto made with Japanese grain brown rice cooked with chicken broth and pan-fried with bacon, onion, and soymilk. Served in a bowl of whole cheese tableside. (Photo by Musha Facebook)
MUSHA
Musha is named after the Japanese onomatopoeia for eating—basically the Japanese counterpart of "nom nom." It is a modern and fusion-centric izakaya where traditional Japanese delights meld with other culinary traditions. Musha's never-ending menu is so large that it is organized into hot, cold, salad, tofu, starchy, grilled, noodle, and rice dishes.
Musha's Japanese risotto arrives tableside in a giant, hollowed-out cheese wheel. The waiter dumps cooked brown grain rice, onions, and prosciutto into the cheese vessel and slowly stirs it into the melting cheese. The most popular dish, aburi saba, is a dinner and a show. A vinegar-marinated mackerel filet is blow-torched until its oils create a nice char and is sliced tableside. Diners can get in on the fun and cook their own thinly-sliced beef tongue using a traditional table-top shichirin charcoal grill. The Musha fried chicken is marinated for an entire day with soy sauce, sake, ginger and garlic, then coated with cornstarch and lightly fried to create a crispy, light skin with juicy meat interior.
Standout dishes: chicken meatball, octopus in wasabi goo, chicken liver pate with honey and toast, lobster roll sans rice.
Musha Izakaya is located 424 Wilshire Boulevard in Santa Monica, (310) 576-6330, and at 1725 West Carson Street in Torrance, (310) 787-7344.

Raw oysters over ice with a side of chicken gizzards and greens from Honda Ya. (Photo by John Ha)
HONDA-YA
Honda-Ya is a good place for a newcomer to izakaya to start. It has a lot of different dishes, but their strong suit is anything off the grill. Honda-ya specializes in charcoal grilled yakitori, but they have a large variety of tapas available on the menu beyond of that. The yakitori grill is enclosed by glass so that patrons can see the action from their seats.
Musubi (rice balls), korroke (croquettes), sashimi, and sushi are just some of the dishes that are also popular at Honda-ya. The miso broiled eggplant is first baked, then marinated in miso, mirin and sake before being broiled, which gives the eggplant a sweet and salty miso crust. The sesame chicken karaage is cooked Japanese-style, where the chicken is fried with a thinly coated batter multiple times on high heat to create that crispy skin and juicy meat. For those that want a more traditional experience, Honda-ya also has a tatami room where patrons can remove their shoes and sit on floor cushions.
Izakaya Honda-ya is located at 333 Alameda Street in Los Angeles, (213) 625-1184, at 17200 Railroad Street in City of Industry, (626) 964-6777, and at 2980 Yorba Linda Boulevard in Fullerton, (714) 577-0401.

A sampler of the night's freshest sushi prepared by Izakaya Akatrora's chef. (Photo by Kristie Hang/LAist)
IZAKAYA AKATORA
Akatora's menu is dedicated to fusion-style izakaya. You'll find unique dishes you definitely would not see in Japan, like miso popcorn chicken bites, Kobe beef corn dogs and uni mac and cheese, to name a few. Akatora runs a slew of specials that run throughout the day including prix fixe lunch menus for $15, omakase (4-course chef specials) for $40, and happy hour specials. They also offer sashimi, sushi, bento boxes, and chirashi bowls in addition to their yakitori skewers. The house special Akatora roll is sushi topped with uni, white fish, and caviar. Sweet lovers, rejoice! The baked sweet potato with vanilla ice cream and caramel sauce is better than your Thanksgiving serving of sweet potato pie. Akatora also has several gluten-free, vegetarian and vegan options.
Standout dishes: wagyu beef tataki with wasabi jalapeño salsa, yellowtail carpaccio, green tea pudding.
Izakaya Akatora is located at 115 West Main Street in Alhambra, (626) 407-2243, and at 302 Rosecrans Avenue in Manhattan Beach, (310) 802-1131.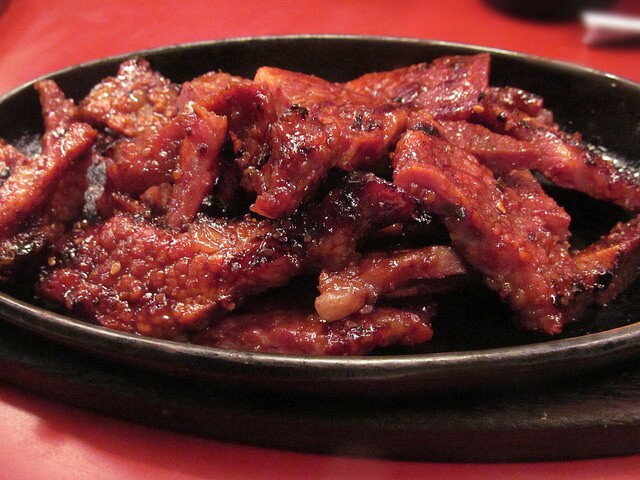 FuRaiBo (Photo by rocor via the Creative Commons on Flickr)
FURAIBO
FuRaiBo is a no-frills izakaya in Sawtelle Japantown that doesn't strive to be a trendy nouveau-fusion restaurant or anything fancy at all. Their extensive menu would be anything you'd find at a traditional izakaya in a Tokyo alley, catered under the knowledge that fatty, small bites and dishes are what you want when you down some beers. The hanpen cheese is the Japanese equivalent of a deep fried mac and cheese ball: deep fried fish cake filled with molten cheese guaranteed to make the roof of your mouth peel. Adventurous eaters should be joined by a friend or two to eat the yakitori set, where each skewer is a different part of the chicken. The chicken hearts go down a little easier with a little bit of that mustard.
Standout dishes: hanpen cheese, chawanmushi, chicken wings, torisoboro
FuRaiBo is located at 2068 Sawtelle Boulevard in Sawtelle Japantown, (310) 444-1432 and also 1741 West Redondo Beach Boulevard in Gardena, (310) 329-9441, and 17859 Colima Road in City of Industry, (626) 964-4014.
Beautiful views aren't the only thing drawing Angelenos to the region

Gab Chabrán reflects on growing up in L.A. in a Latino home that doesn't celebrate Thanksgiving and the traditions they formed instead.

Oklahoma-style smash burgers and Georgian dumplings make for some excellent cheap bites in Glendale

Husband and wife Felix Agyei and Hazel Rojas combine food from their heritages, creating a marriage of West African and Filipino cooking

Baby Yoda cocktails. Boozy Dole Whips. Volcanic tiki drinks. If you can dream it, they're probably mixing it somewhere on property.

A practice gaining traction at restaurants and businesses across Los Angeles is triggering discomfort, discord, and discussion among Angelenos.