This is an archival story that predates current editorial management.
This archival content was written, edited, and published prior to LAist's acquisition by its current owner, Southern California Public Radio ("SCPR"). Content, such as language choice and subject matter, in archival articles therefore may not align with SCPR's current editorial standards. To learn more about those standards and why we make this distinction, please click here.
Intelligentsia: Signs of Smart Coffee in Silver Lake
We need to hear from you.
Today during our spring member drive, put a dollar value on the trustworthy reporting you rely on all year long. The local news you read here every day is crafted for you, but right now, we need your help to keep it going. In these uncertain times, your support is even more important. We can't hold those in power accountable and uplift voices from the community without your partnership. Thank you.
After much anticipation, this afternoon marked the opening day of Chicago's Intelligentsia Coffee in Silver Lake at their new Sunset Junction location. I've been looking forward to this opening since the announcement of their arrival some months ago, mainly because after falling in love with their bean roasts while on vacation in the Windy City last year, ordering bags of beans for home brewing via the internets was getting to cost me a pretty penny. This way, so long as the parking situation is palatable, I can slip into their chic new local emporium, pick up a bag or two of beans, and get one of their creamy signature espresso drinks while I'm at it.
Which is precisely what I did today, and was pleased to be a part of their debut.
The inside of Intelligentsia is a departure from the buttery yellow and warm wood tones of their Midwestern outposts; instead their floors boast lovely blue and white tiles, the counter tops are stainless steel, the ceilings high and flocked with lights suspended on squiggly wires, all of which combined give the place an overall air of boho chic urbanity. The staff were warm and friendly, and the atmosphere rather congenial. Folks were already taking advantage of the refuge their covered patio offers. I grabbed a bag of the Flecha Roja beans from Costa Rica off the shelves, and when I inquired about the future availability of Intelligentsia's house blends, the associate let me know that he wasn't sure if they would be carrying them, since right now they were focused on their Direct Trade line. I happily accepted my bag of beans and admiringly watched as my barista put the swirled milk design atop my tasty latte.
Welcome to LA, Intelligentsia. We're happy to have you.
If you want to help them celebrate their opening, there will be a reception at the store tonight at 7 p.m.
Intelligentsia
3922 West Sunset Boulevard, Silver Lake
Open Monday-Sunday, 6 a.m. to 11 p.m.
More photos after the jump!
Latte artistry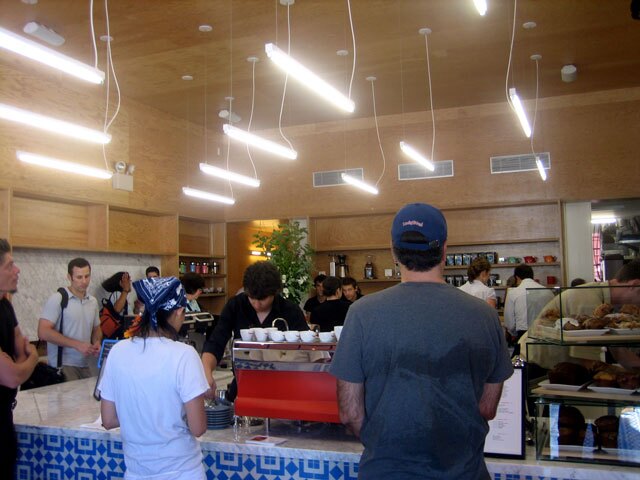 From the front entrance
It's fun to watch the coffee experts in action
A row of bagged beans beckons (and apparently stimulates my desire to alliterate)
All photos by Lindsay William-Ross for LAist
How to get the best eggs in town without leaving your yard.

Beautiful views aren't the only thing drawing Angelenos to the region

Gab Chabrán reflects on growing up in L.A. in a Latino home that doesn't celebrate Thanksgiving and the traditions they formed instead.

Oklahoma-style smash burgers and Georgian dumplings make for some excellent cheap bites in Glendale

Husband and wife Felix Agyei and Hazel Rojas combine food from their heritages, creating a marriage of West African and Filipino cooking

Baby Yoda cocktails. Boozy Dole Whips. Volcanic tiki drinks. If you can dream it, they're probably mixing it somewhere on property.