In the DVD Player with Julia Child
Stories like these are only possible with your help!
Your donation today keeps LAist independent, ready to meet the needs of our city, and paywall free. Thank you for your partnership, we can't do this without you.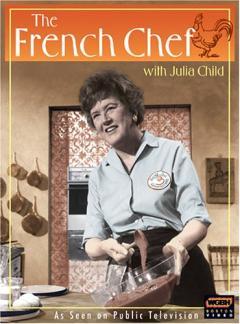 Julia Child, the Pasadena-raised gourmet whose television career spanned four decades, is coming to DVD tomorrow. The 3-disc, 18 episode collection showcases some of her favorite recipes. While most of her shows were produced at WGBH in Boston, Mrs. Child never forgot her Golden State roots. In 1981, She helped launch the American Institute of Wine and Food, a non-profit organization with the sole purpose of getting all of us to enjoy our meals and drinks more. They continue to host elementary school program, Days of Taste, in Orange County. She died in Santa Barbara in 2004 at the age of 94 (as an aside, is Santa Barbara the cool place now to live out your last days?).
One can only hope that the 18 episode collection features Julia adjusting her false teeth or dropping a whole chicken on the floor before picking it up and continuing to use it to make coq au vin telling us in TV land, "It's OK. No one's looking."