You're Served The Wrong Fish About Half The Time At L.A. Sushi Joints, Say Researchers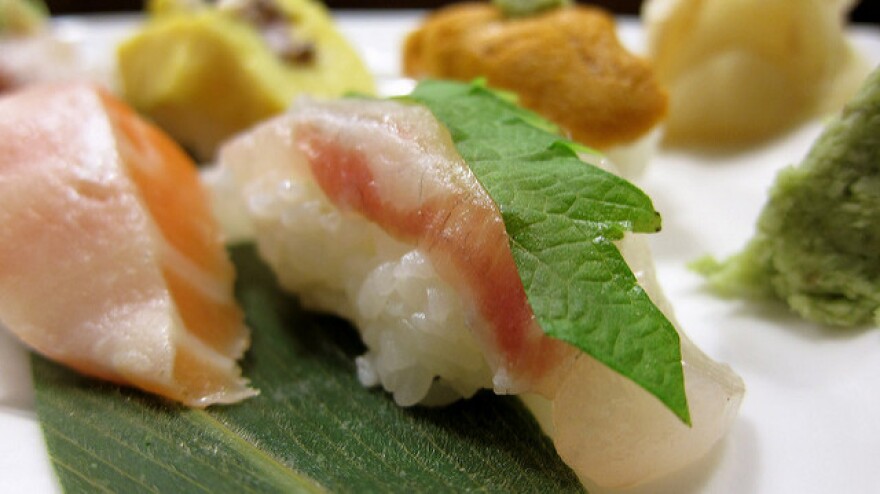 Stories like these are only possible with your help!
You have the power to keep local news strong for the coming months. Your financial support today keeps our reporters ready to meet the needs of our city. Thank you for investing in your community.
Some disheartening news for sushi aficionados: you're getting the wrong fish about half the time in L.A. At least this is what a new research report—published in this month's Conservation Biology journal—says may be the case.
The research, conducted as a joint study between UCLA and Loyola Marymount University, sent researchers to 26 different sushi restaurants in L.A. over the course of three years (2012-2015), according to a release by UCLA. The researchers went to sushi restaurants that were popular on Yelp. Upon ordering a dish, they would confirm with the server the type of fish they were being served. Then they'd take a snippet of each sample and store them into a vial for future testing. Using DNA barcoding, the researchers then determined what the fish actually was. The study went over 364 samples of 10 popular varieties of fish.
The results were revealing, to say the least. The report says that 47 percent of the sushi sampled was "mislabeled." What's also kind of strange is that some varieties were more prone to fraud than others. Tuna was usually tuna. And salmon was salmon about nine out of ten times. Halibut, however, was usually fraudulent. According to the release, of "43 orders of halibut and 32 orders of red snapper, DNA tests showed the researchers were always served a different kind of fish." In nine out of ten cases, the halibut was actually flounder.
Paul Barber, a UCLA professor of ecology and a senior author of the study, tells LAist that fish like tuna and salmon are less likely to get mislabeled simply because they're such distinctive-looking fish. "With snapper, however, it's kind of a nondescript, white-fleshed fish, which describes most fish that are out there," said Barber.
So who's at fault here?
The answer can be complicated. For one thing, researchers say they found similar levels of mislabeling at high-end supermarkets, which suggests that the fish were mislabeled before they'd even reached the restaurants (i.e. don't get mad at your chef). So the mislabeling often occurs earlier in the process, though, as Barber told KPCC, "it's hard to know where in the supply chain it begins."
And Barber says the mislabeling isn't always the result of a nefarious scheme; they're sometimes the product of an honest mixup. "There are some cases of legitimate mistaken identity. And some of these cases stem from regulatory semantics," Barber told LAist. He points to the case of the red snapper. According to Barber, the U.S. Food and Drug Administration is pretty specific about what type of fish can be classified as a red snapper in the market. In Japan, madai—a popular type of fish found in sushi—may be regarded as a red snapper, but doesn't fall in line with the FDA's definition of what a red snapper is (it's more of a red seabream). So, when we order madai at an L.A. sushi joint, we may not be getting what is formally known as a red snapper in the U.S., but it's still a quality fish that's being devoured overseas.
Of course, there are also cases of old-fashioned grift. "There are instances of tilapia being subbed for red snapper. And there's no way that can be accidental. It's swapping out a high value fish for a lower value fish," said Barber.
The negative consequences are many. For one thing, consumers simply aren't getting the fish they ordered. Though this goes beyond a matter of customer satisfaction, says Barber. "If a consumer doesn't know what they're buying, they're not able to make informed choices," said Barber, adding that customers may want to make "choices guided by interests in sustainability, or choices guided by their health." There are mercury levels to consider, for example; according to the Natural Resource Defense Council, ahi tuna and mackerel may have especially high concentrations of mercury. And certain types of fish, like olive flounder (which is sometimes served as "halibut"), are more susceptible to certain parasites.
And when it comes to sustainability, some fish are a better pick that others. Barber notes that, somewhat ironically, the tilapia that gets swapped in for red snapper is actually a more sustainable choice (in the food business, tilapia is known as "aquatic chicken" because it breeds easily, according to the New York Times).
Whatever the reasons, and whatever the consequences, we may be seeing a decline in mislabeled fish, as the National Oceanic and Atmospheric Administration enacted the Seafood Import Monitoring Program on Monday. The action is meant to establish "permitting, reporting and recordkeeping procedures relating to the importation of certain fish and fish products, identified as being at particular risk of illegal, unreported, and unregulated (IUU) fishing or seafood fraud." The agency says that the guidelines will "decrease the incidence of seafood fraud by requiring the reporting of this information to the U.S. Government at import and requiring retention of documentation."