Notes from the Culinary Underground: Ghetto Gourmet
Stories like these are only possible with your help!
You have the power to keep local news strong for the coming months. Your financial support today keeps our reporters ready to meet the needs of our city. Thank you for investing in your community.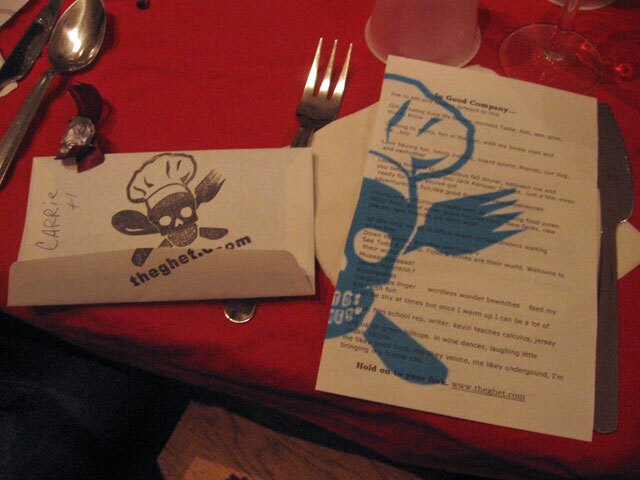 "Didn't you all feel really cool tonight driving over here?" Jeremy Townsend, founder of the underground supper club Ghetto Gourmet, posed this question to a diverse group of about forty foodies, all sprawled out on cushions on the floor of a beautiful Venice home. And as we opened our bottles of red wine, stretched out our legs, and gazed down at a beautifully crafted shooter glass filled with warm squash soup, we had to agree: yeah, this felt pretty cool.
The Ghetto Gourmet is a roving restaurant, serving contemporary cuisine in beautiful spaces to appreciative audiences. Jeremy and his crew hold events throughout the year in Berkeley, New York, Chicago, and of course, Los Angeles -- once you sign up for a date and general location (they've held events in WeHo, Venice, and the Hollywood Hills so far this month), you get an email the day before with a menu and an address. Pack a bottle of wine and a few cushions, and get ready to hang out on the floor with a group of cool people while eating a fabulous four-course meal prepared by a local professional.
You can sign up for the email list through their website, and tickets run about $60 per person (BYOB and cushion). There might still be a few tickets left for the Downtown (the special theme: dining in the dark!) and Mar Vista (with a special screening of "Who Killed The Electric Car" in honor of the green theme) events this week, so get on over to the site to sign up!!!
Our meal was inventive, varied, and beautifully prepared and presented; our table-mates were warm and friendly; the entertainment (a casual art show and brief comic performance) was fun and appropriate.
The menus boast the skull-and-crossed-knives logo of the group, and on the back are several haikus penned by the party's guests (we had to come up with our own when buying up for tickets). Matching up your dinner partners with their haikus is just one of the fun little ice-breakers Jeremy has devised: we also indulged in a few group psychological games which made all of us giggle like kids.
Each course was punctuated by some sort of entertainment: Townsend spoke at length about the origins of Ghetto Gourmet, and was careful to thank everybody involved in the orchestration of such a casual-yet-elaborate event. A local artist posted his work all over the walls, and a comedian kept the mood light with a short routine. The crowd was small enough to really feel like an intimate, friendly dinner party, and the kitchen, headed up by chef Anita Bergmann, kept each course coming at an appropriate pace.
Our amuse-bouche was phenomenal: a piping hot dose of kambocha squash soup, served in shot glasses and spiked with chunks of candied ginger. The soup was rich, smoky, and deeply satisfying; its savory tasted was broken up by an occasional crunch of sweet ginger. My shot glass had a few too many large chunks, but the soup itself was incredible -- and inspiring. I want this recipe.
A roasted winter vegetable salad followed: leaves of spinach arranged over parsnip, carrot, and caramelized onions, sprinkled with a vinegrette and crushed walnuts. Usually raw spinach turns me off due to its bitterness, but even the large portion in my bowl was made bearable by the sweet roasted flavors of the veggies, as well as the citrusy brightness of the dressing. It's a nice cold-weather kind of salad, and another dish I would be interested in experimenting with -- maybe a few crumbles of blue or feta cheese would pull it all together.
Each table is laid with pens, artist postcards, and an envelope for tips and business cards. Once the wine gets flowing, you forget which bottle belongs to whom, and the whole enterprise takes on a fun quality. I wrote down the names of my co-diners on a napkin so I wouldn't forget anybody, and we all had a good time discussing typically Los Angeles topics like neighborhoods, traffic, and restaurants.
The entree was a nice example of what Ghetto Gourmet is all about: duck three ways, adventurous, a little uneven, but overall a totally satisfying experience. The "rillette bao," an Asian-style dumpling envelope topped with duck rillette, was heavy on the dough and light on the duck. The Asian bangers and mash, though, was the winner of the night: duck sausage on a bed of light, garlicky potatoes. Warm, flavorful, and luscious, and the potatoes paired nicely with everything else on the plate. The tea-smoked breast of duck with piperade and asparagus, sauced with an orange-earl grey reduction, was beautifully cooked to a nice pink color, and the earl grey sauce was surprisingly deep and savory: it almost doubled as gravy for the bangers and mash.
We finished the meal with a fresh fruit Napoleon -- slices of grape and pear were layered in between crispy puff pastry strips, all nestled atop a spoonful of rich creme. The fruit was nice, but could have used the added punch of caramelization -- but the dessert worked well and ended the meal on a light note.
The Ghetto Gourmet experience is an evening of unexpected pleasures, culinary exploration, and good old fashioned laid-back fun. You can't help but smile at your dining partners as you all struggle to get comfy on your cushions, and the whole evening pulses with a warm, creative energy. I'll be keeping my name on the mailing list, and I look forward to what these party people will be doing next.