Notes from the Culinary Underground: Ghetto Gourmet
LAist relies on your reader support, not paywalls.
Freely accessible local news is vital. Please power our reporters and help keep us independent with a donation today.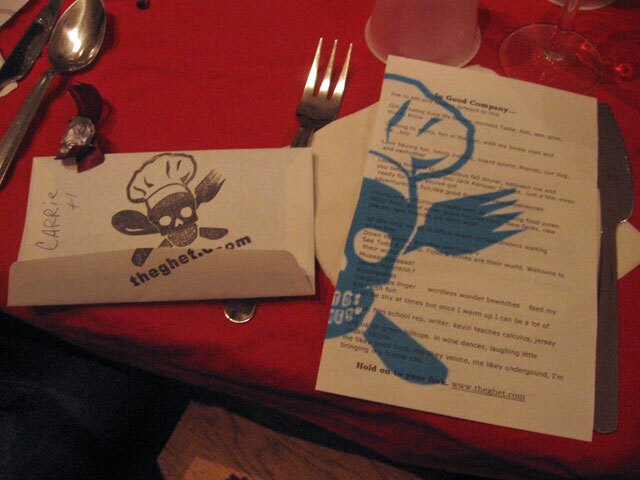 "Didn't you all feel really cool tonight driving over here?" Jeremy Townsend, founder of the underground supper club Ghetto Gourmet, posed this question to a diverse group of about forty foodies, all sprawled out on cushions on the floor of a beautiful Venice home. And as we opened our bottles of red wine, stretched out our legs, and gazed down at a beautifully crafted shooter glass filled with warm squash soup, we had to agree: yeah, this felt pretty cool.
The Ghetto Gourmet is a roving restaurant, serving contemporary cuisine in beautiful spaces to appreciative audiences. Jeremy and his crew hold events throughout the year in Berkeley, New York, Chicago, and of course, Los Angeles -- once you sign up for a date and general location (they've held events in WeHo, Venice, and the Hollywood Hills so far this month), you get an email the day before with a menu and an address. Pack a bottle of wine and a few cushions, and get ready to hang out on the floor with a group of cool people while eating a fabulous four-course meal prepared by a local professional.
You can sign up for the email list through their website, and tickets run about $60 per person (BYOB and cushion). There might still be a few tickets left for the Downtown (the special theme: dining in the dark!) and Mar Vista (with a special screening of "Who Killed The Electric Car" in honor of the green theme) events this week, so get on over to the site to sign up!!!
Our meal was inventive, varied, and beautifully prepared and presented; our table-mates were warm and friendly; the entertainment (a casual art show and brief comic performance) was fun and appropriate.