This is an archival story that predates current editorial management.
This archival content was written, edited, and published prior to LAist's acquisition by its current owner, Southern California Public Radio ("SCPR"). Content, such as language choice and subject matter, in archival articles therefore may not align with SCPR's current editorial standards. To learn more about those standards and why we make this distinction, please click here.
A Day for Every Truck & Cart: Petition Campaign Launched for National Mobile Food Vendor Day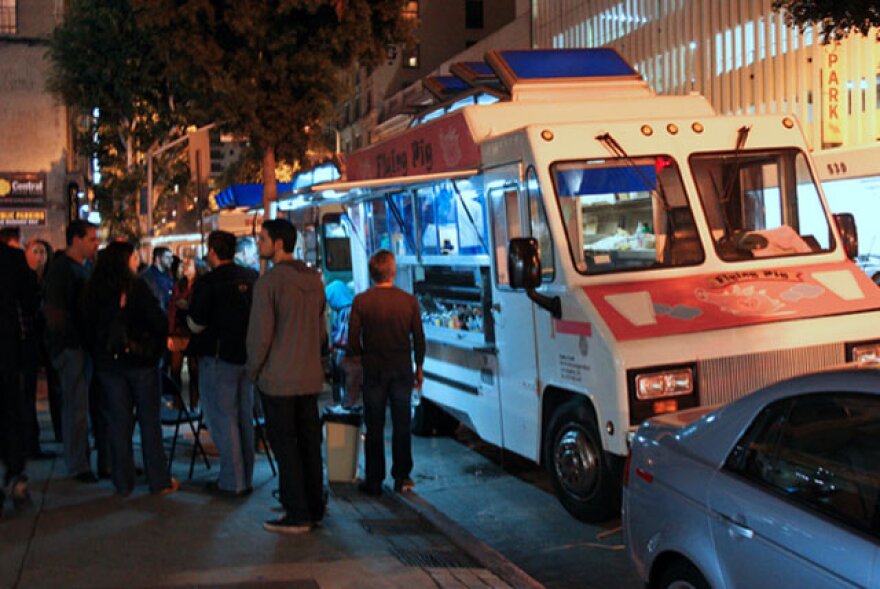 Stories like these are only possible with your help!
You have the power to keep local news strong for the coming months. Your financial support today keeps our reporters ready to meet the needs of our city. Thank you for investing in your community.
Mobile food is nothing new in the United States--so many food items like the all-American hot dog first crossed our palates thanks to the entrepreneurship of immigrants and their pushcarts on our city streets. However, what is new is a movement by mobile food vendors across the nation who are coming together to push the federal government to declare a National Mobile Food Vendor Day.
"The question 'why we should or should not have a Mobile Food Vendor Day' has been on our minds for some time now," explains Mobile Cuisine Magazine, who are using their publication to launch the campaign. They explain:
In US (and the rest of the world), there are so many Federal and State holidays commemorating distinct cultural and political events. We have holidays for teachers, mothers, fathers, grandparents, martyrs, workers… so, our question is: why don't we have a national day for these culinary entrepreneurs? A national day isn't really about who gets to skip work for a day and relax or go on a parade; it's about recognition and respect.
Within their article is a petition addressed to President Barack Obama and Congress that they are urging supporters to sign. From the petition text:
It doesn't matter if you are a fan of taco trucks, grease trucks, food trucks, food carts or street food vendors; I urge you to join this concerted effort to make it known that you wish to see March 5th, ([Chuck Wagon founder Charles] Goodnight's birthday) not only made into a national day of recognition for mobile food vendors, but also to make sure there is a strong foundation for the future of these culinary entrepreneurs.
Mobile food vendors are not only looking for national recognition, but at the local level here in the greater Los Angeles area and elsewhere in the country, are fighting battles about when and where they can stop and vend.
Maybe March 5th will be the next time we get together at an event like the L.A. Street Food Fest, which held their annual "summer tasting" event just last weekend.