Flying Pig Truck Squealing Mad About Porno Using Their Name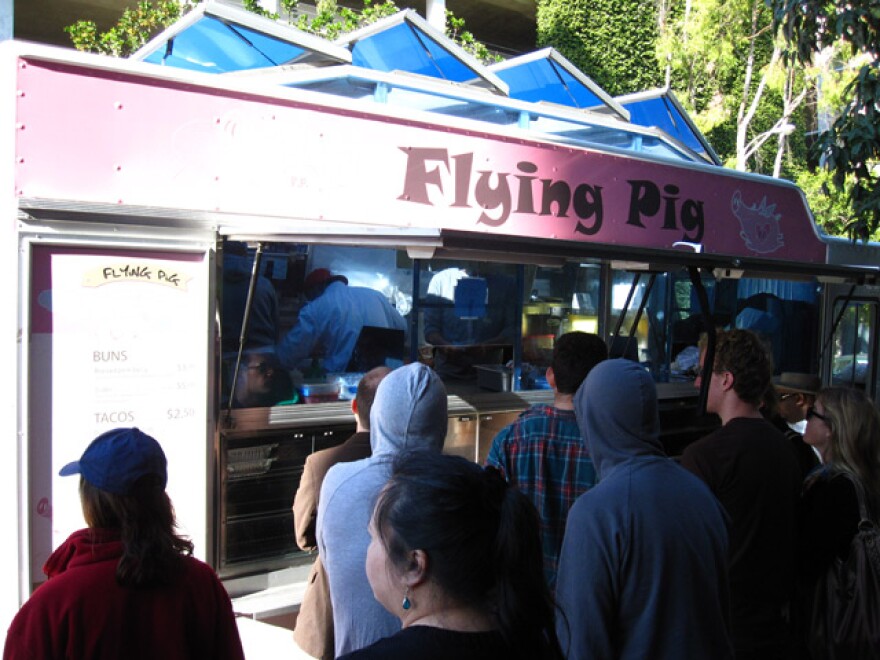 Stories like these are only possible with your help!
Your donation today keeps LAist independent, ready to meet the needs of our city, and paywall free. Thank you for your partnership, we can't do this without you.
It's one thing to use a food truck for a porn shoot (so long as everything--and we mean everything--gets a good disinfecting after), but it's another to riff on the truck's name and logo. The Flying Pig Truck, the backdrop for the first in a planned trilogy of adult films marrying trendy mobile fusion food and getting it on, now says they're contemplating legal action against the producers of the upcoming release The Flying Pink Pig, according to Squid Ink.
Flying Pig owner Joe Kim "has consulted his lawyer about the XXX-taco debacle, hoping to curtail Cal Vista Pictures' use of the Flying Pig iconography before the movie is released on DVD in late January." Kim also is refuting the director's anecdote about securing the truck for the movie by simply pulling over and asking the truck if she could use it in a movie.
Right now the truck--actually, they have a two-truck fleet--seems to be taking the media flurry about the skin flick in stride, even re-Tweeting an emoticon punctuated lament from a fan: "ill never be able to look @flyingpigtruck the same way ever again.. All ill think about is the porn!! :(" The Flying Pig is also setting up a permanent space in Little Tokyo; their brick-and-mortar Flying Pig Cafe was granted a "crucial permit" the day the porn story hit the news.