This is an archival story that predates current editorial management.
This archival content was written, edited, and published prior to LAist's acquisition by its current owner, Southern California Public Radio ("SCPR"). Content, such as language choice and subject matter, in archival articles therefore may not align with SCPR's current editorial standards. To learn more about those standards and why we make this distinction, please click here.
Fin Fish Cooking Class With Michael Cimarusti
Support your source for local news!
The local news you read here every day is crafted for you, but right now, we need your help to keep it going. In these uncertain times, your support is even more important. Today, put a dollar value on the trustworthy reporting you rely on all year long. We can't hold those in power accountable and uplift voices from the community without your partnership. Thank you.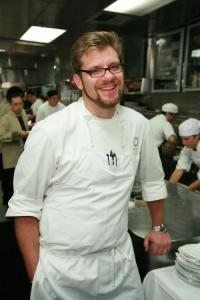 Providence, Michael Cimarusti's culinary temple celebrating the wonders of seafood, has quickly become a byword for exquisite dining in Los Angeles. One can hardly fathom the pleasures of eating wildly creative and delicately presented dishes like razor-clam risotto or sea urchin scrambled eggs, let alone preparing them yourself.
But for a lucky few who show up on Sunday, you can take advantage of a private cooking demonstration held by Cimarusti himself in Providence's kitchens -- okay, $150 per person is quite a sum, but you get to taste the dishes alongside the staff's wine recommendations. What's on the menu?
Tai Snapper with Razor Clams in Sake Broth with Lemon Zest and Olive Oil

Halibut with Morels and Asparagus

Artic Char with Salt Roasted Parsnips, Parsnip Purée and Wasabi Butter
Maybe tomorrow morning's too soon for you? Well there's a "New Style Sushi" course coming up on Sunday, April 20th. The class will be presented in the kitchen with Chef Cimarusti and Chef de Cuisine Yu Min Lin. Tasting portions, which no doubt will be practically wriggling with freshness, are served in the dining room for you to taste. If that wasn't enough, Providence Sommelier, Drew Langley will present wine suggestions for the prepared dishes (must be 21 or older to enjoy the wine, of course).Providence LA.
Fin Fish Cooking Class. Sunday, March 30th: 11:00-2:30.
New Style Sushi. Sunday, April 20, 2008, 11:00am
$150 per person, class limited to 20 participants. Call (323) 460-4170 for details and reservations.
Cruise off the highway and hit locally-known spots for some tasty bites.

Los Angeles-based restaurant owners rejoice as a new ordinance makes its way to the city council.

The new season of LAist Studios' WILD podcast is a fictional rom-com set in Southeast L.A. Diners play a big role in fostering conversation between the shows' two hosts this season. Here are host Erick Galindo's must-visit L.A. diners — whether you like breakfast or not.

The new season of LAist Studios' WILD podcast is a fictional rom-com set in Southeast L.A. Donuts play a big role in episode two of the show. Here are some of our favorite, wildly creative, and iconic donut shops in Los Angeles.

Cheap Fast Eats visits one of L.A.'s most distinctive neighborhoods for some nighttime bites.

How to get the best eggs in town without leaving your yard.