This is an archival story that predates current editorial management.
This archival content was written, edited, and published prior to LAist's acquisition by its current owner, Southern California Public Radio ("SCPR"). Content, such as language choice and subject matter, in archival articles therefore may not align with SCPR's current editorial standards. To learn more about those standards and why we make this distinction, please click here.
5 Places To Find Unique, Modern Mooncakes To Celebrate The Moon Festival
Support your source for local news!
Today, put a dollar value on the trustworthy reporting you rely on all year long. The local news you read here every day is crafted for you, but right now, we need your help to keep it going. In these uncertain times, your support is even more important. We can't hold those in power accountable and uplift voices from the community without your partnership. Thank you.
The Mid-Autumn Festival is a harvest festival celebrated by Chinese and Vietnamese people around the world. The holiday, which is also referred to as the Moon Festival, falls on September 8th this year, and is centered around moon watching, gathering with family and friends, and of course, eating mooncakes.
Mooncakes are traditionally a round, extremely rich-tasting and dense pastry made from lotus seed paste or red bean and stuffed with salted duck egg yolk. Due to people's insatiable desire for mooncakes and since it is tradition to exchange mooncakes between family and friends, many Asian bakeries throughout Los Angeles put their regular pastry production on hold to concentrate solely on mooncakes this time of year. The traditional Cantonese-style mooncakes can be found at almost any Asian supermarket or Chinese bakery, but here are five places where you can find unique and modern mooncakes.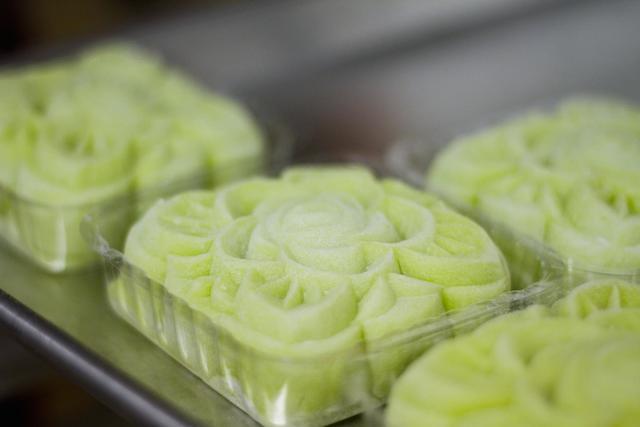 Fresh Vietnamese Mooncake (Photo by via Facebook )
My Hiep
My Hiep in Westminster specializes in mooncakes year round. Instead of buying pre-made boxes of mooncakes from the market filled with preservatives that were shipped here from Hong Kong, Singapore, or China, My Hiep makes theirs fresh and in several varieties. You can choose from a wide range of fillings such as taro, green bean, lotus seed, Chinese sausage, chicken, salted egg yolk, red bean, nuts, pork and even the infamous durian. My Hiep may be a Vietnamese bakery, but they also carry Taiwanese mooncake varieties that look like a dome, cute piglet-shaped mooncakes, and even vegetarian mooncakes. They also have a selection of healthier mooncakes that are made using vegetable oil instead of the traditional lard. Their fillings are not too sweet and the skin is always thin and moist. There's even a menu board filled with pictures to help with the ordering process. Westminster might be a hike, but you can even order online cause this mom-and-pop Vietnamese shop is totally hip and with the times.
My Hiep is located at 10483 Bolsa Avenue in Westminster, (714) 839-4657

Piggy Mooncakes in Bamboo Baskets (Photo by Kristie Hang/LAist)
Kee Wah Bakery
Cantonese Bakery Powerhouse Kee Wah carries many variations of the traditional mooncake. The mooncakes with four salty duck egg yolks are priciest at about $11 each. Kee Wah also has more unique fillings such as pineapple paste with walnuts, egg custard, ham and red bean with mandarin zest. Their most gimmicky and picture-worthy mooncake variation, however is their 'piggy in a bamboo basket.' Traditionally, in order not to waste their leftover mooncake scraps, pastry chefs molded extra dough into fun shapes and animals. One of the most popular shape are piggies in a bamboo basket. These have a sad backstory: bamboo baskets were used to drown adulterous couples at sea. But at least the piggy mooncakes are Instagram worthy?
Kee Wah Bakery is a chain with three Southern California locations in the San Gabriel Valley. You can find locations in Rowland Heights, Monterey Park, and San Gabriel.

Snow skin durian-stuffed mooncake. (Photo by Clarissa Wei via http://clarissawei.com)
Sunny Bakery
Sunny Bakery in San Gabriel offers the traditional mooncakes like everyone else, but their most unique item is the snow skin durian-stuffed mooncake. The white translucent outer mooncake skin is similar to that of Japanese mochi. The inside is stuffed with fresh durian extract paste. Similar to that of mochi ice cream, these durian puff mooncakes should be refrigerated for the best taste. The outside is supposed to taste a bit cold whereas the inside is soft and creamy.
Sunny Bakery is located at 743 East Valley Boulevard in San Gabriel, (626) 307-7381

Mid-Autumn Festival Collection Set. (Photo by Godiva )
Godiva
Godiva has been one of the mainstream companies at the forefront of incorporating Asian traditions into their company (which is fast expanding in China). The chocolatier has a new limited edition fruit and tea infused mooncake collection released specially for Mid-Autumn Festival. Godiva's mooncakes are not actually mooncakes, but rather unique chocolates shaped and inspired by the traditional delicacy with a twist.
The centerpiece of the Godiva's limited edition collection is a large dark chocolate mooncake shell filled with crunchy grapefruit mousse, hints of lemongrass and vanilla, and topped with black-tea infused chocolate ganache. Other unique mooncake flavors in the collection include a dark chocolate with ginger-spiced mandarin orange mousse, milk chocolate filled with goji berry mousse, a grapefruit black tea crunch, and a lychee green tea crunch. Best part is, you can buy the mooncakes as a set or individually at Godiva. This is an excellent option for those who do not like the traditional mooncakes.
You can pick a Mid-Autumn set up at your local Godiva boutique or order online

Taiwanese Mooncakes (Photo by Jason Wong)
85°C
Taiwanese bakery 85°C sells individual and gift set boxes of Taiwanese mooncakes. Unlike the typical dense Cantonese mooncake, Taiwanese mooncakes are flaky, almost like a croissant. The mooncake gift set can be found in any of their stores. The set contains four flavors like Golden Yolk with Date, Golden Yolk with Red Bean, Matcha Green Tea with Red Bean, and with Taro Red Bean. The multi-colored pastries look like a dome and taste different from the traditional mooncake. (85°C also makes Cantonese-style mooncakes, but you should stick to their Taiwanese pastries.)
To order a box, you can go to any 85°C store or to their website
How to get the best eggs in town without leaving your yard.

Beautiful views aren't the only thing drawing Angelenos to the region

Gab Chabrán reflects on growing up in L.A. in a Latino home that doesn't celebrate Thanksgiving and the traditions they formed instead.

Oklahoma-style smash burgers and Georgian dumplings make for some excellent cheap bites in Glendale

Husband and wife Felix Agyei and Hazel Rojas combine food from their heritages, creating a marriage of West African and Filipino cooking

Baby Yoda cocktails. Boozy Dole Whips. Volcanic tiki drinks. If you can dream it, they're probably mixing it somewhere on property.