Fire at West Hollywood Strip Club, The Body Shop
Stories like these are only possible with your help!
You have the power to keep local news strong for the coming months. Your financial support today keeps our reporters ready to meet the needs of our city. Thank you for investing in your community.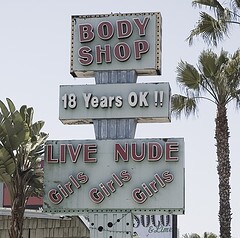 A fire has erupted at the Body Shop, a famous all nude strip club located on Sunset Blvd. in West Hollywood.
Associated Press reports, "The Los Angeles County Fire Department says the blaze was reported at about 6:46 a.m. Thursday at the one-story club on Sunset Boulevard. Firefighters don't believe anyone was in the building at the time of the fire."
"About half a dozen fire engines and trucks were at the scene."
KCBS-TV's News Chopper 2 reporter says, "The drive in to West Hollywood is really getting bad with Sunset closed in both directions. Traffic is also jammed up coming south on Crescent Heights. Avoid the area if you can."

Photo by mrtruffle via flickr