Eternally Yours - a visit to the Angelus-Rosedale Cemetery
Stories like these are only possible with your help!
You have the power to keep local news strong for the coming months. Your financial support today keeps our reporters ready to meet the needs of our city. Thank you for investing in your community.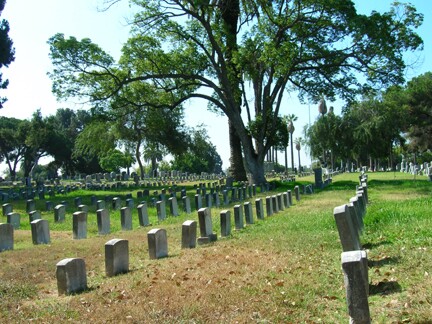 by Kevin McCollister
I spent yesterday morning surrounded by people who were dead before I was born.
At the corner of Normandie and West Washington is the Angelus-Rosedale Cemetery. Founded in 1884, it's a "Who Was Who" of Los Angeles since the beginning and is therefore where many mayors, prizefighters and at least one mass murderercan be found.
It also has several rows (above) of young men buried with no families, no wives; they're soldiers who died in the Spanish American War and World War I. Preceding them into the ground were men and women who's gravestone's are now only slightly legible: "7 Months", "1831", "asleep". They no doubt arrived here by covered wagon.
Later, as whites were not allowing non-whites to be buried in their more modern cemeteries, Angelus-Rosedale evolved by default into the final resting place for prominent African-Americans and Asians. Art Tatum, Hattie McDowell and Anna Mae Wong can be found here. (If you're a fan of "Freaks", it's also where director Todd Browning slumbers.)
Based on my experience this morning, you can't read all the poignant headstones ("There Is No Death"), nor visit the mausoleums, the chapel or even the crematorium (yikes) in less than three hours.
But you can drive away knowing that no matter how deep they carve your name into your headstone, someday it'll be like it was never there at all.