This is an archival story that predates current editorial management.
This archival content was written, edited, and published prior to LAist's acquisition by its current owner, Southern California Public Radio ("SCPR"). Content, such as language choice and subject matter, in archival articles therefore may not align with SCPR's current editorial standards. To learn more about those standards and why we make this distinction, please click here.
Weekend Planner: 20 Things To Do In Los Angeles
Our June member drive is live: protect this resource!
Right now, we need your help during our short June member drive to keep the local news you read here every day going. This has been a challenging year, but with your help, we can get one step closer to closing our budget gap. Today, put a dollar value on the trustworthy reporting you rely on all year long. We can't hold those in power accountable and uplift voices from the community without your partnership.
Here are 20 cool events happening this weekend right here at home. Check out our January Guide for other suggestions, too.
FRIDAY, JAN. 29
NAN LAWSON (Art)
On Friday night from 7-9 pm, Gallery 1988 (East) presents an opening reception for Meet Cute, the latest solo show from artist Nan Lawson. The limited-edition prints arrive just in time for Valentine's Day, as the work features some of pop culture's "most iconic, and loving, relationships." The works will remain on view through Feb. 13.
CRACKED ACTOR: BOWIE ON FILM
Cinefamily presents a film tribute to David Bowie all weekend long. The David Bowie Mixtape screens on Friday at 7:30 pm, featuring rare ephemera, music videos (both classic and deep cuts), short films, obscure television appearances, interviews and documentary clips. Friday Night Frights presents The Hunger at midnight Friday. Labyrinth screens at midnight on Saturday and on Sunday at 11:15 pm. Rounding out the series are The Man Who Fell to Earth and Merry Christmas Mr. Lawrence. Tickets: $12.
RIOT L.A. (Comedy)
RIOT LA—the alternative comedy festival—returns to DTLA at various venues this weekend. More than 40 shows are scheduled, including Patton Oswalt, Bridget Everett, T.J. Miller, Ron Funches, Kumail Nanjiani, Todd Glass, Thomas Middleditch, Jerrod Carmichael, Lauren Lapkus, Brody Stevens, Guy Branum, James Adomian, Kate Berlant and many others. Things kick off with two shows at The Theatre at Ace Hotel on Friday night: David Cross at 7:30 pm and Janeane Garofalo, Maria Bamford and Natasha Leggero at 10:30 pm. The Lot (247 S Main St.) serves as the fest's epicenter and playground, with free arcade games, skeeball, shuffleboard, food trucks, photo booths, vendors and more activities for festival attendees. Check out some of the highlights here. Individual ticket prices vary, but start at $10.
GIRLSCHOOL FESTIVAL (Music)
GIRLSCHOOL festival, spearheaded by Anna Bulbrook of The Bulls and The Airborne Toxic Event, is at the Bootleg Theater this weekend. Bulbrook was inspired by girls, ages 8 to 17, who wanted to get onstage for the first time, and has helped organized a weekend of live performances by White Sea, Kera & the Lesbians (Acoustic), The Bulls, Kate Nash (DJ set), Gothic Tropic and more. Proceeds will benefit the Rock'n'Roll Camp for Girls LA. Weekend pass: $15-$20. Individual tickets: $10-$12.
OSCAR SHORTS (Film)
ShortsHD™, the only short film channel, and Magnolia Pictures, opens The Oscar® Nominated Short Films 2016 on more than 400 screens across the U.S., Canada, Europe and Latin America on Friday. Now's your chance to watch the Live Action, Animation and Documentary short film nominees on the big screen. Check out which theaters are screening the shorts programs and read about the short filmnominees.
THE MOTET / SOPHISTAFUNK (Music)
It's a night of funk at the Roxy on Friday night with headliners The Motet. The Colorado-based band specializes in improvisational funk, counting Earth Wind & Fire, Parliament Funkadelic, Tower of Power and Jamiroquai among its influences. The Syracuse-based trio Sophistafunk opens, combining spoken-word, old-school hip hop and funky rhythms. The show is all ages. Doors at 8 pm, show at 9 pm. Tickets: $21.
PENELOPE SPHEERIS TRIBUTE (Film)
UCLA Film & Television Archive and the Academy Film Archive present A Tribute to Penelope Spheeris this weekend at UCLA's Billy Wilder Theater. On Friday night at 7:30 pm, there's a screening of Dudes, in which New York punks (Jon Cryer, Daniel Roebuck, Flea) pile into a VW bug for a road trip to California. On Saturday at 7:30 pm, there's a screening of UCLA Short Films and Beyond, featuring the director's restored short student films. In person on Friday: Jon Cryer, Randall Jahnson and Penelope Spheeris; Spheeris and Mark Toscano, Academy Film Archive on Saturday. Tickets: $10.
STARTUP ART FAIR (Art)
In addition to this weekend's LA Art Show and Art Los Angeles Contemporary, there's another art show in town. The stARTup Art Fair is at the Highland Gardens Hotel in Hollywood from Friday through Sunday, presenting more than 45 artists. Guests move from one room to another at the hotel to view the art. The fair, which opens at noon on Friday and Saturday, supports independent and unrepresented artists by connecting them to arts communities, securing exhibition space while allowing the artists to keep 100% of their sales proceeds. Tickets/passes: $10-$40.
SATURDAY, JAN. 30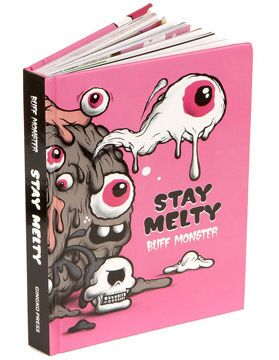 Buff Monster does a book signing at GR2 this weekend.
BUFF MONSTER (Book signing)
Artist Buff Monster signs his newest book Stay Melty at GR2 Gallery on Saturday from 2-3 pm. The hardcover book features more than 600 photos on 224 pages of his works in progress, paintings, murals, posters, stickers, Melty Misfits trading cards and toys. NIGHT ON BROADWAY (Block party)
The second annual Night On Broadway returns to Downtown LA on Saturday night with a free block party featuring art, entertainment and food. The party spans eight city blocks and celebrates the eighth anniversary of L.A. City Councilmember José Huizar's Bringing Back Broadway initiative, a 10-year plan to revitalize the historic Broadway corridor. Last year, 35,000 people showed up, and organizers are expecting more this year. Musical and performance headliners include Aloe Blacc, Ozomatli, Rachel Bloom, Lucent Dossier Experience, Reggie Watts, The Spazmatics, a shorts fest by NewFilmmakers LA, Rebel Bingo and more. The event takes place rain or shine from 5-11 pm.
POLE SHOW LA (Performance)
Pole Show LA is at the Avalon in Hollywood on Saturday night, showcasing feats of aerial arts and pole dance by some of the country's of top performers. The show combines the acrobatics of Cirque du Soleil with the sex appeal and strength of the participants. There's a champagne reception at 6 pm and the show begins at 7:30 pm. Ages 21+. Tickets: $39-$137.50.
MUSEUMS FREE-FOR-ALL (Art + culture)
Here's your chance to get cultured on the cheap. On Saturday, more than 20 Southern California museums offer free admission in the 11th annual Museums Free-For-All, including the California Science Center, MOCA, LACMA, Japanese American National Museum, Natural History Museum, etc. Museums like the Museum of Tolerance and the Skirball, which are closed on Saturdays, will offer free admission on Sunday, Jan. 31.
LAUGHS BY VOLUME (Comedy)
Pint Magazine presents Laughs By Volume, a stand-up comedy show and craft beer tasting event on Saturday at L.A. Mother in Hollywood. Showtimes are at 1 pm, 5 pm and 9 pm with each set featuring six comedy performances and unlimited tastings from 20+ different beers (from Absolution Brewing Co., Hand Brewed Beer, Fireman's, The Bruery, Great Beer Co, Four Sons Brewing & Kinetic Brewing Co. and others). Comics include Evan Wecksell, Jonesy, Atsuko Okatsuka, Jason Love, Sammy Obeid and Stevie Mack. Presale general admission tickets start at $27.50.

Descanso Gardens (Photo by CindiK. via the LAist Featured Photos pool on Flickr)
CAMELLIA & TEA (Festival)
Descanso Gardens presents its annual Camellia & Tea Festival this weekend, which celebrates the colorful winter flower. In addition to craft activities and guided walks, there's a Chado Tea Tasting from 10 am to 2 pm on Saturday and Sunday. Sample a variety of teas and learn about tea plants (Camellia sinensis) from the Chado Tea experts. If you'd like more than just a sampling of tea, then enjoy a proper tea at Patina (extra charge). For the first time, Descanso Gardens participates in the Museums Free-For-All Day and the festival is free.
ELIXIR - THE SHOW (Variety)
Elixir - The Show is a free variety show at The Federal Bar in North Hollywood that begins at 8 pm sharp on Saturday night. The show includes live music and burlesque, cabaret, vocalists, comedy, magic, dance troupes and audience participation games with prizes. Elixir is presented in a dinner show format, so table reservations are highly recommended (though not mandatory) at elixirvarietyshow@gmail.com. Dress to impress. Doors at 7:30 pm. Free. 21+.
SARGASM (Comedy)
Sargasm Comedy is a free comedy show hosted by Aubrey Jacobowitz and Phillip Binder on Saturday from 6-7:30 pm at Grounded Cafe on Melrose. This week's lineup includes Lauren Rantala, Brianna Murphy and Jen O'Donnell with headliner Emmy Blotnick.
JULIA HOLTER / CIRCUIT DES YEAX (MUSIC)
Experimental pop songstress Julia Holter headlines the Teragram Ballroom on Saturday night, playing in support of her latest release Have You In My Wilderness. Circuit des Yeux opens the night, featuring songs from the most recent album, In Plain Speech. The event is all ages. Doors at 8 pm, show at 9 am. Tickets: $18-$20.
OBSESSED PODCAST (Comedy)
Comedian/writer Joseph Scrimshaw (RiffTrax, TableTop) hosts a live edition of the Feral Audio comedy podcast, Obsessed, on the Nerdist School Stage on Saturday at 9 pm. The show takes a "fast, funny look at things we like a little too much." The first live Obsessed show in LA tackles The Force Awakens with special guests (Rye Silverman, Matt Belknap and Clarke Wolfe), quizzes and comedy. Tickets: $5 donation.
CANCER! THE MUSICAL (Musical comedy)
Second City Hollywood presents the West Coast premiere of Cancer! The Musical on Saturday at 9 pm. The musical follows a researcher who thinks he has a cure for cancer and a pharma exec who wants to steal it. There's also a surgeon who needs it to save the woman he loves. "Cancer!" is the created by cancer survivor and surgeon Tom Donnellon, MD, who co-wrote the script with his brother and Second City Detroit alum, Shawn Handlon, and Second City Detroit Musical Director John Edwartowski. Tickets: $12. The production runs through April 23.
SUNDAY, JAN. 31
ANIMATIONS OF RUN WRAKE (Film)
Los Angeles Filmforum presents Collage Dada Jukebox: The Animations of Run Wrake on Sunday at 7:30 pm at the Spielberg Theatre at the Egyptian. Wrake, a British animator and designer, developed a style that mixed animation with "pop visual culture, collage aesthetics, and looping, all wrapped in a vivid envelope of the absurd." Tickets: $10 general, $6 students/seniors; free for Filmforum members.
Related: LAist's January Guide
Want the 411 on additional events and happenings in LA? Follow @LAist or me (@christineziemba) on Twitter.
Donald Trump was a fading TV presence when the WGA strike put a dent in network schedules.

Pickets are being held outside at movie and TV studios across the city

For some critics, this feels less like a momentous departure and more like a footnote.

Disneyland's famous "Fantasmic!" show came to a sudden end when its 45-foot animatronic dragon — Maleficent — burst into flames.

Leads Ali Wong and Steven Yeun issue a joint statement along with show creator Lee Sung Jin.

Every two years, Desert X presents site-specific outdoor installations throughout the Coachella Valley. Two Los Angeles artists have new work on display.