This is an archival story that predates current editorial management.
This archival content was written, edited, and published prior to LAist's acquisition by its current owner, Southern California Public Radio ("SCPR"). Content, such as language choice and subject matter, in archival articles therefore may not align with SCPR's current editorial standards. To learn more about those standards and why we make this distinction, please click here.
Weekend Planner: 20 Awesome Things To Do In Los Angeles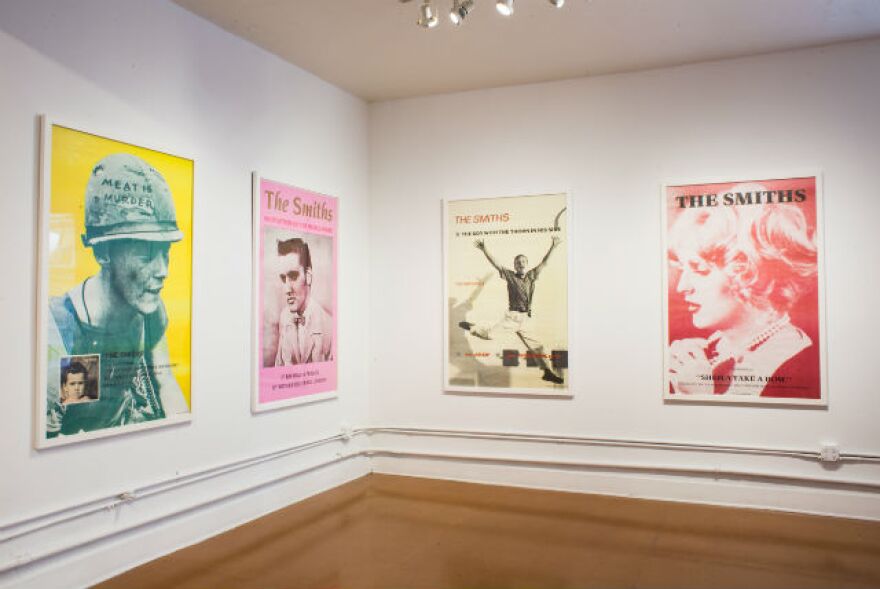 Before you read more...
Dear reader, we're asking you to help us keep local news available for all. Your tax-deductible financial support keeps our stories free to read, instead of hidden behind paywalls. We believe when reliable local reporting is widely available, the entire community benefits. Thank you for investing in your neighborhood.
Here are 20 of the coolest events happening in L.A. this weekend...
FRIDAY, SEPT. 22
I STARTED SOMETHING I COULDN'T FINISH (Vintage posters)
The exhibition I Started Something I Couldn't Finish is a collection of rare posters produced by The Smiths and Morrissey—it will be on view at These Days gallery in DTLA through Oct. 22. The selection of oversized 40" x 60" duotone posters come from the archives of an anonymous Smiths/Morrissey fan and collector, and were originally displayed in British and European subway stations and record stores.
X-FILES: UNCLASSIFIED (Improv)
X-Files: Unclassified, directed by Rob Ullett and Jessica Lynn Verdi, is currently running at the Impro Studio Theatre in Los Feliz, on Fridays at 8 p.m. through Oct. 27. The ensemble improvises brand new episodes each week based on audience suggestions. There promises to be action, comedy, suspense, romance (maybe) and surprises. Join new agents Alaina Bailey, the faith-based scientist, and Kit Culver, "the white whale chasing special agent," as they hunt down monsters of the week or other unexplained phenomena. The ensemble members take turns weekly playing the agents, so no two shows/performances are the same. Tickets: $10.
DENT MAY (Music)
Dent May brings electro-pop songs to the Bootleg Theater on Friday night in support of his new record Across The Multiverse. Also on the bill: Cones, Lily McQueen, DJ Pleather. Tickets: $10-$12. 8:30 p.m. Ages 21+.
A FUNNY THING HAPPENED ON THE WAY TO THE GYNECOLOGIC ONCOLOGY UNIT AT MEMORIAL SLOAN KETTERING CANCER CENTER IN NEW YORK CITY (Theater)
The evocative title of the Geffen Playhouse's first show in its new season, and the company's first under new Artistic Director Matt Shakman, captures the spirit of the production unusually well. It's a breathless comedy, you might even say a romcom, set in a hospital room occupied by two terminal cancer-stricken mothers of adult children. Visiting their moms at the same time, Karla (Halley Feiffer, who also wrote the play) and Don (Jason Butler Harner) meet, squabble at first, soon (spoiler alert) fall in love--and hilarity ensues! Think something more like Nora Ephron than Tig Notaro. The production runs through Oct. 8 at the Playhouse's Gil Cates Theater. Tickets start at $30. —Lyle Zimskind
SATURDAY, SEPT. 23

Corey Helford Gallery opens a solo show by street artist D*Face. (Image: Work-in-progress, shot by Spraying Bricks)
HAPPY NEVER ENDING (Art)
D*Face, one of the best-known street artists in the world, opens his latest solo exhibition Happy Never Ending at Corey Helford Gallery this weekend. The opening reception takes place on Saturday from 7-11 pm at CHG. The show remains on view through Oct. 21.
RESEDA RISING (Art fest)
On Saturday night from 5-10 p.m. in Reseda, the 1111 Creative Collective presents the Reseda Rising Art Walk and Night Market. The night features pop-up art, installations, live art, an art market, workshops, an SFV Zine Fest, live music, food trucks and an SFV beer garden featuring the local breweries. The event is free and all ages. There's a VIP beer garden ticket for all you can (safely) drink and early access for $45.
COCKTAILS IN THE CITY (Drink fest)
The Cocktails in the City cocktail festival is at the Majestic Downtown on Saturday featuring 30 pop-up bars from some of L.A.'s best spots, brought together to celebrate the city's bar scene. Participating bars creating specialty drinks for the occasion include Harvard and Stone, Melrose Umbrella Company, Birds and Bees, Roger Room, Sassafras, Normandie Club and Big Bar, and food from Trejos Tacos, Bronzed Aussie Pie Company and Kye's. Tickets: $25 and include a free cocktail from any of the bars, an event guide and swag bag. Additional cocktail tokens are $10 each. Tickets are available for the pre-dinner cocktail party from 4:30-8:30 pm or the after dinner cocktail party from 9 pm-1 am.
SUMMER HAPPENINGS AT THE BROAD (Art + performance)
The Broad Museum's Summer Happenings series continues on Saturday night at 8 p.m., and this month the participating artists and musicians have been selected to complement the work of artist Jean-Michel Basquiat. The night features many queer and marginalized artists and a headlining performance by Downtown Boys. Other artists performing include Zebra Katz, DJ Rashida, Michael Stock (Part Time Punks), Mecca V A and the MOVEMENT movement. Advance tickets are sold out, but a limited number of tickets are available at the door. Ages 21+. Tickets include access to the full museum, but the Infinity Mirrored Room will not be open.
Official trailer for "The Lost City of Cecil B. DeMille" from dan coplan on Vimeo.
THE LOST CITY OF CECIL B. DEMILLE (Film + history)
The documentary The Lost City of Cecil B. DeMille is a fascinating look at Hollywood history. When DeMille filmed his 1923 biblical epic The Ten Commandments, he built one of the largest sets of the silent movie era. After shooting, he ordered the city buried and it remained forgotten for the next 60 years. In 1983, a group of film buffs, including documentary director Peter Brosnan, set out to find the city based on a clue published in DeMille's posthumously published autobiography.The documentary screens at the Egyptian on Saturday at 2 p.m. A panel discussion with director Peter Brosnan, producer Dan Coplan, composer Steve Bauman and others follows. Come early to check out a few artifacts from the dig site. Tickets: $12.
ROW DTLA BLOCK PARTY + FRIED CHICKEN DAY (Party + shopping)
ROW DTLA hosts its first two-day Block Party, featuring a street fair, retail pop-ups, craft workshops, live art installations, pro-skaters + skate ramp, outdoor movie, DJ sets, food trucks and cocktails and more on Saturday from 10 a.m. to 10 p.m. and Sunday from 10 a.m. to 4 p.m. On Sunday, Smogasburg LA joins in the fun with a Fried Chicken Day, featuring pop-up vendors selling fried chicken dishes alongside Smorgasburg LA's weekly vendors like Hot Star's big Taiwanese Fried Chicken in a bag and Banh Oui's fried chicken sandwich.
THE PLUG (Music)
The Plug is a monthly event for alternative electronic and hip hop music. Performers use custom lights and projections to create both a sonic and visual experience. The next show takes place from 8 p.m. to midnight at the Lost Room in Echo Park. The lineup: alexdayo道, Captain BackPack, Yung Student Loans, Hoddy, the Young Jedi and Forest Grump (DJ Set). $5 cover. Ages 21+.
MY LITTLE PONY THROUGH THE YEARS (TV screenings)
The Paley Center for Media presents My Little Pony Through the Years: A Super-Saturday Family Screening Celebration on Saturday from noon to 3 p.m. Guests can watch screenings of new and classic My Little Pony shows, and the first 350 kids will get a free commemorative toy. Remember, "Friendship is magic!" The event is free, but Paley Members can RSVP for priority entrance.
DAN CROLL (Music)
U.K.-based pop singer-songwriter Dan Croll headlines the Teragram Ballroom on Saturday night with The Dig opening the night. Croll's touring in support of his new album Emerging Adulthood. Tickets: $18 advance / $20 day of show. All ages. Doors at 8 p.m., show at 9 p.m.
FLEET FOXES (Music)
Fleet Foxes headlines the Hollywood Bowl on Sept. 23. The indie folk band released Crack-Up, its first full-length in six years, earlier this summer. Beach House opens the night. The show is sold out, so contact your favorite ticket broker. Show: 7:45 p.m.
NHMLA DINOFEST 2017 (Science)
On Saturday and Sunday, the Natural History Museum of Los Angeles County (NHMLA) brings the world of dinosaurs to the public with its second annual Dino Fest—a two-day celebration of dinosaurs big and small. Learn about the work of paleontologists and how artists and filmmakers use science to create pop culture beasts. Throughout the weekend, there will be talks, performances, tours, hands-on activities and special displays. Admission: $12 for adults, $9 for students and seniors, $5 for children. Museum Members and children ages 2 and under are free.
PLAYBOY'S HIDDEN ARCADE: 90's EDITION (Art + games)
Playboy's Hidden Arcade: 90's Edition is the Official Closing Party for Drinkin' Smokin' & West Coastin' at Think Tank Gallery. It takes place on Saturday night from 9 p.m. to 1:30 a.m. at the gallery. Attendees are encouraged to dress in their best '90s ensembles and play a variety of different classic video games like NBA Jam, The Simpsons, TMNT, Area 51 and Time Crisis. The night also includes photo ops with our arcade bunnies, throwback DJ sets by Mike Diva, La Flaca Lee and more, with open bar with beer and cocktails. Tickets: $40, $80 (VIP).
SUNDAY, SEPT. 24

The Abbot Kinney Festival takes over one of L.A's hippest neighborhoods on Sunday. (Image: Courtesy of the festival)
ABBOT KINNEY FESTIVAL (Fest)
The Abbot Kinney Festival returns for its 33rd year on Sunday from 10 am to 6 pm, celebrating the best of Abbot Kinney Boulevard. In addition to checking out the neighborhood's shops and eateries, the day features food trucks, beer and spirit gardens, live music and handcrafted goods. Check out music on four stages, featuring a lineup that includes The JN Orchestra (jazz), Thumpasaurus (funk), Crown and the Mob (Motown), and artists from House of Vibe (HOV). There's a headliner that we can't quite announce yet either. Free admission.
BATTLE OF THE BURGER (Food)
Our friends at Time Out Los Angeles and Guinness Blonde are holding L.A.'s inaugural Battle of the Burger on Sunday at La Plaza de Cultura y Artes. Eat your way through burgers served up by some of the best grillers in the city then cast your vote for the favorite. Participating restaurants include Grill 'Em All, Beacon Echo Park, Lock & Key, Haché, The Counter, Slater's 50/50, The Oinkster, Everson Royce Bar, Pono Burger and more. Tickets: $20-$35. The tickets include a burger tasting from each participating restaurant, a complimentary Guinness Blonde American Lager and a side dish. The event also features music, games and giveaways.
COSMIC JOURNEY (Music)
Cosmic Journey closes out KCRW's World Festival series at the Hollywood Bowl for the year on Sunday. Solange "guides and curates a divine musical journey" of R&B, folk and jazz and is joined by Blood Orange, KING, Kelela, Moses Sumney, Kelsey Lu and others on the musical journey. The concert is sold out, so head to your fav ticket source for help.
FIREFIGHTER APPRECIATION COMEDY SHOW (Comedy benefit)
Firefighter Appreciation Comedy Show takes place on Sunday at 7:30 p.m. at The Hollywood Improv. Comedians Adam Ferrara, Dane Cook, Mo Mandel and others are taking part in the show, which celebrates Firefighter Appreciation Month. $10 from every ticket benefits the California Fire Foundation. Tickets: $15. Ages 18+.
Want the 411 on additional events and happenings in LA? Follow @LAist or me (@christineziemba) on Twitter.