This is an archival story that predates current editorial management.
This archival content was written, edited, and published prior to LAist's acquisition by its current owner, Southern California Public Radio ("SCPR"). Content, such as language choice and subject matter, in archival articles therefore may not align with SCPR's current editorial standards. To learn more about those standards and why we make this distinction, please click here.
Weekend Movie Guide 07/01: Transformers & Terri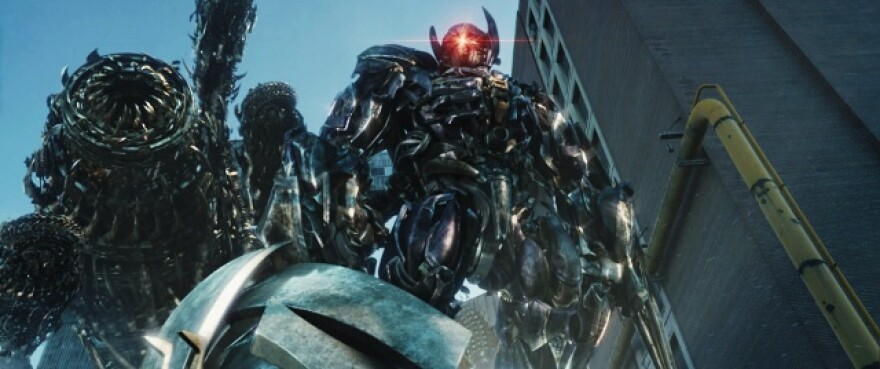 Support your source for local news!
Today, put a dollar value on the trustworthy reporting you rely on all year long. The local news you read here every day is crafted for you, but right now, we need your help to keep it going. In these uncertain times, your support is even more important. We can't hold those in power accountable and uplift voices from the community without your partnership. Thank you.
We weren't very kind to Transformers: Revenge of the Fallen at the Los Angeles Film Festival (LAFF) two years ago and, to be honest, Transformers: Dark of the Moon doesn't look much different. The latest in the franchise is its most epic yet, clocking in at over 2 & a half hours in 3D. Shia LeBeouf retains human leadership, but his love interest morphs from Megan Fox into English supermodel Rosie Alice Huntington-Whiteley. It's Whiteley's film debut, but she's not the only first-timer. Fellow fresh faces include character actors John Malkovich (Con Air), Frances McDormand (Fargo) & Ken Jeong (Community).
Another character actor makes good when John C. Reilly (Stepbrothers) appears in coming-of-age dramedy Terri, opening at The Landmark & several Laemmles locations. Reilly stars as a high school vice principal who forms an unlikely relationship with overweight outcast Terri (Jacob Wysocki, in this weekend's second debut). The film's a bonafide festival darling, receiving accolades from coveted spots at Sundance, South by Southwest & this year's LAFF. Reilly appears in person with director Azazel Jacobs at tomorrow's 7:20PM Landmark screening, while Jacobs appears alongside another Terri thespian, Creed Bratton, at tonight's 7:20 show.
Wide Release
Larry Crowne (Reviews) (Showtimes)
Monte Carlo (Reviews) (Showtimes)
Transformers: Dark of the Moon (Reviews) (Showtimes) (3D Showtimes) (IMAX 3D Showtimes)
Limited Release
Africa United (Reviews) (Laemmle Theatres)
Delhi Belly (Reviews) (Culver Plaza Theatres) (Laemmle's Fallbrook 7)
The First Beautiful Thing (Reviews) (Laemmle Theatres)
Leap Year (Año Bisiesto) (Reviews) (Laemmle's Sunset 5)
The Perfect Host (Reviews) (Laemmle's Sunset 5)
Terri (Reviews) (Laemmle Theatres) (The Landmark)
Vincent Wants to Sea (Reviews) (Nuart Theatre)
That's all for this week. See you at the movies!
But Yeoh is the first to publicly identify as Asian. We take a look at Oberon's complicated path in Hollywood.

His latest solo exhibition is titled "Flutterluster," showing at Los Angeles gallery Matter Studio. It features large works that incorporate what Huss describes as a "fluttering line" that he's been playing with ever since he was a child — going on 50 years.

It's set to open by mid-to-late February.

The new Orange County Museum of Art opens its doors to the public on Oct. 8.

Cosplayers will be holding court once again and taking photos with onlookers at the con.

Littlefeather recalls an "incensed" John Wayne having to be restrained from assaulting her and being threatened with arrest if she read the long speech Brando sent with her.