Weekend Movie Guide 07/01: Transformers & Terri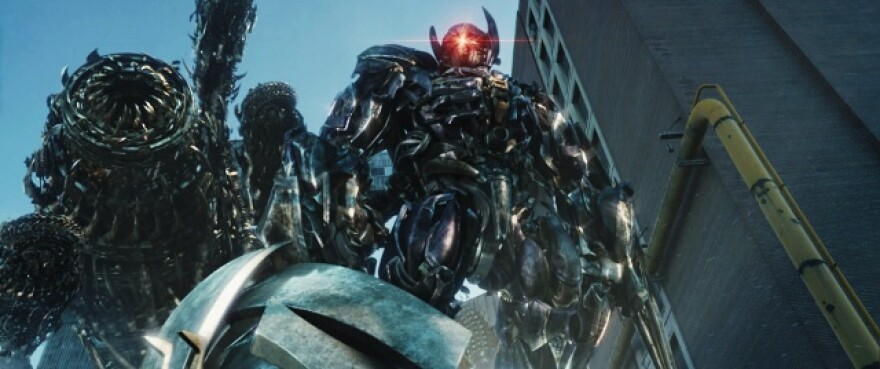 LAist relies on your reader support, not paywalls.
Freely accessible local news is vital. Please power our reporters and help keep us independent with a donation today.
We weren't very kind to Transformers: Revenge of the Fallen at the Los Angeles Film Festival (LAFF) two years ago and, to be honest, Transformers: Dark of the Moon doesn't look much different. The latest in the franchise is its most epic yet, clocking in at over 2 & a half hours in 3D. Shia LeBeouf retains human leadership, but his love interest morphs from Megan Fox into English supermodel Rosie Alice Huntington-Whiteley. It's Whiteley's film debut, but she's not the only first-timer. Fellow fresh faces include character actors John Malkovich (Con Air), Frances McDormand (Fargo) & Ken Jeong (Community).
Another character actor makes good when John C. Reilly (Stepbrothers) appears in coming-of-age dramedy Terri, opening at The Landmark & several Laemmles locations. Reilly stars as a high school vice principal who forms an unlikely relationship with overweight outcast Terri (Jacob Wysocki, in this weekend's second debut). The film's a bonafide festival darling, receiving accolades from coveted spots at Sundance, South by Southwest & this year's LAFF. Reilly appears in person with director Azazel Jacobs at tomorrow's 7:20PM Landmark screening, while Jacobs appears alongside another Terri thespian, Creed Bratton, at tonight's 7:20 show.
Wide Release
Larry Crowne (Reviews) (Showtimes)
Monte Carlo (Reviews) (Showtimes)
Transformers: Dark of the Moon (Reviews) (Showtimes) (3D Showtimes) (IMAX 3D Showtimes)
Limited Release
Africa United (Reviews) (Laemmle Theatres)
Delhi Belly (Reviews) (Culver Plaza Theatres) (Laemmle's Fallbrook 7)
The First Beautiful Thing (Reviews) (Laemmle Theatres)
Leap Year (Año Bisiesto) (Reviews) (Laemmle's Sunset 5)
The Perfect Host (Reviews) (Laemmle's Sunset 5)
Terri (Reviews) (Laemmle Theatres) (The Landmark)
Vincent Wants to Sea (Reviews) (Nuart Theatre)
That's all for this week. See you at the movies!