This is an archival story that predates current editorial management.
This archival content was written, edited, and published prior to LAist's acquisition by its current owner, Southern California Public Radio ("SCPR"). Content, such as language choice and subject matter, in archival articles therefore may not align with SCPR's current editorial standards. To learn more about those standards and why we make this distinction, please click here.
This 1939 Map Shows America, As Seen Through The Eyes Of An Angeleno
Support your source for local news!
The local news you read here every day is crafted for you, but right now, we need your help to keep it going. In these uncertain times, your support is even more important. Today, put a dollar value on the trustworthy reporting you rely on all year long. We can't hold those in power accountable and uplift voices from the community without your partnership. Thank you.
Editor's Note: The map unfortunately also includes a grotesque racist caricature illustrating the state of Alabama, which we did not catch before publishing this story.
This 1939 map depicts America as seen through the eyes of an Angeleno, centering on a wildly out-of-scale Los Angeles from which the rest of the country seems to spring. Lovely L.A. is lit under the warm glow of the sun, which is obviously personified as an orange. The "city limits" of greater Los Angeles are also fantastically out of whack, including not just Catalina but also the Hawaiian Islands, and extending throughout the better part of the state. San Diego to the south and San Francisco to the north are only narrowly excluded, San Francisco itself is shown as not much more than a giant puddle of fog.

Inset from map (Courtesy of Osher Map Library via the Creative Commons)
Iowa alone is depicted on a similarly massive scale, representing the midwestern home of many an Angeleno, and shown with a train going straight through it and on to the Southland, because—as explained on the back of the map—"To a Los Angeleno, the United States is divided into just two parts—Los Angeles and the part where people come from."

Inset from map (Courtesy of Osher Map Library via the Creative Commons)
The pictorial map was created by author R.C. Rambeau and cartographer E.S. Hammack (Hammock would later go on to become a book illustrator). It's housed at the University of Southern Maine's Osher Map Library, which has kindly made it available via a Creative Commons license. We suggest reading the entire letter on the back, which is utterly fantastic, albeit heavy on the L.A. mocking.
Here's an excerpt:
This map shows the United States as seen through the sun-kissed, rose-colored glasses of a true Angeleno, who lives in a world of substantial illusion, largely created by their one most famous industry—the building of dreams illusions and making them into films." Travel broadens one, but in El Pueblo de Nuestra Señora La Reina de Los Angeles de Porciuncula it also stretches one's credulity. In fact all that flow of words is only the real name of Los Angeles given to to this amazing "City-of-Make-Believe-It-or-Not," way back in 1781. So you see what super-colossal ideas they had even at the start.

Gloss all this over with a perpetual round of brilliant sunshine and and perfect climate (except when it's "unusual"), throw in super-superlatives, sound effects and vast vistas of voluminous vision in full Technicolor, and there you have Los Angeles... and that's something!


Also of note is the map's wonderful glossary, which translates "Los Angelese" into English:

Inset from map (Courtesy of Osher Map Library via the Creative Commons)
Not much has changed, has it?
A few more close ups:

Inset from map (Courtesy of Osher Map Library via the Creative Commons)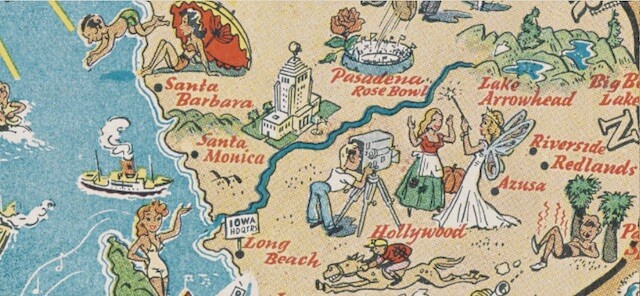 Inset from map (Courtesy of Osher Map Library via the Creative Commons)

Inset from map (Courtesy of Osher Map Library via the Creative Commons)
h/t: Reddit
Donald Trump was a fading TV presence when the WGA strike put a dent in network schedules.

Pickets are being held outside at movie and TV studios across the city

For some critics, this feels less like a momentous departure and more like a footnote.

Disneyland's famous "Fantasmic!" show came to a sudden end when its 45-foot animatronic dragon — Maleficent — burst into flames.

Leads Ali Wong and Steven Yeun issue a joint statement along with show creator Lee Sung Jin.

Every two years, Desert X presents site-specific outdoor installations throughout the Coachella Valley. Two Los Angeles artists have new work on display.