TV Junkie: KCET Announced 5 New Programs; 'Vietnam in HD' is Veteran's Week Pick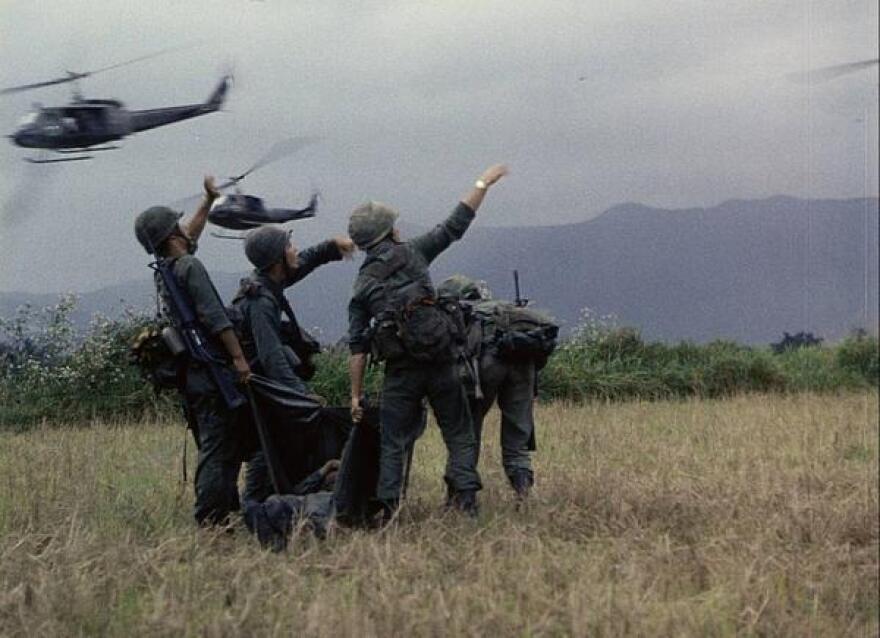 Stories like these are only possible with your help!
You have the power to keep local news strong for the coming months. Your financial support today keeps our reporters ready to meet the needs of our city. Thank you for investing in your community.
Last night KCET announced 5 new programs it will be producing (no air dates set in the PR I received). Is KCET the independent station that could? After dumping the PBS umbrella the station has certainly become more engaged online, providing content and new in a much more rapid fashion but as a broadcaster, new shows have been few and far-between. This step up in production is a bold move and while the station has focused its online efforts to be hyperlocal, only one of the five new shows stays true to that theme. To be sure, the station is leveraging its proximity to Hollywood as the entertainment industry is referenced in all five of the shows and it seems that the thinking is other broadcasters are eager to get as much Hollywood content as possible and will sign up for distribution.
The descriptions of the shows are (working titles presently):
"Department of State" - A rotating group of global media correspondents will lead intriguing weekly half-hour conversations and analysis with former public figures and decision-makers about world news of the day.
"Ocean Alive" - Emmy award-winning filmmaker, educator, environmentalist and ocean explorer Jean-Michel Cousteau will host an extraordinary new show that combines the beauty of Southern California and the glamour of Hollywood with the powerful message of conservation. As one of the world's leading marine preservationists, Jean-Michel is our ecological tour guide, inviting celebrities and public figures to breathtaking locations to explore the area's dynamic marine life and discuss ways to protect our waters with lively and enlightening commentary.
"Classic Cool Theatre" - Viewers will embark on a cinematic journey into classic Hollywood through a new film series that brings the nostalgia, drama and style of vintage Hollywood into their homes. In addition, the series will be enriched with the best of classic international films that impacted the 20th century. Each week, the series spotlights a different classic movie.
"California Game Changers" - Recognized worldwide as a land of sunshine and opportunity, California represents a lifestyle defined by surfing, yoga and Hollywood red carpets. This rich imagery has attracted scores of pioneers for decades looking to take advantage of all California has to offer and make the next mark on the state's iconic landscape. Merging the science and the style; the technology, innovation and entertainment of California, California Game Changers is a half-hour weekly program exploring those only-in-California industries, innovators and inventions.
"Retrostory™" - A new bi-weekly documentary series inspires and educates viewers with the remarkable stories of the 20th Century through a Southern California lens. Covering the era's greatest struggles and accomplishments, viewers will learn about social phenomena, influential political and entertainment figures and other revolutionary advancements that transformed The Southland and the world throughout the 1900s.
---
I was remiss yesterday not to mention the History Channel's new miniseries, "Vietnam in HD," which is spectacular. Luckily you can see Monday's episode repeated tonight at 8pm followed by part II. This series is not just regurgitated news footage from Vietnam, it involves in depth interviews with veterans and journalists who were there and during a week that ends with Veteran's Day, you should take some time to check it out.
---
The TV Junkie Must-Watch Plan: "Nature," "Vietnam in HD," "American Horror Story," "Conan," "The Late Late Show With Craig Ferguson"
8:00pm Up All Night NBC - First Night Away Reagan and Chris spend a romantic night away; Ava connects with the Brinkley's neighbor while babysitting Amy.
8:00pm Nature PBS SoCal/KOCE - Jungle Eagle Harpy eagle preys on monkeys in the South American jungle.
9:00pm MythBusters Dirty Dozen Discovery - Location! The team declassifies its top destinations and reveals the inside scoop.
9:00pm Vietnam in HD History - The Tet Offensive (1968); An Endless War (1968-1969) The massive Tet Offensive catches the Americans by surprise; Americans mount a counteroffensive; the turmoil of 1968 helps Nixon win the presidency; troop strength in Vietnam peaks and the draft accelerates.
9:00pm NOVA PBS SoCal/KOCE - The Fabric of the Cosmos: The Illusion of Time A time-traveling adventure moves 50 years into the future, then travels back to the past.
9:00pm Law & Order: UK BBC America - Fault Lines The team is unsettled by the stabbing of a police forensic lab technician.
10:00pm American Horror Story FX - Piggy Piggy Constance gets Violet's assistance with Tate; Ben helps a new patient confront his fears.
10:00pm South Park Comedy Central - A History Channel Thanksgiving The boys are getting close to discovering the truth about the first Thanksgiving.
10:00pm Psych USA - Dead Man's Curveball A minor league baseball team hires Psych to investigate the hitting coach's mysterious death.
10:00pm Top Chef: Texas Bravo - The Heat Is on The final 10 chefs must decide amongst themselves which one of among 10 ingredients they will use to create a dish.
10:00pm Penn & Teller Tell a Lie Discovery - You Can Crack a Safe With Liquid Nitrogen Claims include a linen shirt can stop an arrow and a snail can crawl on a razor's edge.
10:30pm Nick Swardson's Pretend Time Comedy Central - Flying Stripper Nick talks about Johnny Depp's great life; a couple's date becomes disastrous due to a problematic magician; a stripper gets magical powers; a breakfast cereal character turns a holiday dinner into a nightmare.
11:00pm Chelsea Lately E! - Great impromptu lineup last night, wonder who will be on tonight?
11:00pm Conan TBS - Actor Joel McHale; actress Cheryl Hines.
11:35pm Late Show With David Letterman CBS - Actor Adam Sandler; Peter Gabriel performs.
11:35pm The Tonight Show With Jay Leno NBC - Actor Kelsey Grammer; actress Sarah Hyland; Andrea Bocelli performs.
12:05am Jimmy Kimmel Live ABC - Actor Robert Pattinson; actress Freida Pinto; Thompson Square performs.
12:35am The Late Late Show With Craig Ferguson CBS - Actress Ellen Barkin; comic Dave Attell.
12:35am Late Night With Jimmy Fallon NBC - Comic Kathy Griffin; actor Dominic Cooper; chef David Chang.