TV Junkie: ....aaaaaaannnnd that's it, call it - time of death: 'ER' 04/02/09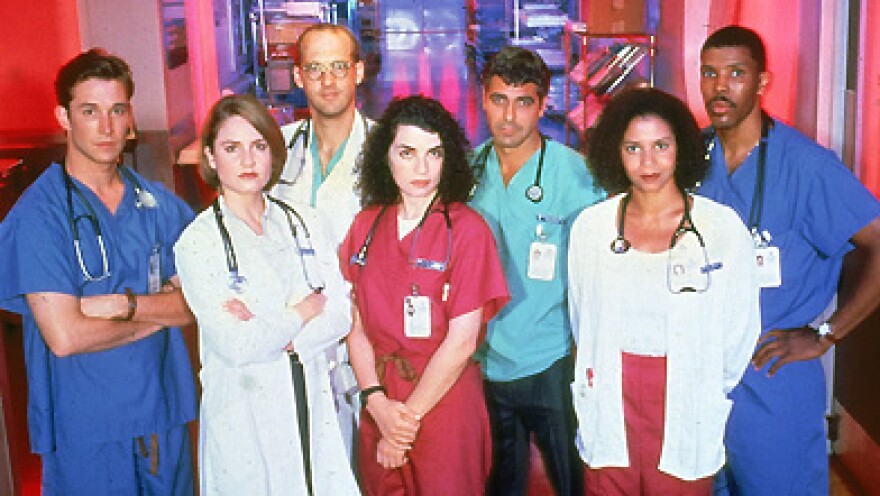 LAist relies on your reader support, not paywalls.
Freely accessible local news is vital. Please power our reporters and help keep us independent with a donation today.
Tonight is all about the final episode of "ER" and/or how to avoid it. NBC is pretty much devoting all of its prime time programming to "ER", what with retrospectives, and the two-hour finale. We admit that we used to watch "ER" about 10 years ago because we had a girlfriend that was an "ER" addict, kind of like the way one becomes a vegetarian because one's significant other is a vegetarian. At some point though, the show jumped the shark - was it the multiple helicopter crashes? The myriad of fatal diseases stalking their way through the staff? The constant replenishment of characters so that the "young" part of a "young doctors in love" soap opera could still fit the definition?A lot of people love the show and it truly is the passing of an era. Without "ER" there would never have been a "Grey's Anatomy" - wait, is that a good or a bad thing? Certainly without "ER", George Clooney would have had a much more difficult time becoming the excellent actor and superstar he is today.
If you suffer from the affliction that only "ER" can cure, be sure to check out NBC's "ER" video page, where you'll find plenty of interviews about the end of "ER" as well as clips from many seasons past.
---
PBS' "News Hour" is the best-produced news journal in the United States and its future is a little more secure as Intel has stepped up with not only a major sponsorship, but a commitment, along with PBS and the Aspen Institute, to produce events focusing on the innovation economy. Now if they would only bring back those funky "clean suit" dancers.
---
Who caught the "Damages" season finale What'd you think? It was truly suspenseful and not all the ends were neatly tied but we kinda wanted more..... which is the point we guess.
---
News from Renewaland: AMC picks up "Breaking Bad" for another season! This makes us very very happy.
---
The TV Junkie Plan: "In the Motherhood", "Hell's Kitchen", "KCET's Festival of Student Film", Letterman, Ferguson (rumor has it that the incredible Steven Wright will be making an unannounced appearance on Ferguson tonight!)