This is an archival story that predates current editorial management.
This archival content was written, edited, and published prior to LAist's acquisition by its current owner, Southern California Public Radio ("SCPR"). Content, such as language choice and subject matter, in archival articles therefore may not align with SCPR's current editorial standards. To learn more about those standards and why we make this distinction, please click here.
TV Junkie: The Unnecessary Noise About 'Breaking Bad' & AMC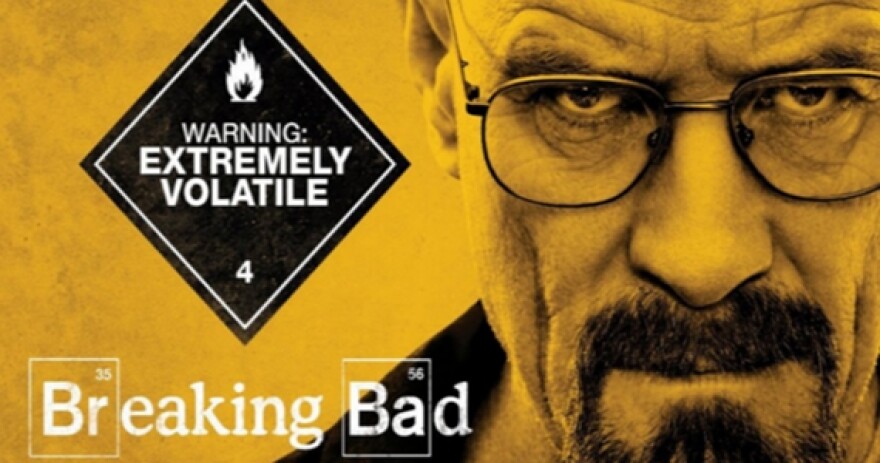 Before you read more...
Dear reader, we're asking you to help us keep local news available for all. Your tax-deductible financial support keeps our stories free to read, instead of hidden behind paywalls. We believe when reliable local reporting is widely available, the entire community benefits. Thank you for investing in your neighborhood.

The idiotic echochamber that is the Internet has decided to focus on AMC over the past couple weeks, lambasting the provider of some of the most critically acclaimed programs of the last decade with doom and gloom scenarios. OK, so the negotiations that succeeded in bringing "Mad Men" back took a little longer than originally projected, as well as the departure of "The Walking Dead" co-creator Frank Darabont, and the 'failure' of "The Prisoner," "Rubicon," and (Emmy nominated for performance) "The Killing" are anecdotes referenced by TV critics saying that "Breaking Bad" is a doomed ship on the rocks.TheWrap's Tim Molloy has written that Sony approached FX with "Breaking Bad" as the show entered renewal negotiations this year. If I worked on a show I'd want to know that we were getting the best deal possible, that's just good business, and there's nothing new in FX knowing about the show since the show was originally built to go on FX. It's pretty obvious that AMC is not going to lose a show as edgy as "Breaking Bad," that has the great numbers that "Breaking Bad" has scored, particularly this year, as well as a show that keeps racking up the Emmys for the network.
All this hubhub is about the 5th and final season of "Breaking Bad." Those familiar with the show will remember that series creator Vince Gilligan had originally projected the show to not go beyond 3 seasons, so this is all gravy. I spoke with series star Betsy Brandt yesterday afternoon who shed a bit of light on what it's like to be inside the show while ignorant morons insist on beating nonsense into a frothy beverage of misinformation. The full interview will be published next week but she made a comparison between not knowing what really goes on in a relationship between two people and whatever is happening in negotiations between Sony and AMC: we don't know anything and unless you can quote somebody or you have correspondence to share, then we should shut up.
To see some actual quotes from AMC President Charlie Collier, peruse this post at Deadline where Collier discusses "The Walking Dead" budget and won't discuss "Breaking Bad," good for him. Looking at the quality of programming, the ever-expanding list of awards, and the popularity of its shows: AMC is doing just fine, thank you.
---
Comedy Lovers: Tonight don't miss "The Green Room With Paul Provenza" which has an incredible lineup of Lewis Black, Ron White, Kathleen Madigan, and Jamie Kilstein, also check out FX's "Wilfred" and "Louie" (where our friend Bob Saget will make an appearance), and absolutely don't miss Adult Swim's "Childrens Hospital" and "NTSF:SD:SUV::" - over and out.
---
Self-Editing Note: I used to regularly link to articles in the Hollywood Reporter from this column. This won't be happening anymore as that publication has implemented a restrictive paywall - at $20/mo it's more than I can expect the readers of this column to fork over to look at content that is suspiciously getting more aligned with specific TV shows. Yesterday I was presented with a paywall after clicking through on an article in a list of articles that were overwhelmingly dominated by "Terra Nova" pieces. I tried to backtrack to it to take a screenshot but the webserver wouldn't let me. Since I don't want to send LAist readers to a (disappearing) page that may demand (exorbitant) payment, that's it for THR. I know several writers there, they are all great people and I'm sure that they have nothing to do with whatever changes are happening on the business side.
---
The TV Junkie Must-Watch Plan: "The Green Room With Paul Provenza" (Lewis Black; Ron White; Kathleen Madigan; Jamie Kilstein), "Burn Notice," "Wilfred," "Louie," "Chelsea Lately" (Josh Wolf, Loni Love, & more), "The Colbert Report" (Anthony Bourdain), "Childrens Hospital," "NTSF:SD:SUV::," "The Late Late Show With Craig Ferguson"
8:00pm The Green Room With Paul Provenza Showtime - Lewis Black; Ron White; Kathleen Madigan; Jamie Kilstein.
8:00pm Air Jaws: Sharks of South Africa Discovery - Shark Week. Footage of South Africa's great white sharks launching themselves approximately 15 feet above the water to seize prey.
8:00pm Detroit in Overdrive Planet Green - Reinventing the Motor City A "Project Runway" alumni wants to jumpstart the garment district; Kid Rock hopes to provide jobs
9:00pm Frank Sinatra: Concert for the Americas PBS SoCal/KOCE - Sinatra performs in the Dominican Republic. Songs include "I've Got the World on a String," "Strangers in the Night" and "Theme From New York, New York."
9:00pm Shark City Discovery - Shark Week. Chief shark officer Andy Samberg travels to the Bahamas to introduce a specific group of sharks that live off the shores of Nassau.
9:00pm Burn Notice USA - Besieged Michael and Sam try to retrieve a boy from an armed compound; Fiona and Jesse babysit a day laborer.
10:00pm Wilfred FX - Pride Wilfred's pursuit of a new love interest forces Ryan to swallow his pride.
10:00pm Futurama Comedy Central - Mobius Dick Leela hunts down a mysterious four-dimensional space whale.
10:00pm When Fish Attack 3 Discovery - Shark Week. A baby white shark bites the hand that tries to feed it; a diver learns a lesson when he gets between a shark and its dinner.
10:30pm Louie FX - Oh Louie/Tickets Louie remembers his past career failures and tries to get his daughter concert tickets.
10:30pm Ugly Americans Comedy Central - Attack of Mark's Clone Callie makes a clone of Mark; clone Mark decides to get revenge after he finds a cruel message in her diary.
11:00pm Chelsea Lately E! - Actress Mary McCormack; comic Josh Wolf; comic Loni Love; comic Ryan Stout.
11:00pm Conan TBS - Actor Jason Bateman; actor Noah Ringer; Ron Funches performs.
11:30pm The Colbert Report Comedy Central - Anthony Bourdain is guest interview
11:35pm Late Show With David Letterman CBS - Actor Colin Farrell; astronaut Christopher Ferguson; Typhoon performs.
11:35pm The Tonight Show With Jay Leno NBC - Comic Roseanne Barr; actor Jason Momoa; Lykke Li performs.
12:00am Childrens Hospital Adult Swim - Munch by Proxy
12:00am Lopez Tonight TBS - Actor Hank Azaria; singer Nicole Scherzinger.
12:05am Jimmy Kimmel Live ABC - Actor Jeremy Piven; actress Denise Richards; comic Todd Glass.
12:15am NTSF:SD:SUV:: Adult Swim - Exes and Oh-Nos!
12:35am The Late Late Show With Craig Ferguson CBS - Craig visits the Palace of Versailles.
12:35am Late Night With Jimmy Fallon NBC - Actor Ryan Reynolds; actress Viola Davis; Fountains of Wayne performs; Bruce Hornsby performs