Tonight & This Weekend in Rock: A Festive 3 Days
Stories like these are only possible with your help!
You have the power to keep local news strong for the coming months. Your financial support today keeps our reporters ready to meet the needs of our city. Thank you for investing in your community.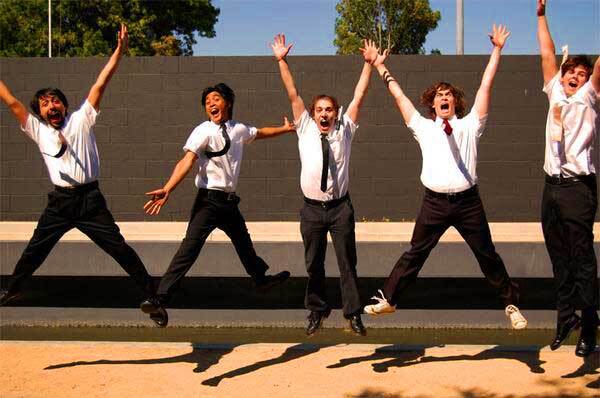 You, Me and Iowa has a CD Release show Saturday at Spaceland
For most, it's a three-day weekend, chock full of good music, especially outdoors at Lightening in a Bottle outside Santa Barbara, Topanga Days in Topanga and the Jazz Reggae Festival at UCLA (more info can be found on yesterday's Tonight in Rock column). Complete listings for this weekend are below after the jump.
In other news, KCRW began their Guest DJ Project last week where celebrities from all walks of life sit down with KCRW DJs and share the music that has inspired them. It launched with Conan O'Brien, John Cusack, Saffron Burrows, Garth Jennings and Jason Reitman. Next month's sets will highlight music picked by Kelly Slater, Padma Lakshmi, Neil LaBute, Danny Devito, Stacy Peralta. All of the mini-shows are online and can be heard interspersed during live play and at the online channel.
Tonight
Jessie Baylin, Teitur @ Roxy (Read LAist's Interview with Jessie Baylin)
Mandy Moore (yes, that Mandy) @ Hotel Cafe
Daryl Hall & John Oates @ Troubadour
Casiotone for the Painfully Alone, Foot Foot @ The Echo
The Von Bondies, Die! Die! Die!, The Shys, Io Echo @ Safari Sam's
I See Hawks in LA, Haymaker and Bert Susanka @ DiPiazza's (Long Beach)
Pocahaunted, Black Black, Vivian Girls, White and The Writing @ The Smell
Donita Sparks and the Stellar Moments, Crystal Antlers, Thinking Aloud @ Alex's Bar
Oliver Future, The Henry Clay People, Radars to the Sky, 5 O'Cock Somewhere @ Echoplex
Saturday, May 24, 2008
Topanga Days @ Topanga, CA
Foals @ Troubadour
MSI @ The Wiltern
War @ Greek Theatre
Felix Da Housecat @ Avalon
Margot & The Nuclear So and So's @ The Echo
Japanther, The Pharmacy, Bad Dudes, Bipolar Bear @ The Smell
The Parson Red Heads, Willoughby, Cavil at Rest @ Detroit Bar (Costa Mesa)
You Me and Iowa, The New Trust, Calamity Magnet, The Voyeurs @ Spaceland
Sunday, May 25, 2008
Topanga Days @ Topanga, CA
Jazz Reggae Festival @ UCLA
?uestlove @ Roxy (L.A. URB Issue Release Party | Read the LAist Interview with him)
War @ Greek Theatre
One Trick Pony w/ a Sarah Negadari of the Happy Hollows @ pehrspace
Mad Gregs, Flowers From The Man Who Shot Your Cousin, Jenny Jenkins @ Found Gallery
Ben Pringle, Alex & Sam, Wisely, Mount Righteous @ Tangier (Read the Alex & Sam Interview)
Monday, May 26, 2008
Topanga Days @ Topanga, CA
Jazz Reggae Festival @ UCLA
Le Switch, The Minor Canon, The World Record, Vanessa Micale @ The Echo
Castledoor, Hecuba, Fire in Cairo @ Detroit Bar (Costa Mesa)
Foreign Born, Willoughby, Restaurant, Ride on Rides @ Viper Room (take the Metro, get in free, more details here)
Anavan, Attractive & Popular, Voodoo Organist
Mezzanine Owls, The Quarter After, Asteroid #4, Exitmusic @ Spaceland